At a Glance
Expert's Rating
Pros
Fantastic sound for the price
Solid metal construction, but still comfortable
Cons
Microphone needs tweaking
Slick high-end
Our Verdict
Kingston doesn't have the same pedigree in the headset space as its competitors, but the HyperX Cloud is a winning device at a cheap price.
Best Prices Today: HyperX Cloud
SteelSeries, Astro, Razer—these are the gorillas of the gaming headset (and gaming peripheral) world. And have been for some time. With that in mind, I can honestly say I never expected to come out of this roundup most impressed by a headset from…Kingston.
It's not that Kingston is a bad company. Far from it. I just didn't have any idea what I was in for with Kingston's HyperX Cloud headset. It was a nonentity. Another red and black headset in a long line of red and black headsets, stretching back into eternity.
What I found after sorting through the array of assorted adapters and cables (cell phone, airplane, USB, and analog extension) included with the HyperX Cloud, however, is one of the best sub-$100 gaming headsets I've ever used.
The HyperX impresses right from the start with some notable luxury features, even at its diminutive $80 price point. The solid metal construction gives this headset both a nice heft and a durability that's unmatched in the sub-$100 range, while keeping the form factor slim and attractive. I joked about the red-and-black color scheme, and for good reason—it's basically "gamer standard." Still, it's not so much a detractor as something you just deal with, and the red stitching along the edge of the band is an attractive highlight. Thanks to the detachable mic I'd even say this is another headset you could use on the street without looking like you just escaped from a call center, although the lengthy braided-fabric cable might give you away.
This review is part of our roundup of best gaming headsets. Go there for details on competing products and how we tested them.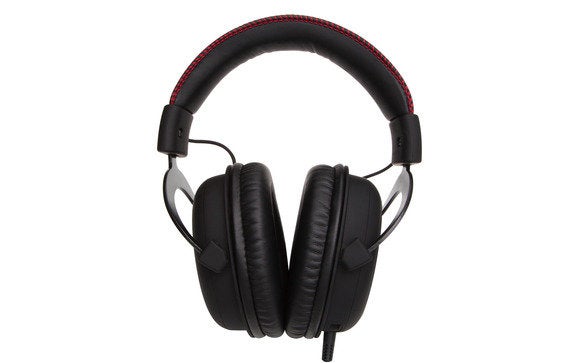 You've got two large, "leather" earpieces on the HyperX out of the box, with the option to swap to microfiber for a different feel. The ear cups were large enough to encompass my entire ear with room to spare, but also didn't commit the sin of transferring the tension to the jaw. This is easily one of the most comfortable headsets I've ever worn, with one caveat—my head isn't the largest around, but I still had to extend the set as far as it could go to wear it. Bigger heads, beware. The earpieces also don't rotate, which is a shame, as they tend to push on the neck when the set is taken off and shouldered.
One last design complaint is the in-line controls. Attaching the control box also requires attaching an extension cable, leaving the controls about a meter below the actual headset—way too far down to find in the middle of a tense firefight. Pressing the buttons also made a horrible ping noise in my audio, which seems counterproductive.
Minor caveats aside, it's a strong design. And surprisingly the HyperX Cloud matches its design with a fantastic sound. Don't get me wrong, this isn't a studio-quality set of headphones. It's a mite heavy on the bass (though less than most gaming headsets) and the high-end sounds a little slick. If you've ever dabbled in audio and thrown too much compression on a track, you'll know what sound I mean.
There's an excellent feeling of presence though, with the large earpieces giving plenty of space and depth to the sounds. Kingston makes no attempt at a "surround" experience, but the sound profile of the HyperX Cloud is better than that on a lot of the headsets touting the feature anyway.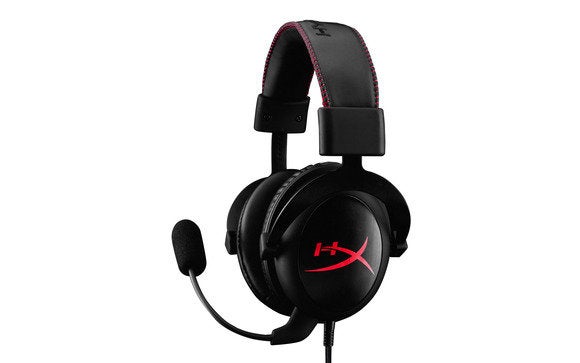 If only the detachable microphone weren't such a half-tooled piece of junk. The microphone plugs into a small jack on the bottom of the left earpiece—a jack protected by a tiny piece of rubber that is just begging to get lost. It's not hooked to anything, so as soon as you set it down it's probably going to disappear. Mine did.
The best part of the microphone is it's extremely bendable, allowing you to position it as you please. That's about all the positives I have for the microphone. It could use a lot more noise canceling, and the wind filter is a poor pop filter at best—speaking at a normal volume, my voice was still full of plosives. Rearranging the mic helped only somewhat, trading a lack of pops for less volume. It also has a tendency to make your voice sound extremely nasal and hollow.
Bottom line
Would I still recommend the HyperX Cloud? Absolutely, especially at this price. The sound quality is second to none in this bracket, the build quality is superb, and it's extremely comfortable. Make no mistake, though: It's the microphone that's holding this headset back. It's fantastic, until you actually open your mouth. Then it's just okay.
Best Prices Today: HyperX Cloud