Microsoft will reportedly debut its revamped Start menu—along with a free, cloud-based version of Windows—this fall.
According to information reportedly authored by Wzor, a Russian blogger notorious for his accurate leaks of Windows information, Microsoft will launch the revised, Windows 7-style Start menu inside of an entirely new Windows release.
The report, published by Winbeta.com, combines two of the juiciest rumors in the Windows world: the launch of a free version of Windows to compete with Android and other low-cost operating systems, and the revised Start menu, a concession to folks who dislike changes made in Windows 8. The latter, of course, is no longer a rumor: Microsoft has already confirmed that it will bring back the revised Start menu, but it has not said when.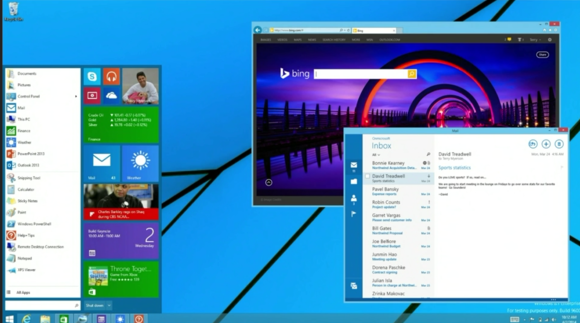 According to the report, both updates will come as part of Windows 8.1 Update 2 (possibly named Windows 8.2), and will launch this fall. The report says that the new Start menu will be in the fall release, but will be replaced with perhaps something else, as part of a new "Metro 2" interface. The report says that the Start experience will differ depending on whether a machine has a multi-touch display.
Microsoft officials declined to comment.
Windows Cloud
The report also says that Microsoft may be developing Windows as a platform, called Windows Cloud. If the report is to be believed, part of the Windows platform would be stored within a user's PC, perhaps tied to the BIOS. The other portion would be downloadable.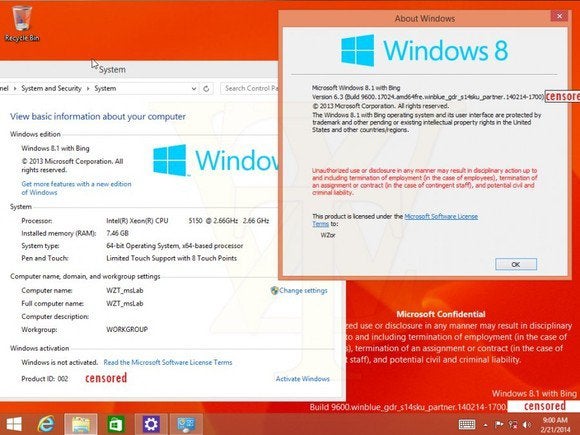 "The truth is not clear how it will be functional in the offline (offline) and without subscription services," Wzor allegedly wrote.
The person known as Wzor went offline in March, a day after an ex-Microsoft employee, Alex Kibkalo, was arrested for allegedly stealing trade secrets from his former employer. Wzor, known for his accurate information about Windows insider secrets, closed down Wzor.net and his social media accounts. Winbeta.net published a Russian-language summary with its information, apparently from an email or other communication.
Earlier in March, however, Wzor had leaked information about Windows 8 with Bing, which apparently used Microsoft's ad network, plus Bing, to pay for the Windows service.
"Windows 8.1 with Bing helps OEMs add Windows to low-cost devices while driving end user usage of Microsoft Services such as Bing and OneDrive," acccording to leaked documentation. "This edition of Windows sets Bing as the default search engine within Internet Explorer. Users will be able to manually change default search settings and install additional browsers of their choice. Windows 8.1 with Bing is based on the feature set available in Windows 8.1 Core and includes all of the latest updates, including Windows 8.1 Update. Windows 8.1 with Bing is available for 32-bit and 64-bit platforms."