At a Glance
Expert's Rating
Pros
Appealing minimalist design (if you like that sort of thing)
Hard drive and memory are easy to access and upgrade
HDMI in and out
Cons
Bezel prevents you from stashing the keyboard under the display
Half-sized up/down arrow keys are hard to use
Poor documentation and lousy tech support
Our Verdict
If you like modern design, the Acer U5-610-UB12 is a pretty computer, but we've seen more compelling price-to-performance ratios on the market lately.
Acer's latest Aspire makes a striking first impression. The 23-inch all-in-one features a spacious, continuously smooth flat surface, from the top of its glossy jet-black bezel down to its Lucite stand spanning the width of its display. Call it a boldly minimalist fashion statement. The Aspire U5-610-UB12 is a less clear choice, no pun intended, for those more interested in strong price-to-performance ratios.
Easy access
Let's start with the highlights, the most important of which Acer is oddly silent about: Remove two screws, slide down the rear panel, and you gain access to some of the Aspire U5's most important components, making it fantastically simple to upgrade its hard drive, optical drive, or memory. Unlike many computer manufacturers, Acer won't automatically void your warranty should you open the computer up. That's great for folks who like to tinker, but all bets are off if you damage anything as there is no documentation explaining how to do this.
I also like how this Windows 8.1 computer takes up just eight inches of desk depth when you put it in the default vertical position. And it comes with a small keyboard and a mouse, both of which are wireless, so you don't need to futz with cables. A pair of speakers tucked into the top of the panel emanated rich and very clear sound, with only slight muffling and clipping when cranked up to full volume.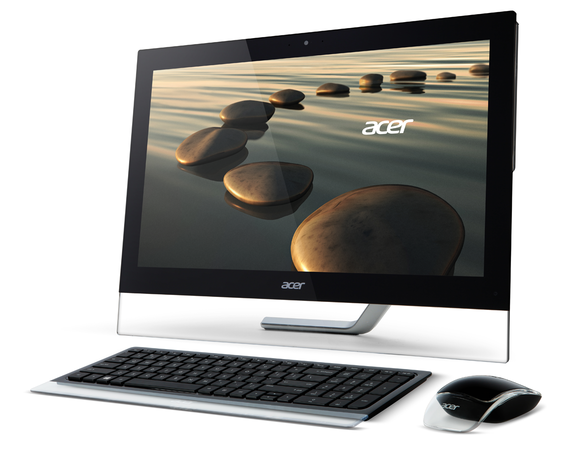 Now to the things that bugged me—and I encountered a number of them. The large 1920 by 1080 resolution screen responds beautifully to touch, for example, but its colors are a little pale and the display itself is highly reflective. It's very annoying when you have the sun or another strong light source behind you. Next, that Lucite panel makes it impossible to shove the keyboard and mouse under the screen when you want to free up your desk for other work. And it didn't take long for the thin rubber pad on the bottom of its foot to begin peeling off, exposing a slightly rough edge that's bound to scratch the finish on a wooden desktop (Formica and other hard finishes won't be as vulnerable).
Other manufacturers mount their all-in-one displays on articulated arms attached to a base, leaving the area beneath the display and in front of the computer available for a notepad or documents you might be working with. You must stash the Aspire U5's mouse and keyboard on one side of the PC or the other when you don't need them. If you work in a tight space, or frequently swap between the computer and paperwork, you might find this configuration to be a hassle.
Acer placed most of the Aspire U5's frequently accessed ports and slots on either side of the display, within easy reach. There are two USB 3.0 ports, an SD memory-card slot, and mic/headphone jacks on the left side of the display; and a DVD burner on the right side. You can plug in a TV set-top box or a videogame console into the Acer's HDMI port, but that—along with three USB 2.0 ports, a gigabit Ethernet port (802.11n Wi-Fi is also supported, but not 802.11ac), a S/PDIF digital audio port, and an HDMI output to drive a second monitor—are located on the computer's rear panel where they're very difficult to access.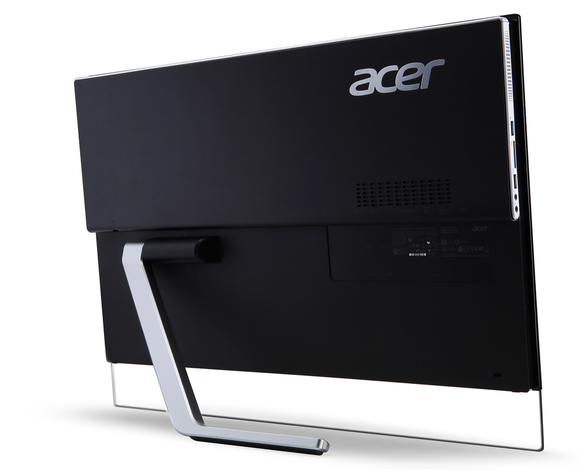 Bloatware a-plenty
Bloatware is not uncommon on consumer PCs, but Acer has packed more than the typical amount of pay-for-placement junk on the Aspire U5's hard drive, including desktop and taskbar icons for Amazon, eBay, and the Acer Store. The Acer Portal box also kept popping up, exhorting me to get an Acer ID that promised access to a feature called AcerCloud. Don't mistake this for persistent cloud storage, such as you might get from DropBox or Google Drive. AcerCloud is a means of synchronizing files on desktop PCs and mobile devices such as your smartphone and tablet. Files are stored in the cloud for a maximum of 30 days if they can't be synched because a device is powered off or can't connect to the Internet.
My biggest complaints are related to Acer's threadbare documentation and exceptionally weak phone support. I've experienced similar problems for each of the half-dozen Acer and Gateway PCs I've reviewed in the past 18 months (Acer bought the latter company in 2007).
I found a large foldout setup guide while unpacking the Aspire U5, but its sparsely annotated pictograms were less-than-clear in many places and flat-out incorrect in others. Two buttons on the side panel are labeled simply as "Menu button" and "Arrow button," without explaining that those buttons are non-functional unless you plug in an external monitor.
I also found a PDF user manual on the computer's 1TB hard drive, but that turned out to be a very generic document produced some time in 2012. An Acer technical writer apparently wrote parts of that document even earlier, because it references serial ports and PS/2 ports that haven't been seen on mainstream PCs for many years. Getting nowhere with the docs, I called tech support and asked where I can find a more in-depth user manual.
The two reps I spoke with picked up the line right away and treated me courteously, but both utterly failed to help me. The first rep spent a long time looking for that manual before confessing that "he didn't know where to find it" and bumped me up to Level 2 support. That person put me on repeated two-minute holds while researching the matter. After nearly an hour, I finally asked him what he was doing, and he admitted he was Googling for this manual! Not long after that, he informed me that there is no such manual. Based on my experience here and on previous occasions, Acer's tech support can waste your time more than it can help you.
Weak gaming performance
The rest of the Aspire U5-610-UB12's component lineup is about what you'd expect in this price range, including an Intel Core i5-4200M CPU and 8GB of DDR3/1333 memory. Its benchmark performance reflects that, chalking up a middle-of-the-road Desktop WorldBench 9.0 score of 69. Our 100-point baseline is a pumped-up home-brew rig with an Intel Core i7-4770K processor, 16GB of DDR3/1600 memory, and a 250GB solid-state drive.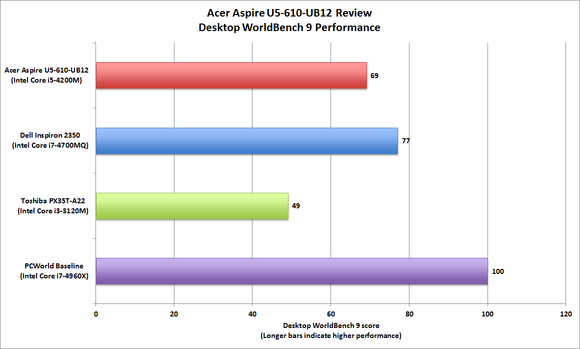 All-in-one PCs are typically not the right machines for playing hard-core games. This one is no exception, given its reliance on integrated graphics. If high-res gaming is your passion, point your joystick somewhere else. The Aspire U5 maxed out at just 32 frames per second, even at low res (1024×768 pixels), and the action herked and jerked at just 12fps when we boosted that up to the display's native resolution of 1920×1080 pixels. There is no slot on the motherboard to accommodate a discrete graphics card.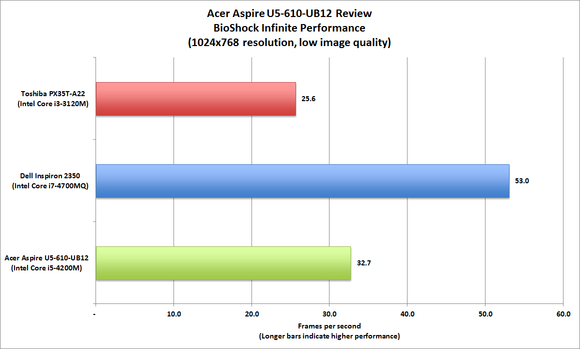 You'd better shop around
Acer and its Gateway subsidiary are typically low-price leaders. Tech-savvy shoppers can often save serious green buying computers from them. But I don't think that's as true with the Aspire U5-6100UB12. Unless you're absolutely taken with its modern aesthetic, you'd be wise to take a look at what Dell, HP, and Lenovo offer in this price range before making a purchase decision.
Correction, 4/23/2014: There was a typo in the original BioShock Ultimate benchmark chart that indicated the Dell Inspiron 2350 was outfitted with a Core i5 processor. That chart has been replaced.