Two consortiums—VESA and the MIPI Alliance—published a new video-compression standard for mobile devices on Tuesday. Display Stream Compression (DSC) 1.0 is designed to extend the life of some current video connectors by reducing the bandwidth requirements of 4K and higher-resolution video by more than 60 percent.
VESA (Video Electronics Standards Association) adopted DSC 1.0 for its embedded DisplayPort 1.4 standard, while the MIPI Alliance (a group that develops standards for hardware and software interfaces in mobile devices) has embraced DSC 1.0 for its MIPI Display Serial Interface (DSI) Specification version 1.2. DSI 1.2 is used for embedded video in some smartphones, tablets, and laptops. While today's announcement involves primarily mobile devices, VESA said it anticipates the DSC standard will also be used for external display interfaces to computer monitors and televisions. (Although without the participation of the HDMI Licensing consortium, it's anyone's guess if DSC will make its way into the more consumer-oriented HDMI standard.)
Bandwidth requirements will nonetheless increase dramatically as the industry moves from the 1080p HDTV generation to 4K displays and beyond. To that end, DSC represents a tradeoff between visual quality and bandwidth. What's defined as high-definition video today—1920×1080 pixels with a refresh rate of 60Hz—requires bandwidth of 3.5 gigabits per second. Move up to 4K video—3840×2160 pixels—and you need 14Gbps of bandwidth to support a 60Hz refresh rate. An 8K display with that refresh rate, meanwhile, will require bandwidth of more than 50Gbps.
"VESA recognized the need for display interface compression in mobile devices to extend battery life without compromising visual quality," said Dale Stolitzka, VESA Display Stream Compression Task Group chairman and a member of Samsung Display America Laboratory. "In addition, ongoing development of DisplayPort standards, which includes 8K resolution support, foresaw the need for compression because of inherent limits in the existing display interface cables. VESA realized that compression was becoming a common need in the industry, and that a standard compression coding system could meet these common display interface needs."
According to VESA, DSC 1.0 uses a less-complex compression than algorithm than MPEG, but still manages to reduce video data rates by up to 66 percent. At the same time, the compression simplifies the interface's electrical requirements and sharply reduces battery consumption related to video playback.
VESA claims the new encoding scheme provides "visibly lossless performance for graphics, text, images, and video," using a combination of technologies that includes delta pulse code modulation (DPCM) encoding, an Indexed Color History (ICH), an entropy encoder, and a rate buffer.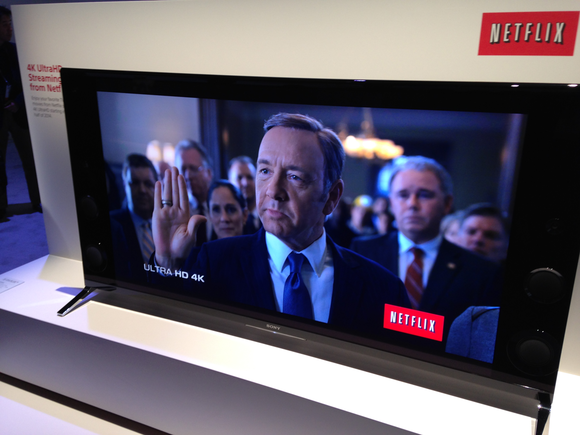 All in all, according to a VESA spokesman, DSC was the right choice. "It can be incorporated into the existing DisplayPort standard using the existing DisplayPort connectors," he wrote in an email. "And they can be incorporated into the existing MIPI standards. Going to higher bandwidths and higher bit rates would have required a possible change in connector standards, but this new compression scheme will extend the lifecycle of the existing connectors and wires."
But…
So DSC compression will reduce the hardware requirements for 4K and 8K video, but compressing a signal means throwing away some data. DSC will tame the 4K/8K firehose, making it easier to design mobile video hardware and ports, said Robert Heron, a former PC Magazine HDTV analyst and now an independent consultant. But, he said via a Twitter message, it might not be ideal for home-theater systems. "I worry about how lossless is 'lossless,'" he wrote.
Comcast already compresses its video signals, as do other cable and satellite TV service providers. Bandwidth is expensive, and reducing video quality allows these companies to cram more channels—not to mention Internet services—into the same space. Be that as it may, purists argue, you're not getting all the bits you're paying for.
Will consumers tolerate compressed 4K video? Or will they be willing to pay for technology that delivers truly higher resolutions? Time will tell.