When Office for iPad arrived last month, it was a bittersweet moment. The elation over the promise of true tablet productivity muted by the realization that the apps were little more than document viewers without an Office 365 subscription.
The good news is that the lengthy wait for an official Office solution for the iPad gave rise to several capable all-in-one office apps that cost little to nothing, many of which are still available.
While no third-party suite can fully replicate the real deal, these four came closest. We tested them with an eye toward usability, cloud support, and faithfulness to Office file formats (the last of which disqualified Apple's iWorks right out of the gate). Each has stronger points, such as a more elegant interface, or better file or cloud support, but any will get the job done admirably until you can get back to your desk.
Documents to Go Premium ($17)
Documents to Go has long been a favorite for working on Microsoft Office files on mobile devices. The premium version of the iPad app can create and edit Word, Excel, and PowerPoint files (though in the last case it can only edit text). File fidelity is superb and documents edited within Documents to Go retain their original formatting, thanks to DataViz's InTact Technology. The app supports change tracking, but note that if you're working on a collaborative document, all revisions will be rendered in the same color—look for authors' initials appended at the end of each edit to keep track of who changed what.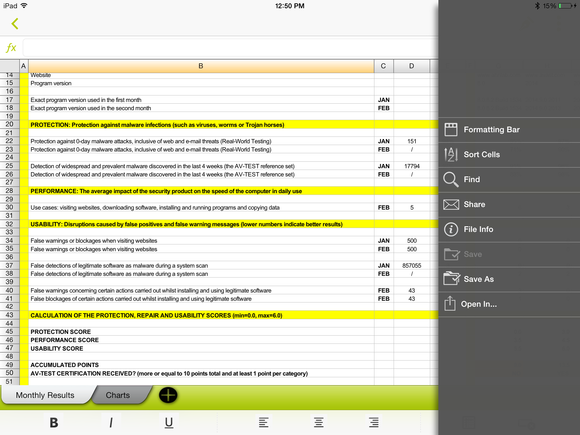 Though we can't fault its functionality, navigation in Documents to Go is unnecessarily complex. At least three separate, hidden toolbars handle formatting and other tasks, such as find-and-replace and sharing, and there's some overlap of functions among all of them. Because of this, a simple function sometimes took two or three steps when it realistically could have been performed in one.
Another quirk of the interface is that when the Virtual keyboard is activated, it covers the bottom formatting bar. While anyone serious about iPad productivity will be using an external keyboard, it's not a significant knock, but it is a head-scratcher.
Documents to Go offers robust cloud support, syncing with Google Drive, Box, Dropbox, SugarSync, OneDrive, and even iCloud accounts. Data Viz also offers a free Documents to Go desktop app so you can remotely access files on your Mac or PC.
HopTo (Free)
HopTo is a relative newcomer to the all-in-one office app crowd. Its tabbed interface feels more like a web browser than a typical word processor, but its visual gallery of all your documents—displayed in three sliding rows—makes it one of the easiest office apps to navigate. It's also the only suite in this round up that lets you switch among multiple documents side by side.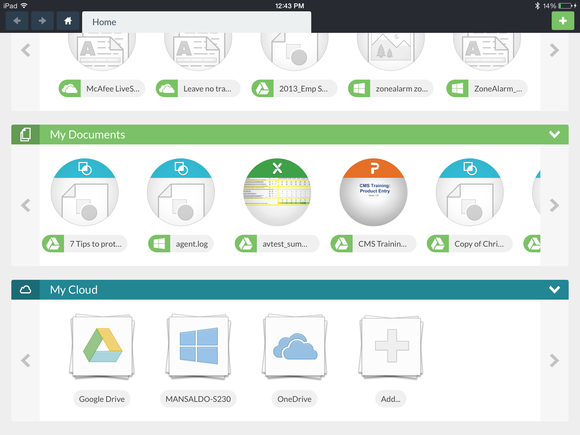 You can view, edit, and create Word and Excel files in HopTo, but you may only view PowerPoint presentations. Editing capability will be added in a future version.
Tapping in a document or spreadsheet launches a toolbar across the bottom containing basic formatting options. HopTo's chief executive Eldad Eilam has claimed HopTo offers "pixel perfect" compatibility with Office. Our experience bore that out: File fidelity and track changes support were flawless in our tests. HopTo will display changes made to a Word doc, but it offers scant information about revisions and seemingly no way to accept or reject them, which hampers working on collaborative documents.
HopTo supports virtually every major cloud service not offered by Apple. However, once you associate HopTo to a cloud account, there's no way to sign out of it. The only current workaround is to reset HopTo in your iOS settings, which will clear all your cloud accounts and require you to reconnect them. That's not enough to recommend against it but it can be tiresome if you frequently switch between, say, your work and personal OneDrive accounts. HopTo also offers a free remote desktop installer that allows you to access files on your Mac or Windows PC from your iPad.
QuickEdit (Free)
The popular all-in-one office app Office2 HD was recently purchased by Citrix and renamed Sharefile QuickEdit, but it remains a capable option with excellent Office compatibility. You can view, edit, and create Word, Excel, and PowerPoint files. We found it maintained file integrity for the first two file types, but it had some minor problems with the last.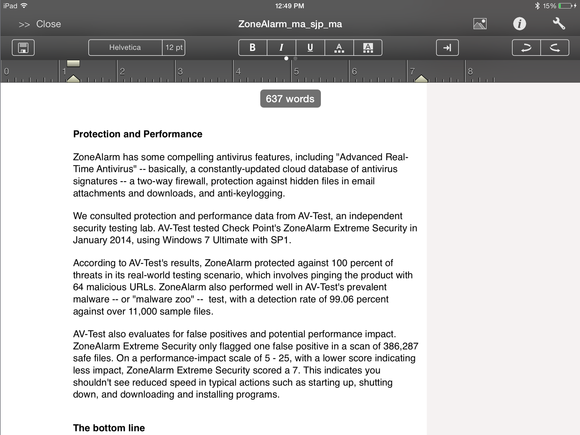 Unfortunately, QuickEdit's stark interface won't win any design awards. Where HopTo's simple UI feels elegantly uncluttered, QuickEdit's—featuring just a left-side navigation pane and the document window—seems workmanlike. A sideways-scrolling toolbar across the top offers most of the basic Office formatting options, though the ability to create or edit charts in Excel spreadsheets is conspicuously missing.
Where QuickEdit shines is in collaboration. The app tracks changes with the same colored revision balloons Office uses, making it easy to identify multiple authors in a marked-up document. It also boasts the most file-sharing options of any app in our roundup: Quick edit comes with 1GB of free Sharefile storage; support for nearly a dozen cloud services including Dropbox, Google Drive, MyDisk, Box, and OneDrive; and the ability to connect to generic WebDAV accounts.
Quickoffice (Free)
A couple of years ago, Google purchased Quickoffice, the company behind the popular iPad office suite Quickoffice Pro HD. The app hasn't lost too much luster in the changeover, though. It still provides some of the best support for viewing, creating, and editing Word, Excel and PowerPoint files. (Curiously, it does not support Google documents. For those, you need the separate Google Drive app.)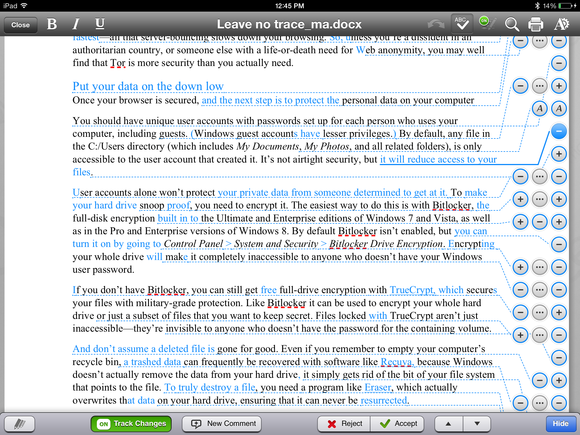 Quickoffice's interface is clean and intuitive, with a simple toolbar across the top providing all the basic Office functions and formatting options. Change tracking is particularly well done: Each addition or deletion is denoted by a plus or minus button, respectively. Pressing the button opens a time-stamped window with the author's name, the content of the edit, and options for accepting or rejecting the change.
One of the casualties of Google's purchase of Quickoffice was comprehensive cloud support. Where previously the app could sync to popular cloud services like Dropbox and Evernote, it now—not surprisingly—connects only to Google Drive. That may limit its appeal for some. But if being tethered to Google's cloud doesn't faze you, Quickoffice will ably fill the Office gap.