Raspberry Pi isn't planning a hardware upgrade of its popular $25 computer anytime soon, but faster options are emerging for users attracted to such board-like devices.
The alternatives include Solid Run's HummingBoard, which was announced earlier this month, and Banana Pi, announced this week, though it is only available through Chinese online stores for around $50. Pricing and availability for HummingBoard have not yet been announced.
The HummingBoard and Banana Pi are computers that have key components but no cases, much like the Raspberry Pi. They can be used for media streaming, robotics, consumer electronics and in some cases, as alternatives to traditional PCs. The new boards have faster ARM processors, more pin compatibility and more memory than Raspberry Pi. But whether the products can match the following achieved by Raspberry Pi, which has sold in the millions, is an open question.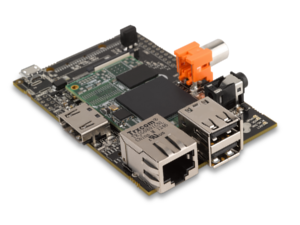 Many products that compete with Raspberry Pi, such as BeagleBoard, in recent years have been upgraded with fast ARM processors and have also cut prices. Intel this month announced the $99 MinnowBoard Max, which has a faster processor than its predecessor, the $199 MinnowBoard. While some boards have the backing of top chipmakers, the Raspberry Pi is more an educational tool, and not sold for profit.
New Pi, please
Raspberry Pi users in forums have expressed the desire for a new model—which in one discussion is called the Model C. The most-requested features in this discussion include a faster processor, more memory and an open-source firmware chip.
In another discussion, requested features include a graphics processor that supports additional programming platforms.
HummingBoard and Banana Pi could be increasingly considered by users as Raspberry Pi focuses on education, not hardware development. Raspberry Pi recently launched a smaller, modular computer that plugs into custom motherboard slots, but it is based on current Raspberry Pi specifications.
"We're not planning a [faster] version of the Pi for some time," said Eben Upton, founder of Raspberry Pi, in an email.
The current Raspberry Pi computers have sufficient features for their intended uses, and upgrading the board could raise the price, Upton said. The Pi boards received a memory upgrade toward the end of 2012, and software including media streaming is being tuned to work within the constraints of the board.
"There's not a clear need for more performance at present, and we don't have a route to deliver better performance without increasing the price," Upton said.
Upgrades are not necessarily the top priority for most Pi users, but a subset of the community will take as much power and performance as is available to them, said Dean McCarron, principal analyst at Mercury Research, who has used the board.
"If people can get more performance at the same price, they'll go for it," McCarron said.
The extra performance headroom could make the board a better desktop supplement, and allow applications like video to run more "spectacularly," McCarron said. It could also be a better platform for Android applications.
Alternative Pis
The Banana Pi has an Allwinner A20 ARM Cortex-A7 dual-core processor, a Mali 400 graphics core, 1GB of DDR3 RAM, an SD card slot, two USB 2.0 slots and ethernet. Other features include a SATA slot (for up to 2TB of storage), an infrared receiver, red and green LEDs, and 3.5-millimeter audio out ports. It also has UART, GPIO and I2C bus connectors. The board is powered through a micro-USB slot. It supports the Ubuntu Linux and Debian Linux OSes, and also Android 4.4, code-named KitKat.
The HummingBoard has an even faster processor—the Freescale quad-core i.MX6 Cortex-A9—as well as a high-definition graphics core, HDMI output, ethernet and two USB 2.0 ports. Other components include a mini PCI-Express and mSATA connector. In also includes a MIPI CSI connector and 26-pin connector.
The Pi has already spawned the development of monitors, cameras, cases, software tools and expansion boards to improve the usability of the computer. APlus Mobile wants to expand the usability of Raspberry Pi to control systems for homes, automobiles and devices through an expansion board called MotherBone PiOne. The expansion board has the pins, power relays, ports and firmware features that could make Raspberry Pi relevant to larger electronics.
APlus Mobile has taken to Kickstarter to raise funds for development of the MotherBone PiOne, which is expected to be priced between $200 and $250. If APlus fails to crowdsource the funds, the product will still go on sale, said Amy Ciesielka, owner of APlus Mobile, in an email.