After Microsoft released a Remote Desktop app for Android in March, one had to wonder: Where was Windows Phone in all this? Fortunately, Microsoft has rectified the situation with a new app.
For now, however, the preview of the Remote Desktop app requires Windows Phone 8.1, the latest (and officially unreleased) version of Microsoft's latest phone OS. (However, getting access to Windows Phone 8.1 is pretty easy, and officially sanctioned by Microsoft. Here's how to do it.) The app will be generally available later this year, Microsoft promised.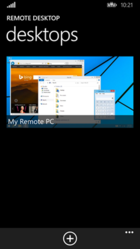 "The Remote Desktop app provides a rich multi-touch experience with RDP and RemoteFX that supports Windows gestures," Microsoft announced in a blog post. "Users can get a rich Windows experience and be productive on their Windows Phone devices because the app uses RDP 8.1 and RemoteFX to provide high fidelity audio and graphics."
Why would you want to use a Remote Desktop app? In addition to simply remotely controlling another PC—for example, one owned by your parents, who may be having trouble configuring software—you can use it to stream rich media or simply view a file you forgot to upload to a cloud service.
The app connects to Windows 8.1, Windows 8, Windows 7, and Windows Vista, as well as several flavors of Windows Server. To access the PC, you'll first need to know the PC's name, as well as your username and password, of course. Fortunately, the app allows you to store your credentials so you won't have to keep re-entering them every time.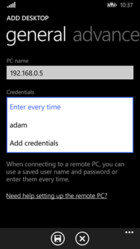 If you connect to a Windows 8 or Windows 8.1 machine, the system defaults to touch mode, allowing you to touch, swipe, and use gestures—as long as you can physically fit all your fingers on the phone screen. If you're connecting to a Windows 7 PC, the default input mode will interpret your finger as mouse input.
Unfortunately, the app does not currently support Remote Desktop Gateway, a protocol that irritated some of the commenters on Microsoft's blog post. But that will be added in the future, Microsoft, promised, along with RD Connection Broker, VPN support, and Remote Resources (RemoteApp and Desktop Connections).
Microsoft has also released Remote Desktop for Windows 8.1, iOS, Mac OS X and Android.