Change is afoot at Microsoft.
In his first analyst call as chief executive of Microsoft, Satya Nadella indicated that he is open to experimentation with some of Microsoft's sacred cows, including Windows and its pricing. The goal, he said, was for Windows to become ubiquitous, and with a variety of pricing and business models to achieve that.
Although Microsoft's revenue and profits dropped compared to a year ago, the company nevertheless exceeded analyst estimates. Microsoft reported net income of $5.66 billion on $20.40 billion in revenue, with revenue growth in all of its product-centric business units. Microsoft said customer adoption and a shift toward cloud services like Office 365 and Azure, as well as its Bing search engine, helped boost its results.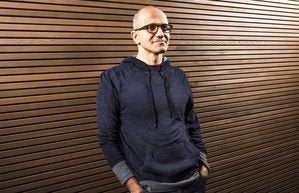 Nadella, meanwhile, said he has used the first months of his tenure to re-acquaint himself with Microsoft and gain a fresh perspective. "The past two and a half months have been a period of significant change at Microsoft, but also a period of nailing the basics and delivering against our product and financial plans," he said during a Thursday afternoon call with analysts. "In the months ahead, we will continue to be intensely focused on two things–rock-solid execution, and pivoting the company toward the future."
At another point in the call, Nadella summed it up this way: "I sum up this quarter in two words–execution and transition," he added.
At some point, executives usually pledge to reassess the business, to start over, and winnow out the chaff. That usually doesn't amount to much. But reading between the lines, it appears that Nadella truly is interested in breaking down and rebuilding some of the traditional walls that have bolstered Microsoft's business.
Confronting reality
Pivoting is not something that Microsoft has traditionally done. In fact, the company has often become associated with staid product offerings, such as its Office suite, which have changed little over decades.
As Nadella noted, however, the company now plays in a market that is larger than just the PC. Nadella said twice that Microsoft will have a presence in wearables, although it's unclear whether Microsoft plans to push its software and services into third-party hardware, possibly using its Windows Embedded suite, or develop the devices itself. Microsoft closes its $7 billion Nokia acquisition on Friday.
"Overall, the way I want us to look at Windows going forward is what does it mean for us to have the broadest device family and ecosystem," Nadella said.
And to do that, Microsoft will have to play in a world whose rules have been defined by third parties—companies like Apple, which built a massive, though controlled app market; Google, whose free Android OS helped it break into the market, and dozens of low-cost tablet makers.
And that led to Nadella's most important statement of the entire afternoon: "In a world of ubiquitous computing we want Windows to be ubiquitous," he said. "And that doesn't mean one price and one business model on all that."
Is a Windows subscription next?
Nadella didn't elaborate on his comments, but we can read a bit more between the lines. In the past few weeks, we've heard reports that Microsoft plans to launch a free or subsidized version of Windows, perhaps in conjunction with an upcoming eight-inch Surface tablet. Microsoft has already decided to eliminate licensing fees for eight-inch tablets and other mobile devices, meaning that the company will aggressively compete in the low-end tablet space, where Android has a virtual stranglehold over the rest of the market.
At the same time, Microsoft would love to lock you into a long-term subscription. Microsoft's Hood touted the success Microsoft has had with its Office 365 subscriptions—4.4 million Office 365 Home subscribers, up 1 million during the quarter, and a doubling of users in revenue in the corporate space. "Where we will add the most value is in the subscription," Hood said, whether it be in Office 365 and Office for iPad, Xbox Live Gold, or some other platform as a service.
So far, that has not included Windows—but it certainly looks like it could. Remember, Microsoft has upped its cadence of product releases. So far, the only leaks we've heard of involve either a free version of Windows or one subsidized by Bing. But it's not unreasonable to think that Windows could move to a subscription model, too—call it Windows 365.
Consider the success that Microsoft has had with Office 365, and the way in which a recurring revenue stream has Hood and other Microsoft executives licking their lips. And Microsoft has pushed out new updates to Windows (and Windows Phone) at a faster pace than ever before. Right now, buying Windows 8 allows users free upgrades to Windows 8.1 and future updates. But as those releases blur together—what's the difference between Windows 8.1 and Windows 8.1 Update 1, really?—it seems reasonable that Microsoft might experiment with a subscription model option.
Consumers used to self-contained ecosystems surrounding Windows XP or Windows 7 might shrug. But Microsoft's goal of tying its platforms together via universal apps has already forced a corresponding change upon its app pricing model. Something like an all-you-can-eat deal for a Windows Phone-PC-Xbox ecosystem is probably quite a stretch for now, but ways in which the company can tie users to its platform—via regular payments, and shared data and services roaming across devices—is already where Microsoft is heading.
But that's all speculation. For now, Nadella ended his prepared remarks with a quotation from Nietzsche, who advocated confronting reality, rather than fleeing from it. "What you can expect of Microsoft 'is courage in the face of reality,'" he said. "We will approach our future with a challenger mindset."
And challengers try everything.