At a Glance
Expert's Rating
Pros
Micro HDMI port
Good benchmark performance
Cons
Mediocre display
Thick and heavy compared to much of the competition
Comparatively low battery life
Our Verdict
Acer's Iconia W4 is a big step up from its predecessor, but it doesn't stand out among the current crowd of 8-inch Windows tablets.
It's been less than a year since Microsoft handed out Acer's Iconia W3 tablet to developers attending its Build 2013 conference. The Iconia W3, powered by an Intel Cedar Trail-class processor, delivered less-than-stellar performance, too-short battery life, and was saddled with a mediocre display.
Fortunately for Microsoft, none of that seems to have hindered its effort to interest other manufacturers in building Windows 8 tablets. Acer has at least half-a-dozen competitors today, and its latest effort—the Iconia W4—is much better than last year's model.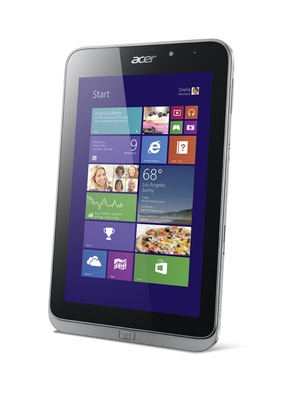 Most of the 8-inch Windows tablets are simple black slabs with a few ports around the edges and a capacitive Windows button on the bezel. Acer's engineers mix it up with a touch of gray edging around the screen and a wider strip at the bottom that houses a physical Windows button. I really enjoyed having a real button to wake the tablet from sleep mode or to take me back to the Windows Start screen.
Sound familiar?
The Iconia W4's specs, on the other hand, will sound very familiar to anyone who's been watching the 8-inch Windows tablet market. It's powered by a Bay Trail-class Atom Z3740 with 2GB of DDR3 memory, and it's available with either 32GB or 64GB of storage (Acer sent the Iconia W4-820-2466, which has 64GB).
The new processor fixes the performance and battery-life complaints people had about the Iconia W3, and its 1280×800 IPS display is much brighter and delivers better off-axis viewing angles.
While the Iconia W4's IPS display is a huge improvement over the W3's screen, I found it to be one of the weakest of the current generation. Viewing angles are good, as is the range of brightness, but there is a lot of light bleed around the edges, and the screen flickers every few minutes at the lowest brightness. That turned out to be very distracting during late-night reading. I didn't encounter any problems at any other brightness settings.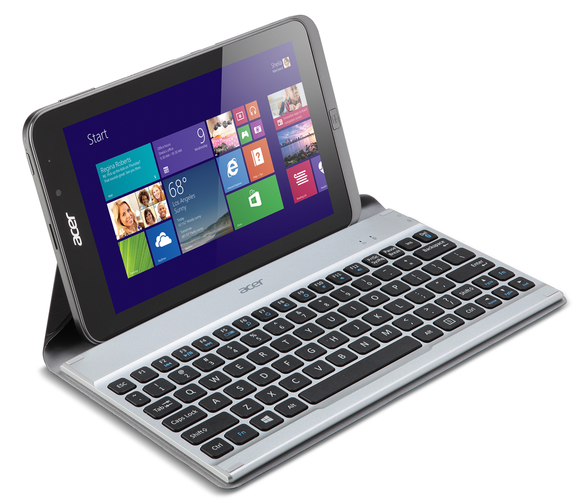 The Iconia W4 is also outfitted with a 5-megapixel (MP) rear camera, a 2MP front-facing camera, 802.11n Wi-Fi plus Bluetooth, a micro SD card slot, and a micro USB port. Here again, that's on a par with the competition. Acer goes one better than most Windows 8 tablets, however, by providing a micro HDMI port. Toshiba's Encore 8 also has HDMI out, which makes it a breeze to use the tablet with a large-screen monitor or an HDTV. The ports are laid out well if you'd like to set the tablet on a stand and plug lots of things in at your desk, although I do wish the USB/power port didn't end up on the bottom when the tablet is in portrait mode.
Me-too performance
Benchmark and day-to-day performance fell right in line with similarly equipped tablets. The W4 scored just behind the Toshiba Encore in all of our benchmark tests, and my experience using the W4 throughout the day was the same. Intel's Atom processors have really come a long way: The experience is smooth and responsive as long as you aren't trying to edit large videos or play the latest games.
The W4 ran for 6 hours and 51 minutes on our rundown test, which is one of the shortest run times we've seen on an 8 inch tablet, though not by much. The Toshiba Encore (if you must have HDMI out) will get you just a few extra minutes, and the Dell Venue 8 Pro will last for a couple hours longer (if you don't care about HDMI out). The W4 will last a full day if you can tolerate some low battery warnings by the evening, but it's nothing close to the 10 hours of run time you'll get from Lenovo's Miix 2 8.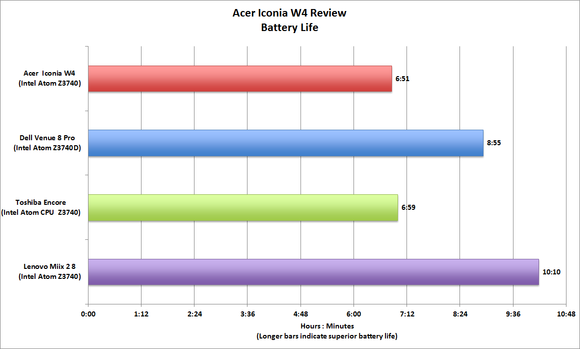 Worth buying?
The Acer Iconia W4 is a good tablet, but so are all the other options in the 8-inch Windows 8 realm. If HDMI is an important feature, we've seen the 64GB model selling online for $300 (that's $50 less than Toshiba's Encore 8). If battery life is more important, Lenovo's 64GB Miix 2 is selling online for about $329, and Dell's 64GB Venue 8 Pro is also going for about $300.