At a Glance
Expert's Rating
Pros
Adjustable everything
Standard SteelSeries lighting doubles as battery-life indicator
Hybrid wired/wireless operation
Cons
Battery renders it somewhat back heavy
On the small side (if you have big hands)
Very expensive
Our Verdict
The Sensei Wireless mouse is one of the most impressive wireless input devices on the market, but it will cost you.
The SteelSeries Sensei Wireless Laser Mouse is a gaming mouse for everybody. Or, at least, everybody willing to spend $160 on a mouse.
It's the people's mouse. A jack of all trades. A true Renaissance mouse. Want a wireless mouse? Good thing you bought a device called the Sensei Wireless. But wait—you want a wired mouse? The Sensei Wireless, despite its name, can also run wired. Are you right- or left-handed? The Sensei's ambidextrous design means it doesn't matter. What's your preferred sensitivity? You can probably adjust the Sensei Wireless to match. And your preferred lift-off distance? Yeah, that's adjustable too.
SteelSeries is becoming synonymous with an overwhelming amount of customization, as you can see from the Sensei's settings screen, below. There's a lot to tinker with, which is great if you're hardcore about your mouse. And you'd better be hardcore about your mouse, if you're spending $160.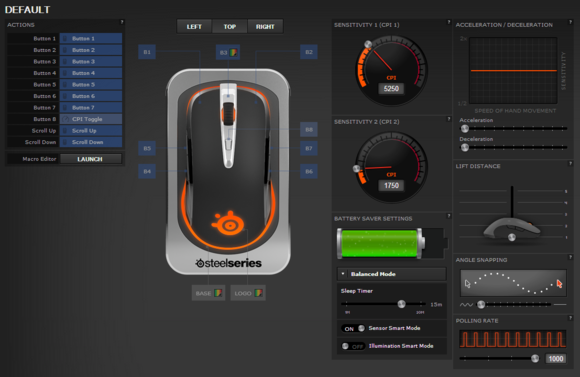 A wired wireless mouse
The biggest deal here is that the Sensei Wireless can run wireless or wired. In wireless mode, the USB cable attaches to a large charging hub, made of metal and plastic. The charging hub is attractive enough, with an LED ring colored to match the mouse's battery status: green for about 20 percent and above, yellow for 5- to 20 percent, and red for less than 5 percent. As with most SteelSeries devices these days, you can customize this to any color scheme you prefer (although the battery status is so useful I don't know why you'd change it).
The Sensei Wireless has a polling rate of 1000Hz, which is equivalent to a response rate of one millisecond. That spec is important because it helps eliminate the input lag that plagues so many wireless peripherals. I put the Sensei Wireless through its paces on that clickiest of clicking games, Diablo III, and didn't experience any problems. No random disconnects, no battery outages, no stuttering, no ghost inputs.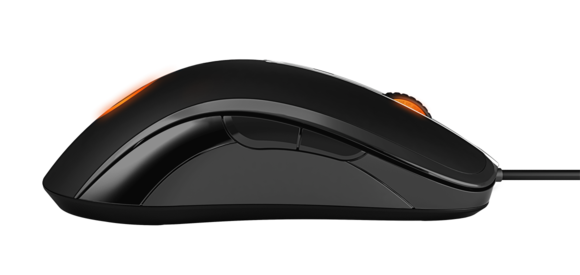 If you remain dead set against a wireless mouse, you can remove the USB cable from the charging station and plug it directly into the mouse. So if your Sensei Wireless goes dead in the middle of a work or play session, you can get back into action without needing to charge it on the base.
The battery is not removable, however, which gives me some worries. The Sensei Wireless is rated for 16 hours of battery life, but I don't know how much the battery will suffer over time from day-in, day-out use and charging. I know that my Xbox 360 Play-n-Charge kit became useless after a year. If your Sensei Wireless gets to a point where it can't hold a charge, then it turns into a Sensei Wired. End of story.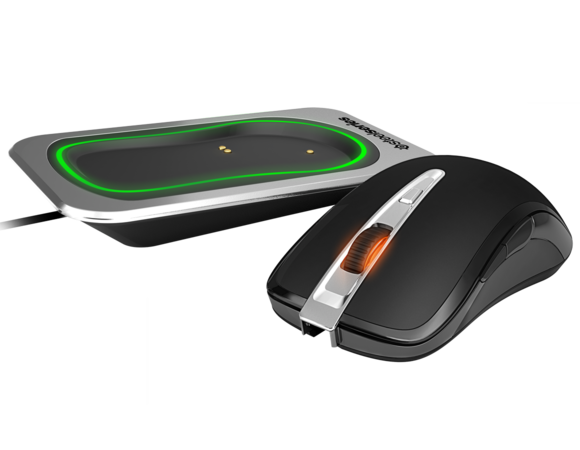 That being said, the Sensei Wireless does have some smart battery-saving features. It has two customizable LEDs, which can be set to any color or—as with the base—you can program them to report battery status. The large illuminated logo on the back can be set to turn off whenever your hand covers it, and you can tweak how long the mouse should be inactive before it turns off. These are small customizations, but they should help you eke out a little more wireless time.
More customization
As I said earlier, you can change practically everything about the way the Sensei Wireless runs. A mouse's sensitivity—the relationship between the distance you move the mouse on your desk and the distance your pointer moves on your display—is measured in counts per inch (CPI). The Sensei Wireless's laser sensor can be set anywhere from 50 to 8200 CPI. The SteelSeries Engine 3 software running on the host CPU can boost the mouse's CPI to 16400, although you'll probably never need that much precision. The software will also let you establish two default sensitivities that you can swap on the fly by hitting the button adjacent to the scroll wheel. You could choose one for ultra-precise work and one for casual browsing, for instance.
Mouse acceleration and deceleration are disabled by default, though both can be tweaked. Unfortunately, SteelSeries Engine 3 doesn't tell you how much acceleration you're adding, so you must set it up by feel. Or be like me and just don't use mouse acceleration.
Lift-off distance is adjustable from one to five millimeters. That's great for someone like me who's prone to barely lifting the mouse off a surface during tense games. You can set a lift-off distance that won't register phantom mouse movements when you reposition. And then there's angle snapping and polling rate, which you probably won't mess with. High polling rates are good. Angle snapping is a rarely-used setting that makes subtle corrections to your mouse movements, but it's there if you want it.
Sensei returns
As for the rest of the mouse, it's the same design that SteelSeries has offered since 2011. It's fabricated from lightly textured plastic, with a bit of metal around the scroll-wheel. Inputs include Left Mouse, Right Mouse, Middle Mouse, Scroll, a small button below the scroll wheel, two buttons on the left side, and two buttons on the right side.
And this is where the shortcomings of Sensei's ambidextrous design become apparent. Two buttons are basically impossible to use whether you're left- or right-handed. Right-handers like me can easily press the thumb-accessible buttons on the left side. But I couldn't find a single comfortable position for my hand that allowed me to reliably hit the corresponding buttons on the right side.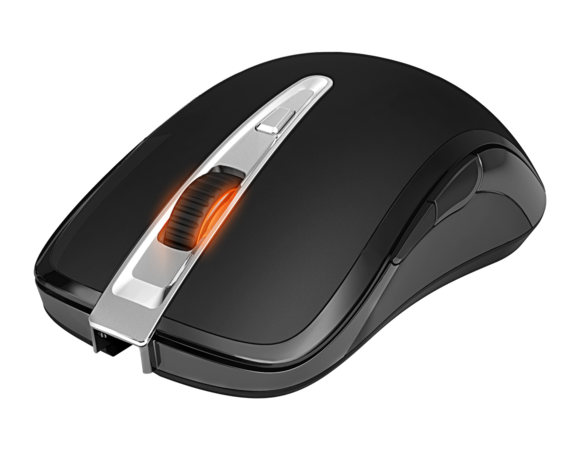 And at 2.7 inches wide, the Sensei is a bit smaller than I prefer. I have somewhat large hands and am a fan of the claw grip, so I ended up swapping to a palm grip to reduce cramping. This mouse is also a bit back-heavy—I assume because of the battery. When you lift it off the desk, the rear of the mouse has a tendency to pivot downward and put strain on your fingers. If you reposition your mouse constantly, the effort will wear you out.
Bottom line
Wired or wireless, the Sensei Wireless is an impressive mouse. Few wireless devices offer such high polling rates, and SteelSeries packs an impressive amount of customization into its software. The battery-status indicators, while superfluous, are impressively splashy (and evidence of the company's obsession with pretty lights).
The Sensei Wireless might very well be the best wireless gaming mice on the market; but with a price tag $60 higher than that of the best high-end wired gaming mouse, it will appeal only to gamers with a passionate hate for wires.