Do you really need to run your mobile apps at the fastest possible speed? AMD's new "Beema" and "Mullins" chips don't think so and have cut power by up to 20 percent from its previous generation while improving performance.
Yes, processor generations typically offer more performance and lower power as a result of silicon optimizations. But AMD designers have taken a new tack: the new chips are performing real-time analysis on the types of apps you're using and providing just enough clock speed to keep them running at optimal rates. If need be, AMD will even offer hardware partners the ability to mount sensors in their tablets to overclock the chips for a short time without burning the user's skin. And AMD plans to bundle apps like the BlueStacks Android emulator as a value-added benefit.
AMD's quad-core "Beema" chips consume between 10 and 15 watts and will appear in mass-market notebooks. The "Mullins" quad- and dual-core family, optimized for tablets and other low-power devices, will consume between 3.95 and 4.5 watts. AMD is currently shipping both chip families in mass production to its hardware partners, who have yet to announce their own tablets.
Why buy them?
The selling points of both chips, according to AMD executives, is that they achieve higher clock speeds and performance than the prior generation, even though they're manufactured on the same 28-nm process. Beema, for example, boasts 10 percent better graphics performance (as measured by 3DMark) at 40 percent less power than the previous "Kabini" generation, AMD claims. Both chips also include an integrated ARM-based security coprocessor for encryption and additional security and will in some cases come bundled with apps optimized for the chip itself.
"I think AMD has a very solid product here," said Patrick Moorhead, a former AMD fellow and now an independent analyst with Moor Insights and strategy. "Their biggest challenge will be to get designed in an OEM and ODM environment where Intel wants every single socket. The other challenge is that they are only supporting Windows versus Android, which is clearly in second place in tablets."
Unfortunately, AMD's overall CPU market share is 16.9 percent, bolstered by strong sales into game consoles. In notebooks, AMD's share was just 10.9 percent in the first quarter of 2014, according to analyst Dean McCarron of Mercury Research—and that's down from 13.2 percent from a year ago. And although Kevin Lensing, AMD's senior director of mobility solutions, claimed that AMD "created" the X86 tablet processor category with its 2011 "Brazos" chips, its tablet market share is "effectively zero," McCarron said, with just two aging design wins.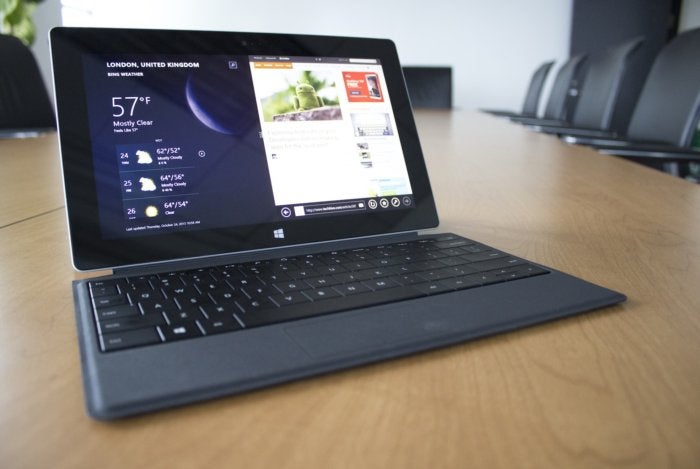 "Just to provide some contrast, Intel claimed tablet shipments of 5 million units in Q1," McCarron said via email. "AMD's total mobile shipments were within a couple percent of Intel's tablet shipments, so tablet is a wide open growth opportunity for AMD at the moment."
Unfortunately, AMD has persisted in using model names to identify its chips. If you're interested in notebooks using either chip, be sure and print out the following two graphics and bring them with you to the store, to make sure you have the right one.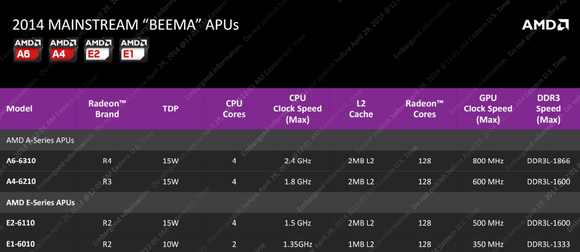 Performance on par with Intel's low end
AMD's Beema and Mullins chips both use an advanced version of the AMD Puma core, called Puma+, as well as Graphics Core Next (GCN) graphics architecture that powers the latest generation of game consoles. Still, AMD positioned its A6-6310 Beema chip as roughly comparable to Intel's Pentium 3556U "Haswell" processor, an entry-level chip Intel launched last year, under the PCMark 8 benchmark. Using 3DMark 11, it is roughly 50 percent faster, AMD said.
AMD also said that its A4-Micro 6400T Mullins chip delivered 15 percent better graphics performance than the Intel Atom Z3770, or "Bay Trail T" chip, using PCMark 8 V2, while the top-of-the-line A10 Micro-6700T outperforms a Core i3. Lensing boldly claimed that chips like the Intel "Bay Trail" series of Atom chips were "late and not good enough" to compete with AMD's offerings.

AMD's updated architecture helps boost CPU and graphics performance, but some of the the power savings can be attributed to a significant reduction—between 19 and 38 percent—in leakage current, the power that "leaks" into the ether when the chip is not being used.
Interesting software optimizations
AMD's new chips also support low-power DDR3-1333 memory, as well as a lower-power display interface. But some of the more interesting optimizations are outside the processor itself.
AMD's Mullins and Beema introduce what AMD calls "skin aware power management," a fancy name for trying to optimize for the amount of heat you'll put up with. If a laptop or tablet maker chooses to, they can install a sensor in the back of the tablet to detect when the heat it produces exceeds a certain level—say 60 degrees centigrade.
Sam Naffziger, an AMD corporate fellow, explained that the nature of apps processing—quick bursts followed by long periods of idle time—made skin-aware power management particularly appropriate. If necessary, the laptop or tablet can tempoararily overclock the processor to quickly get the job done, then drop back into idle mode. AMD's "race to idle" technique has been used by Intel for several generations as its "hurry up and get idle" philosophy.
Finally, there's what AMD calls "intelligent boost," a technique that only provides the CPU horsepower an application needs and not much else. Using an embedded microcontroller within the chips, AMD quickly assesses the performance that a CPU needs within a few microseconds, Naffziger said.
"If we're not getting that performance from that additional power, we don't want to go there," Naffziger said.
AMD also plans to offer the Android emulator BlueStacks to win hardware makers over, as well as the capability to recognize faces through facial recognition, as well as customized gesture controls.
"Across the board there is an alignment from the hardware, to the platform, to the end user experience, and we've partnered with app developers to deliver apps in all of these categories," AMD's Lensing said. "So when you see Beema and Mullins come to market, you're going to see partners deliver apps that are centered around these experiences.
"This is part of the package: not to stop at the hardware, or at the platform level even, but to develop with our partners apps that are differentiated on AMD and offer them in either bundled configurations or free of charge if you have the APU," Lensing added.
So far, AMD's losing ground in the notebook market. But AMD said that Samsung and Lenovo plan products based on the new chips, which is a start. They'll need them to sell well to gain ground on Intel.