Microsoft said Tuesday that its had added the ability to print to its Office for iPad suite, covering up an ugly bruise on an otherwise well-regarded office suite.
Microsoft announced the update in a blog post, noting, unsurprisingly, that printing had been the most popular feature request by users. Microsoft's Office for iPad suite is published as three separate apps—Word, PowerPoint, and Excel—and users will have to update each app separately via the Apple App Store.
Microsoft also said the new update includes SmartGuides for PowerPoint and AutoFit for Excel, two features that will improve the appearance of content in both apps, respectively.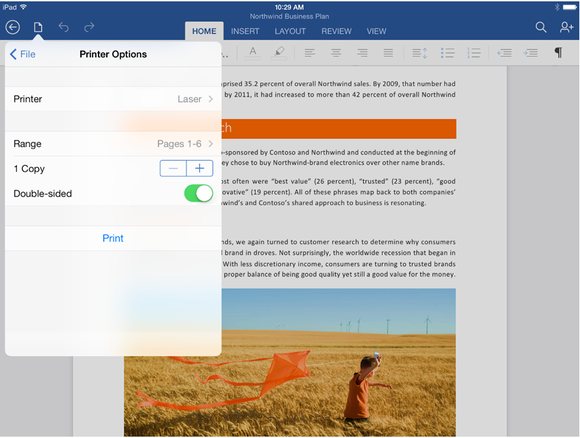 Although Microsoft's Office suite for the Apple tablet received positive if not rave reviews, one of its omissions was the ability to print. Microsoft's Office team then took to Reddit to promise it was coming, but they didn't say when. Thirty-three days after its release, it came. The new software apps use Apple's AirPrint to wirelessly connect to a range of supported printers.
The new PowerPoint app also includes SmartGuides, which provides some intelligence when moving images and other components of a presentation around on the page. AutoFit in Excel lets you adjust the width of multiple rows or the height of multiple columns at the same time, Microsoft said. The new apps also include other undisclosed stability improvements.
By adding the printing feature, Microsoft has now made its "free" app markedly better. But it still requires an Office 365 license, a tie that Microsoft appears in no hurry to sever. "We believe that you get the best up to date Office experience [in] the Office 365 subscription," Kaberi Chowdhury, a technical product manager for the Office for the iPad team, wrote during the Reddit Q&A session.