Yahoo is rolling out a new mail app for iPhone and iPod touch designed to deliver more than just messages.
The new mail app, announced on Tuesday, will provide a familiar Yahoo mail experience while adding access to other content like news, weather and stock tickers, according to the company.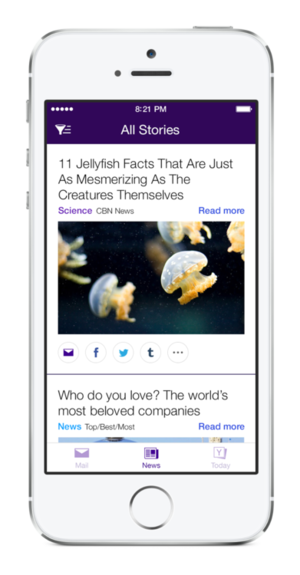 When users open the app they will see their Yahoo mail inbox, but with a new panel at the bottom with icons marked "Mail," "News" and "Today." Tapping on the "news" icon gives users articles about a variety of topics, from celebrity gossip to politics.
The Today icon gives a snapshot of other information that is personalized to the user, such as local weather, stock quotes or sports scores.
Incorporating those other content streams into the mail app aligns with the vision of Yahoo CEO Marissa Mayer of providing services for people around a range of "daily habits."
"This is where all your news, information, and communications come together in one integrated experience," Yahoo said in its announcement of the new app.
Yahoo has been on a redesign streak over the last year, revamping many services like Flickr and Mail on the desktop. Mobile has been a key element in Mayer's efforts to turn Yahoo around. But the company still faces major challenges in monetizing its new apps and growing its advertising business.
The new mail app is free and will be rolling out to Apple's App Store over the next couple of weeks to U.S. users, Yahoo said.