Jason Chen has been Acer's CEO for about 100 days, but he's already making major changes at the company as he boosts efforts to diversify beyond PCs and turn around years of financial and operational instability.
Chen has taken steps to reduce Acer's heavy reliance on PCs by branching out into emerging areas like wearables. He has also implemented plans to improve employee productivity and morale.
The company introduced its first smartband, called Liquid Leap, at a press event in New York this week, along with new PCs, smartphones and tablets. Acer will approach the wearable market one product at a time, and also continue to expand its mobile device lineup, Chen said in an interview.
"We came from 37 years of history in PCs. We're looking for, in the future, some of the things coming that are reasonable for Acer to capture," Chen said. "We have plenty of business beyond just PCs [with] the Internet of things and mobile devices."
Smartphone accessories
The smartband will capture health and fitness information, and initially will be sold as an accessory to smartphones. The company is also investing in research and development of new devices, but it will approach the wearable market with caution. There are still battery life issues, which can limit the usage of wearable devices, Chen said.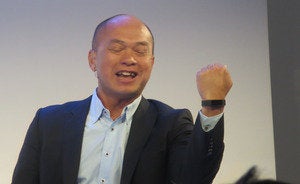 "We're going to go one thing at a time," Chen said. "We don't have a plan to go beyond what we showcased."
Acer has struggled financially, and hopes for a rebound under Chen, who became CEO in December following some turmoil in the company's executive ranks. J.T. Wang, who had been CEO since 2005, left in November, and President Jim Wong resigned soon after.
During the netbook craze, Wang guided Acer to become the world's second-largest PC maker by the third quarter of 2009, but the company slid after Apple introduced the iPad. Acer was the world's fourth-largest PC maker in the first quarter this year, with PC shipments dropping by 20.2 percent to 5 million units compared to the same quarter a year ago, according to IDC.
Chen is trying to stabilize Acer's mainstay PC business by announcing products twice a year, compared to an uneven schedule the company previously followed. Chen showed a colorful personality at the press event in New York, delivering his speech while walking through the aisles, and asking the audience questions.
So far, Chen has taken stock of the company's operations and tried to cut distractions so employees can focus on goals. He hasn't resorted to mass layoffs or done a massive restructuring of the business. Instead, he has given more autonomy to employees and established short-term milestones for management.
"What I did was to get to know people first, build relationships, establish a rapport, prepare a culture, prepare a vision… and get people excited. And later on, do a lot of, I call it 'good news.' I talk about the scorecard. We want to focus on our strengths," Chen said.
Still a PC company, for now
Acer will remain primarily a PC company until the emerging markets grow, Chen said. He tied the company's product strategies to "lifestyles," so Acer can respond to users' different devices and services requirements. The company will create hardware, software and cloud services accordingly, Chen said.
"It's very important that we realize how much we can reach and how much we can do," he said.
Some of Acer's most popular products are Chromebooks, which are available for as low as US$199.99 on Amazon.com. Chen is not concerned that low PC prices will hurt Acer's profits.
"When I talk to Stan Shih, our founder, he is very proud that we are able to bring PC price points to an affordable level that makes a majority of people enjoy PCs," he said.
Acer has to find more business buyers to sustain the PC business, and a gradual move to wearables makes sense, said Bob O'Donnell, chief analyst at Technalysis Research.
Acer's strength has been in consumer PCs, but it's the enterprise PC business that's rebounding, which has benefitted Hewlett-Packard, Lenovo and Dell, O'Donnell said.
Depending on the region, Acer already has a phone and tablet presence, and wearables is the next logical market. "The challenge—this is not unique to Acer—is to figure out what the market wants," O'Donnell said.
Tech companies could face a challenge in making devices that are fashion related. "It will be interesting to see how that plays out," O'Donnell said. "Maybe Acer pulls it off."