If OnLive can deliver games over your cable broadband, why not your cable provider itself?
That appears to be the logic that Comcast, the nation's largest cable service provider, is using, according to a Reuters report. Comcast is reportedly teaming up with Electronic Arts to stream games over your cable box using the new "X1" interface Comcast is rolling out nationwide.
According to Reuters, five sources say that the program will be launched soon, after two years of testing. Many more details of that test were unveiled last year by Multichannel News, which reported that the X1 service would be powered by EA's cloud delivery system, Origin. Comcast even deployed an iPad app that turned Apple's tablet into a game controller during trials in late 2013. The service was referred to as "Xfinity Games Powered by Origin".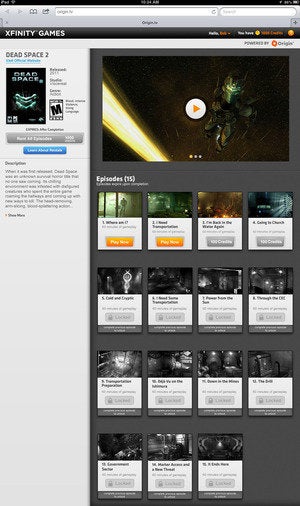 Lily Li, a user interface/user experience designer who claims to have worked on the project, offers even more detail.
"Xfinity Games Powered by Origin allowed Comcast X1 customers to access a web catalog on their iPad and launch a game directly on their TV through their Comcast X1 STB," Li wrote. "The user can then play the game using their iPad as controllers."
Games that Li published in her portfolio included Mirror's Edge, FIFA 14, and Peggle Nights—although there's no confirmation that those games were ever offered during the trial. Li's portfolio also identifies the service as "Xfinity Games Powered by Origin."
"Most games that we added to this platform had to be modified to fit into ~30 minute bits or to work with touchpad controllers," Li added. "Each game had a unique touchpad controller. Some game controllers had what we called two way communication — where the controller itself is aware of the game state and therefore the UI can update to reflect that. This allowed us to create a simpler contextual aware UI for the game which is extremely important since most of the games we have in our catalog are originally created for 14 button console controllers and that doesn't really translate well to a touchpad control scheme without heavy modification."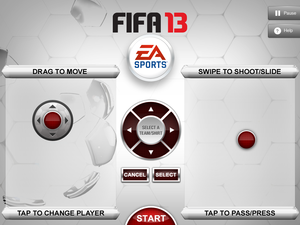 Casual games first and foremost
However, there's a big caveat, which Reuters tucked away at the end of its story: "Comcast will focus on casual and family games at first and consider offering other first-person shooter and action games later based on user preferences, the sources told Reuters."
That immediately places Comcast's efforts on the order of a glorified in-flight entertainment system that you can play from your couch, rather than a service that would match up a nationwide network of eager "Battlefield" players. And yes, Reuters mentions that the Battlefield series of first-person shooters and the Madden series of virtual football games in its story, but without explicitly suggesting that they're part of a potential package.
What we do know, however, is that cloud gaming technologies such as OnLive do work; I'm a Comcast subscriber, and I've played through entire top-tier games on the service. What isn't clear, however, is whether or not a relatively uncomplicated casual game (Hearts, for example) would be streamed over a network, or downloaded directly to the box itself.
In any event, EA and Comcast appear to be readying the service for launch in the near future. How will this affect your cable bill? That's probably the biggest unanswered question of all.