Streaming-music giant Spotify upgraded its Windows Phone app on Tuesday, giving Windows Phone users access to its Radio and Discovery features, among others.
But unlike those who have bought Android phones or iPhones, they'll still have to pay to use it.
So far, Windows Phone users are the only platform among the top three that have to pay to use Spotify. On Android or iOS phones, users have the option to listen for free: "Play any artist, album, or playlist on shuffle mode," Spotify says. And on a tablet, the options are even better: Users can play any song, any time, for a true a-la-carte experience.
But after installing and opening the app on Windows Phone, a popup warns that users will have to sign up for Spotify Premium to use the app at all. Although Spotify offers a free 30-day trial, after that you'll be forced to pay $9.99 per month. Spotify also offers the $9.99 per month Premium option on the other two platforms, but the company chooses to promote its other selling points: ad-free, high-bitrate music that you can even download and listen to offline.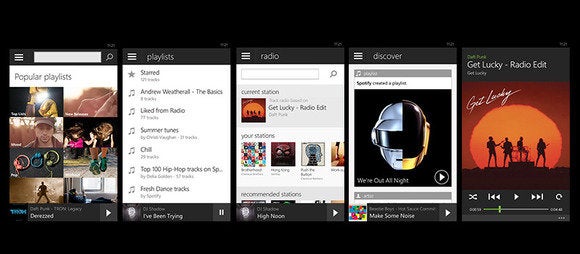 Spotify's latest app is a quintessential example of what Windows Phone users complained about earlier this month: that as the number of Windows Phone store apps ramp up, developers are still shafting WP users in favor of the other two platforms. "Right now we're MOSTLY focused on continuing to GET the key apps— although lately with more of these present, we've shifted a bit towards improving the current ones," said Joe Belfiore, corporate vice president and manager for Windows Phone Program Management at Microsoft, during a Reddit "Ask Me Anything" session on May 2.
Spotify representatives said they do plan to offer a free mobile option in the future, however. "We're working hard on getting all of our latest updates to Windows Phone users," a Spotify representative said via email on Wednesday. "We hope to launch both our free mobile offering as well as our new look before the end of the year."
Spotify's new apps include a Browse feature, which offer custom playlists based on certain moods and scenarios; Discover, including personalized recommendations and curated content; and the Radio feature, where users can create their own "station" based on a artist or song.
Still, all that costs money, and users who want to stream music on their Windows Phones would be best served through either Xbox Music or Nokia MixRadio, an app that most likely is bundled on your Nokia Lumia phone. Both apps offer a free "radio" option for streaming music, something that Spotify appears to want to withhold, for now.
Updated on May 14 with additional comments from Spotify.