At a Glance
Expert's Rating
Pros
Flexible file-sync options
Makes your data available anywhere
Excellent tool for collaboration
No subscription fees
Cons
Drive interfaces limited to either SATA 3Gb/s or USB 2.0
Our Verdict
If you're paying for Dropbox, you should take a long look at Connected Data's Transporter. It'll save you a lot of cash over time.
I've been a Dropbox subscriber for years. I initially signed up because I was collaborating with a designer and we needed to exchange large files. I kept my subscription long after our partnership ended because I got hooked on the ability to access my files from anywhere. I no longer needed to keep a thumb drive in my pocket, or worry about remembering to copy the latest versions of all my files to it.
Since then, I've also become a big fan of Western Digital's My Cloud line of NAS boxes. The products offer everything that Dropbox does, but I don't need to worry about a Dropbox employee snooping in my files, because the storage device is in my possession, and there is no subscription fee.
Connected Data's Transporter addresses one of the shortcomings of My Cloud and competing cloud-linked storage systems, but it also comes with limitations of its own.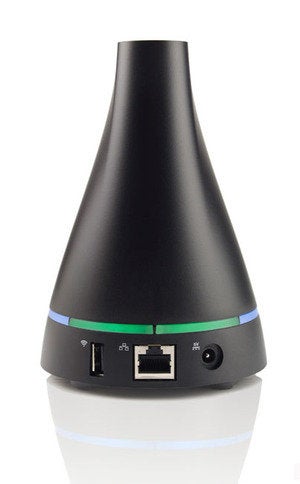 Unlike My Cloud and most similar NAS products, you can synchronize the contents of multiple Transporters via the cloud. (Actually, you can hack a My Cloud so that it will sync to another My Cloud using the Linux rsync command, but Western Digital does not officially support this, so you're on your own if anything goes awry.)
For my long-term evaluation, I installed one Transporter at my apartment in San Francisco and a second Transporter at my "real" home, which is three hours north of the Bay Area.
The two drives automatically synchronize to each other, providing redundancy that greatly reduces my risk of data loss from fire, flood, earthquake, or other natural disaster—or a man-made one, such as a burglary or vandalism. You must buy at least two Transporters to gain that benefit, of course, but the devices are not expensive.
Choose your poison
Connected Data offers two configurations: The Transporter, reviewed here, houses a 2.5-inch, 500GB, SATA 3Gb/s hard drive (renting that much storage on Dropbox would cost $500 each year). If a wired network connection is inconvenient, you can plug a Wi-Fi adapter into the Transporter's USB port. This model costs $199. The Transporter Sync, which sells for $99, is a variation of the same hardware, but without the drive or an enclosure for one. You plug your own USB hard drive into the Sync's USB 2.0 port (it has only one, so wireless networking is not an option with this model). Both devices have gigabit Ethernet ports, but the Transporter is generally faster because of its SATA interface.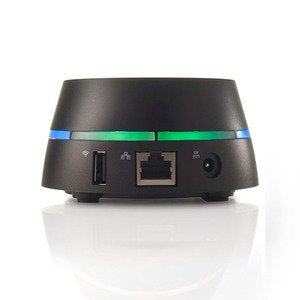 I haven't used the Sync, but the software behaves the same on both models, and the software is the primary attraction. I prefer the original Transporter because there's virtually no chance of the hard drive's disconnecting from its SATA interface, whereas someone might inadvertently pull the USB cable out of the Sync.
On the other hand, the Sync is much less constrained in terms of storage capacity. Internal 2.5-inch SATA drives max out at 1TB, where external USB drives come in capacities up to 4TB.
How it works
If you've used Dropbox, you'll be very familiar with how the Transporter works. You install an app on each device (computer, tablet, smartphone, etc.) you wish to connect to the Transporter. Installing the software creates two special folders on your PC: the Transporter folder and the Transporter library. Transporter Desktop Version 2.5 adds a third type of folder: The Transporter Special Folder will sync files stored in your computer's Desktop and media folders (Documents, Pictures, etc). If you activate this feature on multiple computers, the Transporter will merge the contents of those folders on those machines.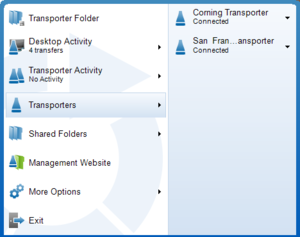 Files you copy to the Transporter folder are stored locally on the Transporter's hard drive and are copied to every computer onto which you've installed the Transporter software. These files are automatically synchronized via the cloud whenever you have Internet access, but they're also available locally for those times you don't. You would typically use the Transporter folder when you're collaborating with others and when you need access to files even when you don't have Internet access.
The people you're sharing with don't need to have their own Transporters, but they do need to have a Transporter account and will need to install the Transporter software. To invite someone to share files, you create a shared folder and then add their email addresses to it. They'll receive an email with your invitation. You cannot share the Transporter Special Folder with others.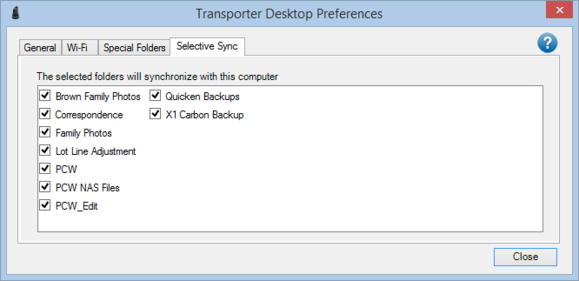 Selective Sync allows you to fine-tune the synching process by choosing which folders stored inside the Transporter folder are downloaded to each computer. When you install the Transporter software on a Windows tablet with just 32GB of storage, for instance, you can configure it to download just a couple of folders with small numbers of files. When you install the software on a desktop PC with terabytes of storage, you can set it to download everything stored on the Transporter if you wish.
The Transporter library folder is used to store files that you don't wish to keep on your computer, tablet, or smartphone. These are stored only on the Transporter, but you can open and save them as if they were stored locally. These operations involve transferring the files over the Internet in real time, so the process is slower than if they were in local storage. The upside is that those files won't consume any storage on your device.
Android and iOS apps
The Transporter apps for Android and iOS devices, meanwhile, download files only on demand, no matter which type of folder they're stored in on the Transporter. You'll see a synchronized directory of folders and files, but everything remains on your Transporter until you ask for them.
The iOS app can also be configured to automatically upload any photos and videos you take to a folder on your Transporter. The app smartly uses geo-fencing in order to prevent battery rundown and to avoid racking up hefty charges on your mobile data plan. When you're somewhere with Wi-Fi—at home or the office, for instance—you set your device's current location as your geo-fence location. After an initial backup, all future photos and videos will be automatically backed up to the Transporter while your device is within that area. This is a one-way backup, so if you delete the media from your device, the back-up copies will remain on the Transporter. This feature is currently not supported on the Android version, but Connected Data tells me it will be available very soon.
The Transporter is a great product for anyone who needs to access their data from anywhere—and isn't that just about everybody these days? But as strong as it is, I'd like to see an upgraded model with a faster SATA 6Gbp/s interface.
Update: This story originally reported that the Transporter was available only with a 500GB hard drive. Connected Data also offers a model with no drive for $159 (bring your own drive), with a 1TB drive for $249, and with a 2TB drive for $349.