Social media has a reputation—well deserved, we should note—for being a bit of a waste of time. Case in point: A 2012 survey from Salary.com found that 64 percent of employees visited non-work related websites every day during working hours, and 61 percent of employees said they spent over an hour a week on personal web usage. The number one time waster? Facebook, visited by 41 percent of those users. (LinkedIn was second, at 37 percent, which probably explains a lot about why so many are killing time on Facebook.)
Who then can blame managers who chastise workers for whiling away the day on tweets, likes, and status updates? Or find fault with IT policies that block employees from visiting social media websites on company time? It may not be progressive, but management does have a point.
But what if you could prove to the powers that be that social media has real value to your job? Need talking points to take to your boss to show that Facebook, Twitter, LinkedIn, and other social media sites are actually essential to the work you do? Try these arguments (don't call them excuses) for how your job—and the company—can benefit from social media.
Ask for help
Ever needed to find an obscure fact, get the answer to a tricky problem, or research a topic that's new to you? Of course you have, that's why Google exists. But while the world's biggest search engine is great for telling you who starred in Steel Magnolias, it often has trouble with complex queries, and it's useless when it comes to matters of opinion or preference.
You can waste hours searching the web to find data about, say, sales of mountain bikes over the last 20 years. Or you can simply take your question to social media. If your network is large enough, you're likely to get a response from someone who knows the answer, or at least a lead to someone who does, within minutes.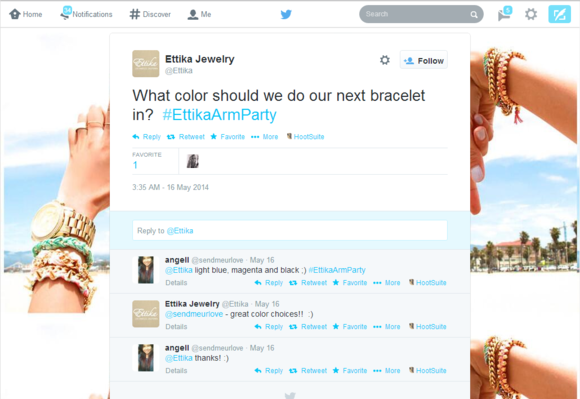 But social media is even more powerful when it comes to ad hoc opinions. What color bicycles should your company produce? How many gears do people want? What frame styles are best? Questions that would normally cost thousands of dollars and take weeks of consumer polling can be answered in just a few hours—or at least point you in the right direction.
Scout for talent
The general assumption is that anyone spending time on LinkedIn during business hours is updating their resume and looking for another job. But if your job description includes managing other workers (even contractors or freelancers), the site can be a huge help when it comes to staffing by making your search for employees easier. LinkedIn's robust search tools (click the "Advanced" button next to the search box) let you find qualified candidates based on location, industry, schooling, experience, and more. Note that you'll need to upgrade to a Business plan (prices start at $288 per year) to access some of the more advanced search features.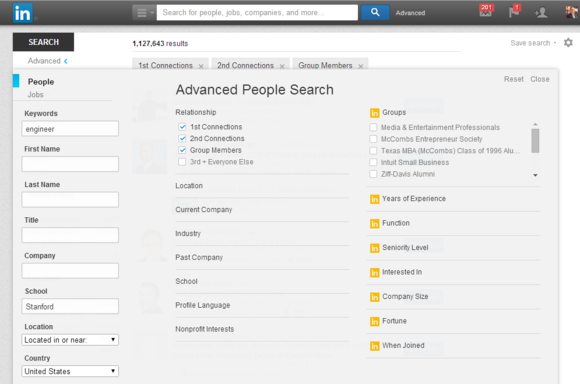 Collaborate with coworkers
One of the most visible public uses for social media is becoming increasingly popular in a private, business setting: communicating as a group. Put it this way: If all the employees in the office are going to be on Facebook all day, why not leverage Facebook's messaging and storage system so the group can use it to communicate with one another?
Simply create a private group (one which only invited members can join) and invite your colleagues to join. You'll have access to an instant messaging system, private email, a message board, and a basic photo archiving system, all on a platform everyone is probably already using, so there's no new login information to remember. The photo sharing features alone can be an incredibly powerful and simple way to organize and share common media assets like company logos and executive head shots. Just drop the latest files on your Facebook group's page and delete any out-of-date pictures, saving you and your fellow employees a slog through the server. Bonus: it's all free.
LinkedIn allows the creation of private, members-only groups as well, but these tend to be more difficult to interact with and don't have as many features.
Promote products and events
Social media isn't just a dumping ground for baby pictures, cat videos, and photos of various foods. It's also increasingly an avenue for businesses to communicate with customers and market their wares—and for you to get to interact with those customers on a personal level. Most notably, Twitter and Facebook are huge avenues for coupons and other promotions. Some companies even create special Twitter accounts just to promote "deal of the day" offers in the hopes of further building up engagement and increasing their social media footprint. It sure beats standing on the corner and spinning a sign.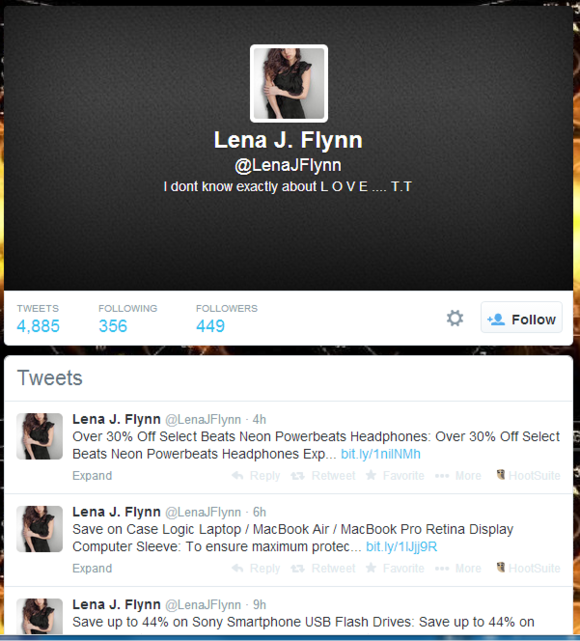 Monitor customer chatter
The flipside of offering coupons and other deals on social media is the ability to take a deep dive into what customers are saying about your business. Formerly, your job might have entailed organizing and managing focus groups to dig out insights from customers about your company's products. Now you can go straight to the source, saving time, effort, and money.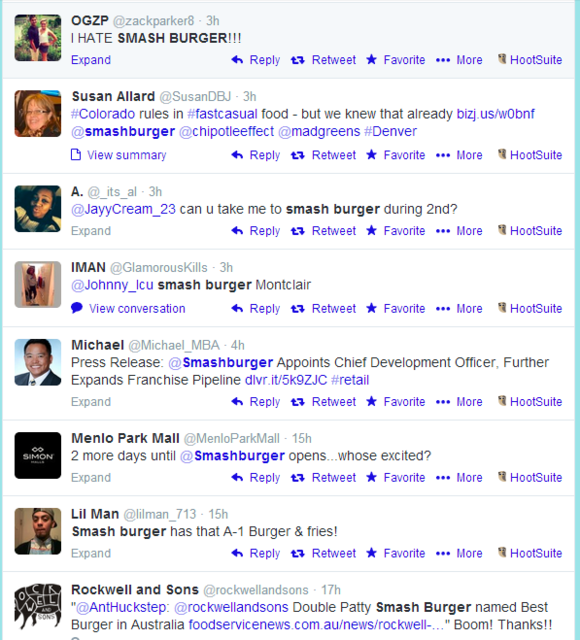 On Twitter it is especially easy to search for and monitor keywords such as the name of your company, the industry you're in, competitors and their products, or just about anything else. Use @ tags to communicate directly with individuals, or hashtags to join part of the broader conversation. Regardless of your approach, social media tools can be invaluable in taking a real-time pulse of your company and its industry, which you just can't get anywhere else.
Communicate with customers
Only a few years ago, the only ways you could communicate with your customers was through an email newsletter, a post on a seldom-visited website, or—egad!—a letter in the mail. Whichever you chose was likely to be costly, time-consuming, and probably ineffective.
Social media streamlines that process, giving you better information while making you much more productive along the way. When your product is available in a new version or with new features, or if you simply need to let customers know that your store's hours are changing, posting updates to sites like Facebook and Twitter is virtually instantaneous and much more likely to be read than an easily-deleted email newsletter. If your company is experiencing a crisis—like website downtime or another minor catastrophe—Twitter has become the go-to medium for communicating updates to customers and clients.
Get feedback on work in progress
In many industries, customers have shown a keen interest in seeing the "behind the scenes" operations of even the most mundane companies. Social media gives you a simple way to show off work in progress rather than assembling small groups in person or looking for feedback at a trade show or another public setting.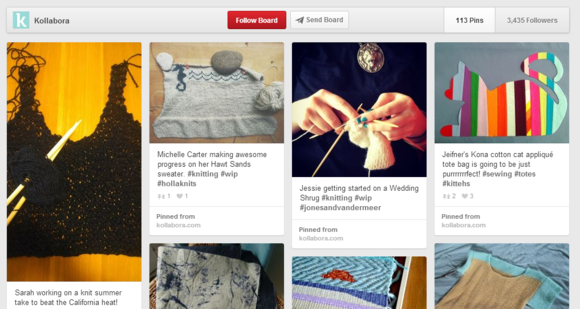 Photo- and video-centric services like Instagram, Pinterest, and YouTube are tailor-made for efforts like these, and their two-way nature means you can not only show off your wares as they're being built, you can also solicit feedback to help guide your product's direction while it's still in development. Beats hiring an expensive consultant to tell you what you're doing wrong.