Today's 20-somethings don't use LinkedIn. The complex career social network has little to offer them, especially if they lack experience—or at least, that's what Shara Senderoff, founder of Career Sushi, believes.
"If you're looking for an internship or an entry-level position, LinkedIn can't really help you," Senderoff explains. "It's great for growing your professional relationships, but what if you don't have any professional relationships?"
Well, if we 20-somethings can't turn to LinkedIn to root out job opportunities, either because they don't exist or because we can't stand out among more qualified candidates, where can we turn? That's the gap Senderoff's new website, Career Sushi—part job board, part portfolio/resume, and part social network—aims to fill.
The non-traditional resume
Career Sushi helps young creatives build a non-traditional, media-centric resume that presents more like an artist's portfolio or a social media page. A Career Sushi profile has eight sections, in addition to the main overview: education, experience, skills, honors, references, interests, badges, and seeking.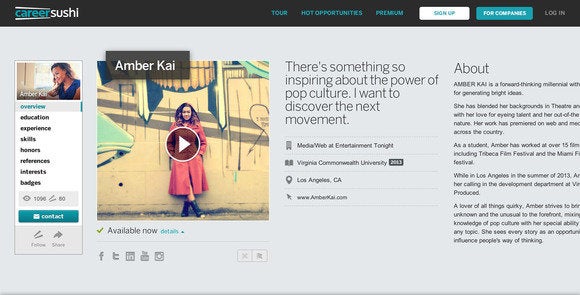 Senderoff says that the interests section is particularly popular with hiring managers who want to make real connections with candidates. It gives job seekers a showcase for their personality that resume-oriented sites don't, and, done well, it can make a person stand out among a horde of candidates with similar skill sets.
In the honors section, users can add images and descriptions of any accolades they have received, and in the references section they can add quotes, images, or videos from people who have recommended them. Unlike LinkedIn's references section, Career Sushi's references are entirely edited by the job seeker, not the referrers. At the bottom of each Career Sushi profile is a summary that companies and other users can click on to see a quick overview of the candidate's qualifications.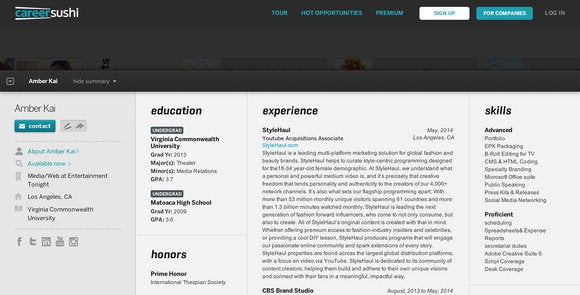 Overall, Career Sushi makes a pretty good-looking professional profile that can also be shared with people outside of the site. It's not as streamlined as LinkedIn's more traditional resume format, but its emphasis on visuals and word clouds will appeal to younger users.
Connecting with companies
Career Sushi also features profiles of hiring companies, so the users can get better insight into organizations they're interested in. These profiles include a "Company Attributes" section, which features a word cloud of terms the company associates with its brand. For example, BCBG MAXAZRIA's attributes include "fashion," "design," and "dresses," of course, as well as "professional," "bon chic," and "innovative."
Company profiles also include an "Office & Culture" tab where companies can pull back the curtain on their workplace. Most companies use the opportunity to show pictures of their office space and staff members, which visually address concerns millennials have, about things like dress code and office design. Since younger workers are usually looking for cool, creative office spaces and other perks, this is a great place for businesses to show off what they're doing to attract them. Career Sushi is the first career site I've seen that asks companies to create a profile that's as eye-catching and detailed as the job-seekers' profiles.
Hot jobs…if you want an internship
While the respective profiles offer a nice way for companies and job seekers to make a great first impression, Career Sushi's raison d'etre is to help under-30s find entry-level work via its job database.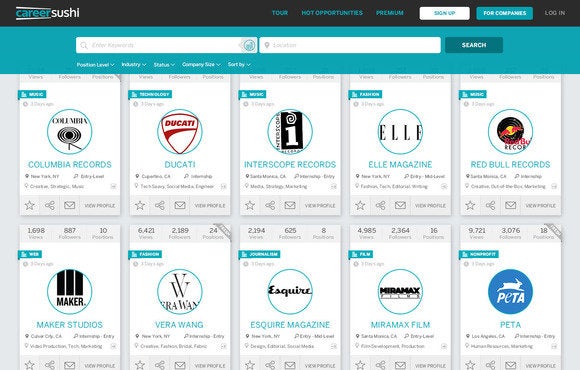 Career Sushi boasts that it has relationships with 12,000 "prestigious" companies across a variety of industries, and at first glance, the job board looks impressive. At the top of the list you'll see available positions from hot companies, such as Interscope Records and fashion house Vera Wang. Each listing has quick-links for bookmarking it, sharing it with your social networks, emailing the company directly, and applying for the job through Career Sushi's applications tab.
Unfortunately, Career Sushi's job board isn't nearly as rich a resource as it first looks. While you can search for jobs by keywords, there's no way to filter openings by category, company, or position type. This is especially an issue at launch, because Career Sushi appears to only have a handful of full-time positions listed—the rest are all internships. That's understandable given that Career Sushi grew out of Senderoff's first website, Intern Sushi, but the site doesn't seem like it will currently be much use for anyone who is looking for a paid position.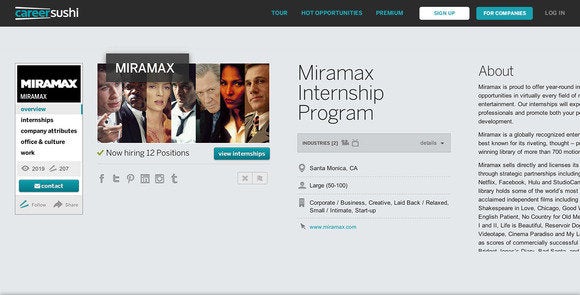 Career Sushi also offers a paid premium option for $10/month that, among other things, gives subscribers access to special jobs, including all the jobs listed under the "Hot" tab. You might recall LinkedIn stirred some controversy when it decided to charge job seekers for perk-filled premium plans, so this is an interesting tactic for a site that defines itself largely by all the ways it's not like LinkedIn. It also effectively devalues the free membership, which is undoubtedly going to be the draw for cash- and experience-strapped young job seekers.
The other premium features seem fairer. Paid members are allowed to message companies directly, share their profile without Career Sushi links and branding, and see when their applications have been opened.
The bottom line
The argument that LinkedIn doesn't offer much for those just starting their career is valid, but with the current dearth of full-time-job listings, it's tough to see how Career Sushi serves them any better. Its portfolio style profiles and social media feel will undoubtedly be attractive and useful to young creative professionals, but until the site beefs up its job bank, their time is probably better spend pounding the pavement.