By 2018, according to a report by IDC, the smartphone market will look much like it does now—but with Microsoft's Windows Phone platform slowly closing in on Apple's iPhone.
A report released by International Data Corp. late Wednesday predicts that by 2018, as now, phones powered by Google's Android operating system will continue to control over two-thirds of the smartphone market, or 77.6 percent. Apple's iPhone will be a second-tier player, with just 13.7 percent of all phones sold..
But for both of those platforms, IDC predicts that iOS and Android market share will decline, as Windows Phone begins nibbling away at the other two. IDC said that by 2018, Microsoft's Windows Phone will hold a 6.4 percent market share, versus a predicted 3.5 percent in 2014. In 2014, IDC estimates that Android and iOS will command 80.2 percent and 14.8 percent market share, respectively.
And BlackBerry? It's essentially dead: With only a 0.8 percent share today, the company's share is expected to drop to 0.3 percent by 2018, IDC said.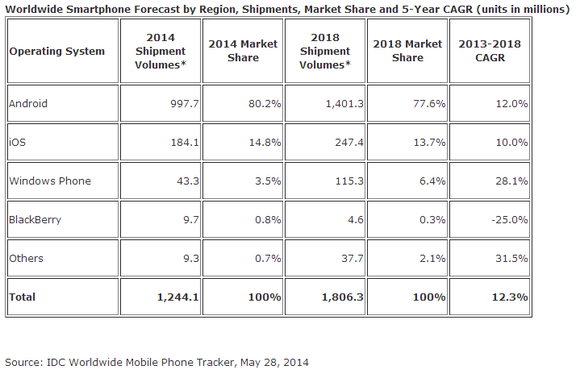 Mobile "good enough" computing
The trend IDC sees is "good enough" computing extending from the PC to the smartphone and tablet. If consumers don't choose to buy phones to run high-powered, graphically intensive apps, yesterday's hardware works just fine. And Android still carries the low-cost banner, with the average price of an Android phone expected to drop from $254 to $215 in 2018.
"Until recently, low cost has equaled poor quality in the smartphone space," said Ryan Reith, a program director with IDC's Worldwide Quarterly Mobile Phone Tracker, said in a statement. "Given the competition at the high end, vendors like Motorola are trying to skate to where the puck is going by offering extremely affordable devices like the Moto E, which offer a 'good enough' experience that will suit the needs of many. This goes to show that components that were used 2-3 years back in high-end smartphones are still sufficient in many aspects, and ultimately will allow vendors to come to the table with viable low-cost solutions."
IDC's justification to boost its Windows Phone shipments is based on the firm's belief that its increased number of hardware manufacturing partners will inevitably result in more sales. Microsoft recently announced Windows 8.1 with Bing, which will be offered free to hardware makers developing devices smaller than eight inches.
Microsoft's Windows Phone partners include HTC and Samsung, as well as Lenovo, LG, Foxconn, Gionee, Lava (Xolo), Longcheer, JSR, Karbonn, ZTE, Micromax and Prestigio. To date, however, virtually all Windows Phones have been manufactured by Nokia, now part of Microsoft, with bare fractions from HTC and Samsung.
The key, for Microsoft, may be the addition of Micromax and Prestigio, popular brands in India and other BRIC countries.
"What makes smartphone growth so amazing is where the growth will be taking place," said Ramon Llamas, a Research Manager with IDC's mobile phone team, in a statement. "Smartphone shipments will more than double between now and 2018 within key emerging markets, including India, Indonesia, and Russia. In addition, China will account for nearly a third of all smartphone shipments in 2018. These—and other markets—will offer multiple opportunities to vendors and carriers alike, but the key will be balancing affordability with expectations."