At a Glance
Expert's Rating
Pros
Good performance for a home NAS box
Easy remote access
Broad feature set
Cons
No onboard backup or sync
Priced higher than many of its competitors
Our Verdict
Toshiba's home-oriented NAS has a good feature set and decent performance, but there's little to set it apart from some competitors with lower street prices.
It's not particularly well-advertised, but Toshiba makes a NAS box. I'd heard about it, but the single-bay Canvio Home Backup & Share barely ticked my radar until Toshiba sent PCWorld one for evaluation. Color me impressed—mostly. The Canvio Home Backup & Share offers a robust feature set and good performance for its class; however, it retails on the high side.
In a world of impressive desktop-in-a-browser interfaces, such as the one you'll find in QNAP's TS-469 Pro, the Canvio's stack of tabs on the left seems quaint. Aspersions aside, it's exceptionally easy to navigate because of a logical layout and concise, descriptive headings such as Storage, Downloader, and Media Server Setup. The interface is also very facile—less is more when it comes to rendering graphics quickly.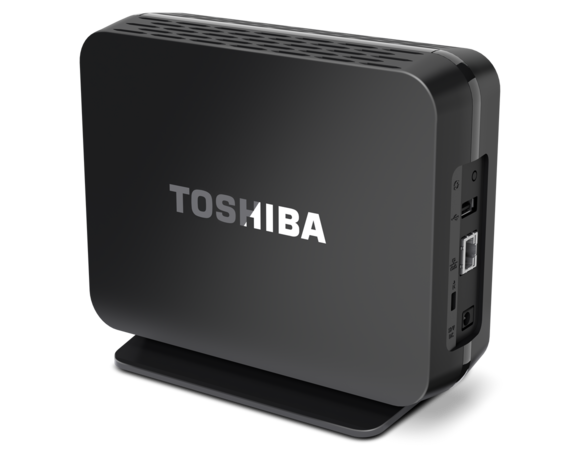 Feature-wise, the Canvio offers nearly everything the average user needs: Windows and Apple networking support; users, groups, shares, and storage quotas; FTP, SSH, and cloud access; DLNA and iTunes servers as well as Bit-torrent downloading. It also supports both USB storage and printers via the single USB port on the back of the unit.
But, while you can back up the box's configuration and settings, that's it for data safety. Missing are the ability to sync with another server and to back up data to an attached USB drive. And you will want to back it up if you have no other repository: The Canvio HB&S is a single-bay unit without data redundancy.
Performance: Good enough
As for performance, our 2TB unit proved plenty fast for media streaming over your home network, but its middling write speeds will make for plodding backup times. On the bright side, Toshiba provides a backup utility that enables full system restores on a PC, and there's Time Machine support for Mac users.
The unit wrote our 10GB test batch of files and folders to its platters at 25.7MBps, and it read them at 38MBps. It wrote our single large 10GB file at 36.6MBps and read it back at 74.4MBps. That's good for an inexpensive, single-drive consumer NAS box, but significantly slower than the data rates you'll get from pro and business units.
Client software for NAS boxes rarely factors into our NAS assessments. Most often you can get away without it. Not so the Home Backup & Shareo's; you need the provided remote app if you want to log on from beyond the local network. Remote access via broadband (aka your "Personal Cloud"), once enabled, is handled automatically behind the scenes. Simply fire up the Canvio Remote client (available for Android, iOS, OS X, and Windows), enter the provided PIN along with your user name and password, and you can log on from nearly anywhere.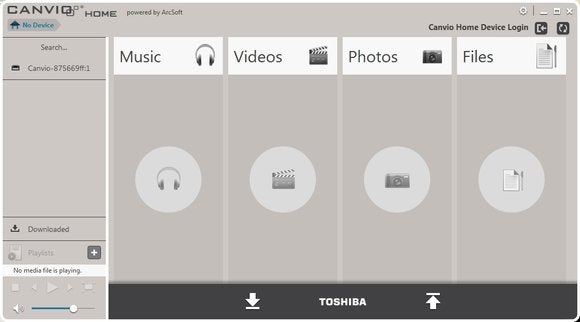 Canvio Home Backup & Share competes well with better-known rivals from Seagate and Western Digital, and the super-easy remote access is a deal-maker. But as I mentioned up top, its sticker price renders it expensive for its ilk: The 2TB model reviewed here carries and MSRP $200, while the 3TB model is priced at $270.
At the time of this writing, however, Toshiba might have realized it's priced itself out of contention. I found these boxes—which come with three-year warranties—selling on Toshiba's website at the discounted prices of $150 and $195 respectively. Still, WD's 2TB My Cloud might come with just a two-year warranty, but you'll find that box selling online for just $135.