At a Glance
Expert's Rating
Pros
Easy to use
Fast and responsive
Keeps advanced tools out of the way
Cons
No manual alignment in HDR tool
Perfectly Clear feature is underwhelming
Our Verdict
Feature-packed photo editor is a faster, cheaper alternative to Adobe Lightroom.
In a perfect world, editing your photos would be just as fun as snapping them. Corel's newly-released AfterShot Pro 2 is an $80 image editor for shutterbugs and pro photographers that almost makes it so.
If you've used either Adobe Lightroom or Picasa, Aftershot Pro 2 will feel familiar. For one thing, it's just as fast as Picasa: Browsing a 236GB photo library is a snappy and responsive experience. It is significantly faster than Adobe Lightroom on the same machine.
You can choose whether you want AfterShot to import your photos into a database or work on the folder structure you already have on the disk (similar to what Picasa does). Working directly on the disk makes for very fast browsing, and you still get to enjoy one of AfterShot's key features: non-destructive editing. Any changes you make are fully reversible, since they're saved alongside the original image in an XMP file.
Non-destructive editing also means you can easily create multiple versions of a given image and try out different adjustments. AfterShot lets you compare these versions side by side and adjust each independently—and when browsing your photo collection in thumbnail mode, you can stack image versions so they only take up a single thumbnail. Combined with AfterShot's robust support for RAW images, this makes for a fun editing playground.
AfterShot Pro 2 comes with a tempting button labeled Perfectly Clear. This button is supposed to quickly optimize your images—sort of like Picasa's I'm Feeling Lucky feature—but in actual use, I found that it mainly lightened images and made them more contrasty. It was not as impressive as I'd hoped.
Fortunately, image adjustments are easy to make. There's a vertical tool pane running across the window's right side with clearly labeled tabs such as Tone, Details, and Metadata. Dig in, and you'll find curve adjustment tools, color correction and balance, exposure controls, and more. The Perfectly Clear moniker makes another appearance, this time under the Detail tab where it's used for noise removal. It's a different tool with a similar name, because it's based on the same technology—but when used for noise removal, I found that it works well.
By default, all of these adjustments will affect the image as a whole. If you're looking to make more selective adjustments, you need to start working with layers. This is a concept any Photoshop user is familiar with, and AfterShot makes it simple and fuss-free.
The first thing I noticed about the layer tools was how subtly they're implemented. Not the image adjustments, but the way the tools are built into the interface: If you don't usually need layers, you won't even notice they're there. But if you do like to work with layers and selective regions, they're very easy to turn on.
You won't find the Layer Manager on the sidebar: There's a small button on the top toolbar, next to the name of the current layer (which is always Main Layer if you're not using layers). Click it, and a floating pane opens. This presents one of the few confusing things about AfterShot Pro 2: You have two types of layers. There are Adjustment layers, and then there are Heal/Clone layers. You can have multiple Adjustment layers, and a single Heal/Clone layer per image.
Once you have a layer, it's time to select one or more regions of the image to adjust. Using the selection tools is surprisingly fun and intuitive: You can select circular areas, draw out polygons, create curves, or brush over areas of the image freehand. What makes the tools cool is how they scale and control feathering: Each selection has an inner area (the core) and an outer one (the feathered part). Put your mouse inside the core area and scroll, and the area instantly grows. Put it inside the feathered part and scroll, and the degree of feathering changes. It takes longer to explain than to use—a truly fun and nuanced way to make fine-grained region selections.
It's a good thing the region selection tools are well built, because one thing you won't find is a Magic Wand: There's no way to click a contiguous area of the image to make a quick selection. You'll have to manually draw around the areas you want to adjust.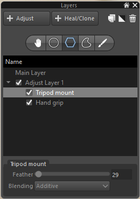 I found AfterShot works well for managing a vast collection of images. Even without creating a database ("Catalog," in AfterShot Pro 2 parlance), you can make nondestructive image adjustments, tag images with keywords, rate them, label them with colors, and flag them as Picks or Rejects. Basically, if you can conceive of a way to sort and tag your vast image collection, AfterShot Pro 2 lets you do it.
AfterShot Pro 2 packs a number of other tricks, such as a fancy HDR tool. But even if you don't dig deep into the product, it is blazing fast, easy to use, and makes for a compelling addition to any shutterbug's toolbox.