Intel's fifth-generation Core processor family—code-named Broadwell—might be late, but the company has cooked up a couple of brand-new Haswell-class desktop CPUs that PC enthusiasts are sure to dig. Code-named Devil's Canyon, Intel unveiled the all-new Core i7-4790K and Core i5-4690K processors at Computex on Tuesday (Taiwan time). Intel is also marking the 20th anniversary of its Pentium processor by introducing the all-new Pentium G3258.
The Core i7-4790K is notable for its ability to run all four of its cores at a base clock frequency of 4.0GHz. Other Intel CPUs have been able to reach this frequency on one or several cores for brief periods (a burst mode Intel identifies as "Turbo Frequency"), but this new part will run that fast consistently and boast a turbo frequency up to 4.4GHz.
The new Core i5-4690K, meanwhile, will operate at a base clock speed of 3.5GHz with a turbo frequency up to 3.9GHz. Both new CPUs have unlocked clock multipliers, which will enable the end user to push these chips' operating frequencies even higher.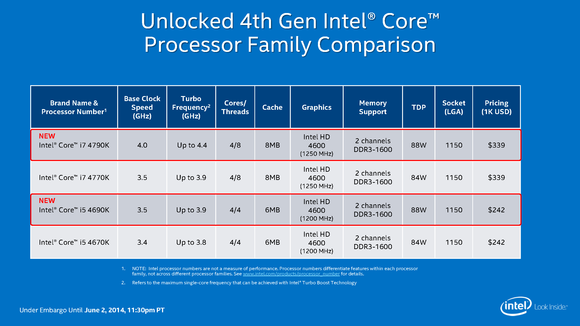 In an embargoed briefing last week, Intel VP Lisa Graff said Devil's Canyon was developed on a very fast track, starting in December, 2013. "We gave our engineering team a target," Graff said, "we wanted a part that could run at 4GHz on all four cores. But we also put a lot of restrictions on them: 'You can't change the cooling solution, you can't change the socket, and it has to work with our existing chipsets.'"
Works with existing motherboards
That means the new parts will plug into existing motherboards with LGA 1150 sockets and either Intel's Z87 or 9-series chipsets. Graff said that motherboard manufacturers will need to tweak their Z87 boards to accommodate the new CPUs, in part because the chips' TDP (thermal design profile) has edged up from 84 to 88 watts.
Intel's engineers "hit the two things you need to address to crank up the frequency," Graff said, "You need to make some packaging changes, so they added a huge number of capacitors to deliver smooth power. And they produced a new thermal solution that works with existing cooling solutions."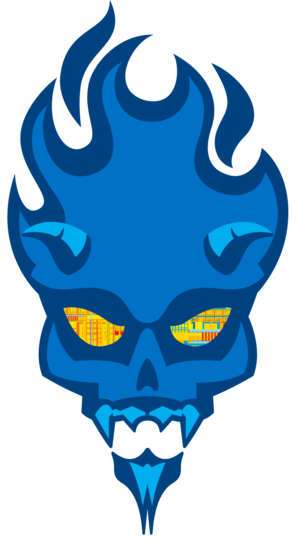 The new thermal solution Graff spoke of is known by its very long acronym: NGPTIM (Next-Generation Polymer Thermal Interface Material). It's essentially grease that the factory applies to the heat spreader housing the processor.
When a heatsink and fan (in an air-cooled system) or a water block (in a liquid-cooling system) is clamped to the CPU, the grease spreads over the top of the chip's heat spreader and helps transfer heat from the chip package to the heatsink or water block so it can be dissipated.
Consumers will be able to buy the new CPUs with or without Intel's own heatsink and fan, but I predict most DIYers will favor third-party cooling solutions from the likes of Corsair, Zalman, NZXT, and others.
While both Devil's Canyon parts are quad-core CPUs, the Core i7 variant supports eight execution threads, where the Core i5 model supports only four. By the same token, the Core i7-4790K will have 8MB of cache, where the Core i5-4690K has 6MB. But both processors will have the same integrated graphics processor—an Intel HD 4600—and both will be capable of addressing DDR3/1600 memory over two channels. Intel expects the new Core i7 part to sell for $339 and the Core i5 for $242 (that's for quantities of 1000 without a heatsink and fan).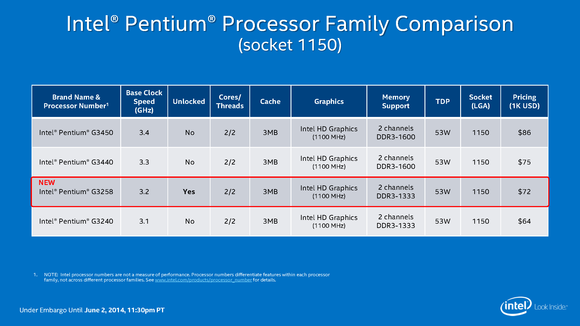 The Pentium reinvented
Graff also unveiled an unlocked Pentium processor, the Pentium G3258. It will operate at a base frequency of 3.2GHz, but like the Devil's Canyon parts, it will have an unlocked multiplier to attract PC enthusiasts. This dual-core part will have integrated Intel HD Graphics and be capable of addressing DDR3/1333 memory over two channels. It will be compatible with Socket 1150 motherboards with Intel 8- or 9-series chipsets, and it will have a TDP of 53 watts. Intel expects it to cost $72 (in quantities of 1000, without a heatsink or fan).
This isn't the first time Intel has revealed information about Devil's Canyon and the new Pentium processor. Graff discussed both parts at a press briefing related to the 2014 Game Developers' Conference in March.