It's difficult to get real-time alerts about articles with specific headlines on specific subjects from specific websites.
News reader applications like Feedly or Flipboard are great for browsing and even searching through news items, but they lack the ability to send notifications proactively. Emails from Google Alerts can be tardy, and at other times, articles can slip by completely.
Never fear! Used together, two web applications, IFTTT and Feed Rinse, solve this problem easily.
In this tutorial, I'll show you how to use Feed Rinse to combine and filter RSS feeds for use with IFTTT. IFTTT is a web application that automates common tasks like posting to social media or sending emails. If you're new to IFTTT, check out this tutorial on how to get started.
1. Set up the IFTTT SMS channel
To get our alerts, we're going to use IFTTT's SMS channel. To activate the SMS channel, you'll have to enter your mobile phone number.
After you enter your mobile number, IFTTT will send you an SMS with a confirmation code. Enter the confirmation code in the text box labeled PIN, and the channel will be activated. Be sure to label the IFTTT phone number in your address book, so you'll know where the SMS messages are coming from.
2. Import feeds into Feed Rinse
Feed Rinse is a free web application that filters RSS feeds according to user-specified criteria. After signing up for an account, log into the web service. On the welcome screen, you'll see an empty list with two tabs. We'll deal with those soon enough, but first we need to add our news sources.

Most news websites and blogs supply links to their RSS news feeds. The links are usually at the top or bottom of the page. Try looking for the feed icon, which looks like a dot with two larger quarter circles, resembling radio waves.
For our example we need to locate the feeds for PCWorld's website.
First, open up the PCWorld website in a new tab. Next, find the link to PCWorld's RSS feeds near the bottom of the webpage.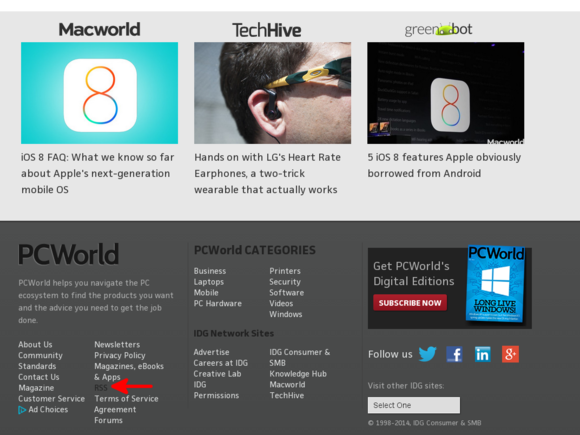 When you click the link, you'll find that PCWorld has several feeds. We're going to use the main news feed. That way, Feed Rinse will search every article that gets published.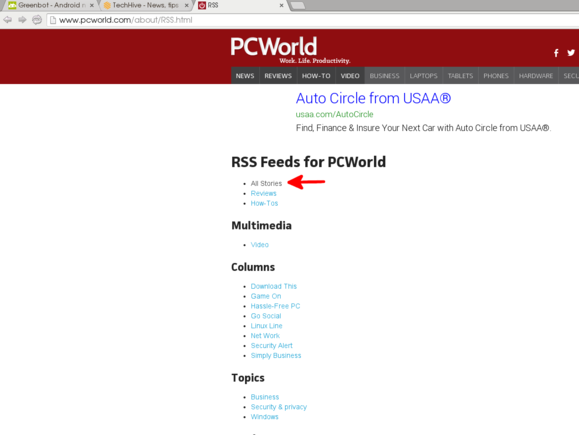 After you click the link to the feed, copy the feed URL from the address bar or your browser.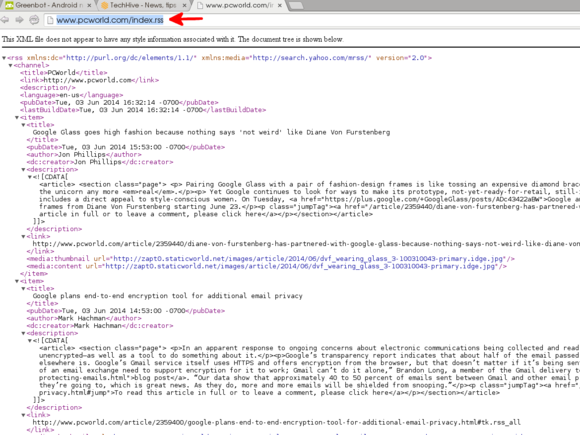 In Feed Rinse, click the Add feeds button. On the left side, you should see a text box labeled 'Enter your subscription url(s) here.' Paste the feed URL that you copied from the PCWorld browser tab.
You can add multiple feeds at once by adding each feed on a separate line. In this example, we'll add the URLs for the TechHive and GreenBot RSS feeds as well.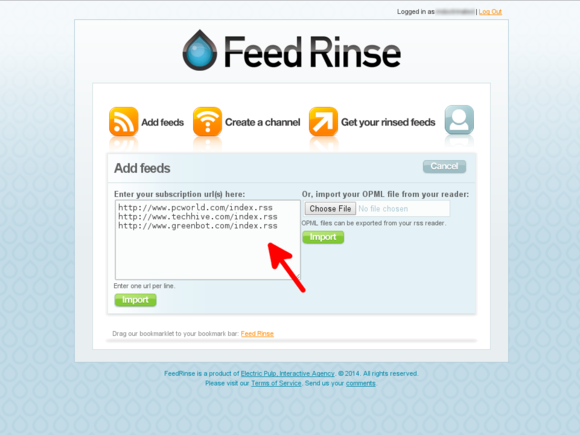 Click Import to add the feeds to your collection.
3. Create a Feed Rinse channel
Next, we're going to create a channel in Feed Rinse that will lump all the posts from your chosen feeds together into a single feed. We'll need this feed link for our IFTTT recipe.
You can filter individual feeds in Feed Rinse as well, but by using a channel, you can filter several feeds at once.
Click Create a channel to create a channel. Give the channel a name and click Continue.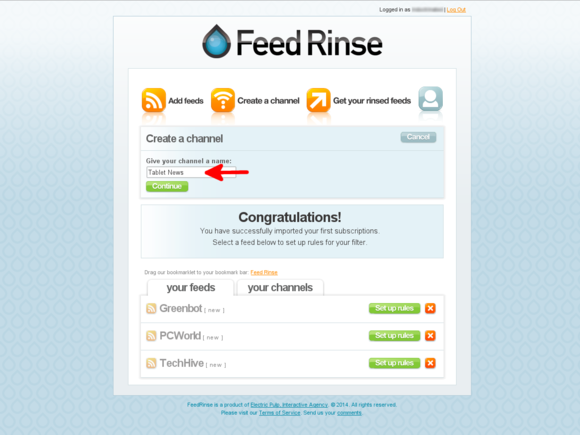 On the next screen, we need to add the feeds to the channel in the section labeled 'Select included feeds.' Select the name of the feed you want to include using the drop-down menu. To add or remove feeds from the channel, use the plus and minus buttons, respectively.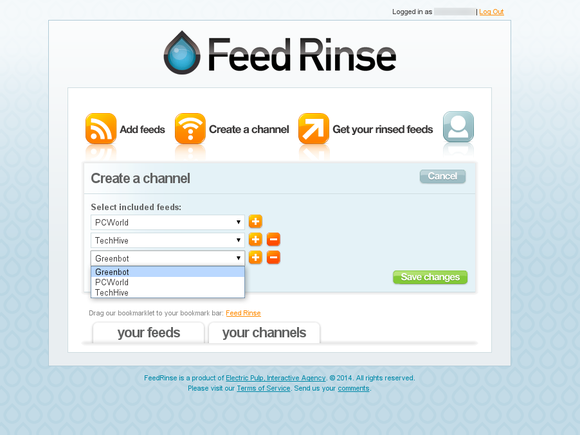 When you're done, click Save changes.
4. Set up Feed Rinse filters
After the feeds are imported, we need to set up our filters. Click the your channels tab and click modify channel next to the channel you want to edit.
Your filters can allow or block posts based on the filters you set. We're going to allow only posts that mention the terms "Windows 8," "Surface Pro" and "Android" in the post title. This will match any article that contains those terms in the article headline.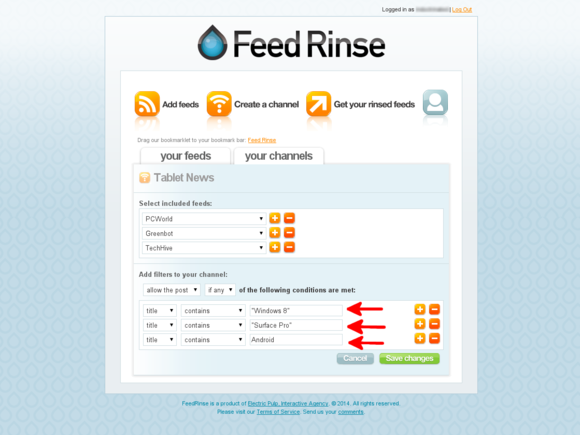 You may also be able to filter for terms for the author, the article body, or even tags. This can be useful to follow your favorite writers, or find articles that may be related to a subject, even if the term's not in the headline. However, the RSS feed has to support those additional filters for them to be available to you.
After you've set up the filters for the feeds you want, click Save changes.
You can set filters for individual feeds as well under the 'your feeds' tab.
5. Set up IFTTT recipe for the rinsed feed
In the 'your feeds' tab, click the icon next to the feed channel you just created. A drop-down box will appear, giving you options for outputting different formats for different feed readers. Select other to get the raw XML.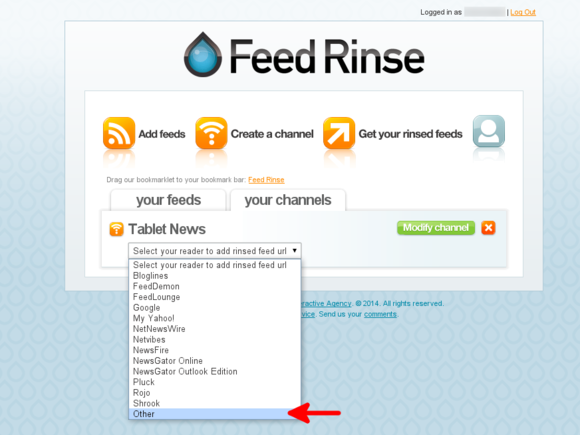 Before you copy the URL of the RSS feed, take a moment to check the XML document in your browser to make sure the filter is working. If you see any entries inside of <item> tags, ensure that the headlines and descriptions, inside of <title> and <description> tags respectively, match your search criteria.
If you look at the screenshot below, you will see that our search criteria match content in the the <title> tags of the items.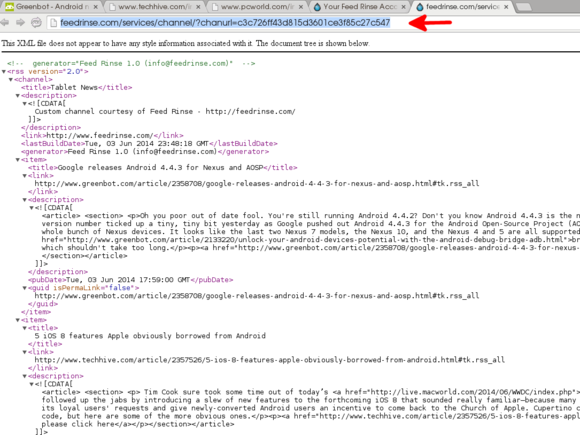 If you see a bunch of entries that clearly don't match your filter criteria, go back and edit the filters for the channel. If you still get entries you don't want, try removing the channel and re-creating it.
If the XML document doesn't have any <item> entries in it, don't worry. RSS feeds show only the latest articles (usually around 10 or so) in order to save bandwidth. It is very possible there simply aren't any recent articles that meet your criteria.
Next, go back to IFTTT and create a new recipe using the Feed channel (the channel has a feed icon) with the trigger 'New feed item.' Paste in the URL of the XML file you got from the Feed Rinse channel into the text field labeled 'Feed URL.'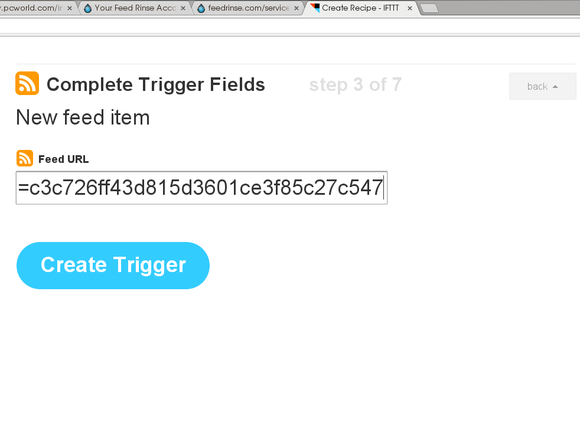 Click Create Trigger to move on to the next step.
Create the recipe's action by clicking on the the SMS channel (the icon will be a big green speech bubble with the text "SMS" inside it). Next, create the format of the SMS texts you want to receive.
When you're done, click Create Action.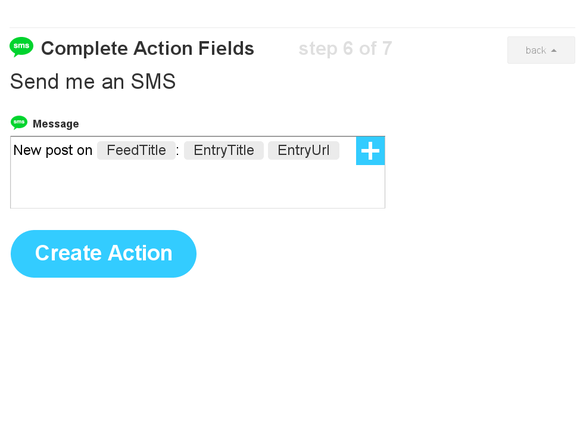 Finally, give your recipe a name and click Create Recipe.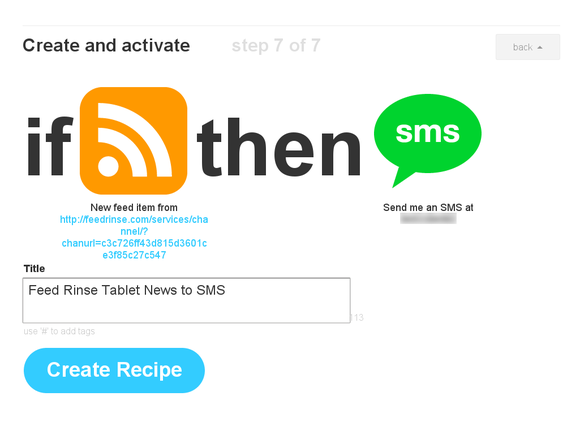 6. Wait for the news
IFTTT checks recipes every 15 minutes, so news updates will be frequent, if not instantaneous. However, it will save time when compared to sifting through multiple RSS streams.
Some RSS readers like Feedly may have trouble reading updates from Feed Rinse. If you want to save articles for later, you can create an IFTTT recipe to send rinsed articles to other services like Evernote or Pocket.
Note: When you purchase something after clicking links in our articles, we may earn a small commission. Read our affiliate link policy for more details.
Alex is a tech tinkerer who built his first computer while in middle school. Alex is also a huge Linux geek and loves all things open-source and web.
A graduate from California State University, Long Beach, Alex also spent five years in the U.S. Marine Corps. Before that, he was a computer science major. He still writes a few lines of code from time to time.