Taking a cue from Facebook, Twitter, and Google+, LinkedIn announced today that it will let premium subscribers add cover photos to their profile pages.
The photo-centric redesign—which also includes a larger profile photo, a gallery of prefab background images, and the option to create a custom background—gives users more options to reinforce their personal brand and stand out in the crowd.
For now, these enhancements are being offered only to the privileged: Premium LinkedIn users will be able to add cover photos immediately—the feature will roll out to unpaid users in a few months—and you must apply to a wait list to access the custom backgrounds.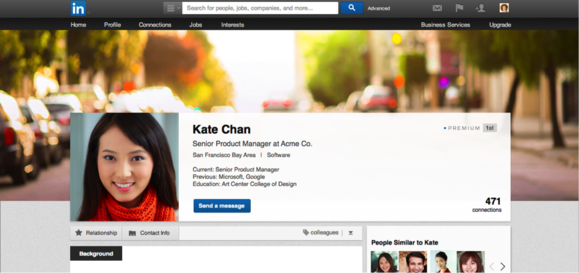 LinkedIn also added a few other incentives to attract more users to its paid service.
Premium users' profile listings will now appear twice as large as those of unpaid users in LinkedIn search results. Additionally, subscribers will now be prompted with personalized, search-friendly keyword suggestions when setting up their profiles. They'll also have the option of leaving their profiles "open" to be easily found by any of LinkedIn's 300 million members and be able to see a full 90-day list of "Who's Viewed Your Profile."
LinkedIn's premium tiers run $23.99 and $47.99 per month for the Business and Business Plus packages, respectively, but today it added an entry-level Premium Spotlight offering for $7.99 a month. The new subscription includes all of the new features and is "designed for ambitious professionals who are looking to take their career to the next level," according to a blog post by LinkedIn product manager Dmitry Shevelenko.