Working for yourself can be rewarding, but it usually also means taking on administrative and managerial chores that others handle in large companies. Thrive Solo offers help for freelancers who want help tracking, evaluating, and planning the most profitable use of their time.
To really benefit from Thrive Solo's web-based services, which cost $16 a month or $160 a year paid up front, your work should be complicated enough to need them—in other words, you're juggling multiple clients and/or projects that involve multiple tasks. With Thrive Solo, you can track how long you're spending on projects in order to bill accordingly (with Thrive's invoicing module), or at least determine how much you're being paid for the time you put in.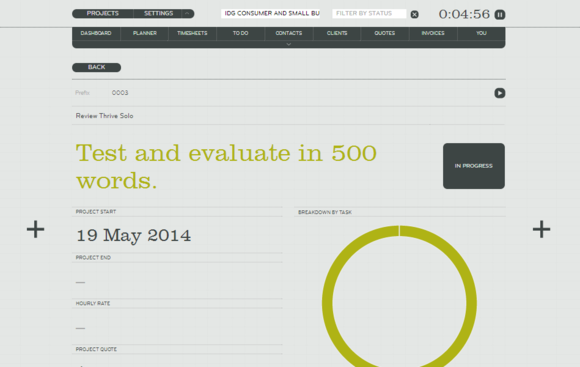 Thrive's user interface is exceptionally handsome, with cool graphics and lots of context-sensitive pop-up menus that appear when you click on large plus symbols on either side of pages. These menus, typically providing options for creating or viewing data such as clients and tasks, basically replace the usual left (or right) nav bars on most software, giving Thrive a spacious and uncluttered look.
Of course, you have to do a little clicking to discover your options, but that learning curve isn't too steep, and the major modules (e.g. planner, contacts, clients, to-do list, quotes) are easily accessible from a menu bar near the top of the page.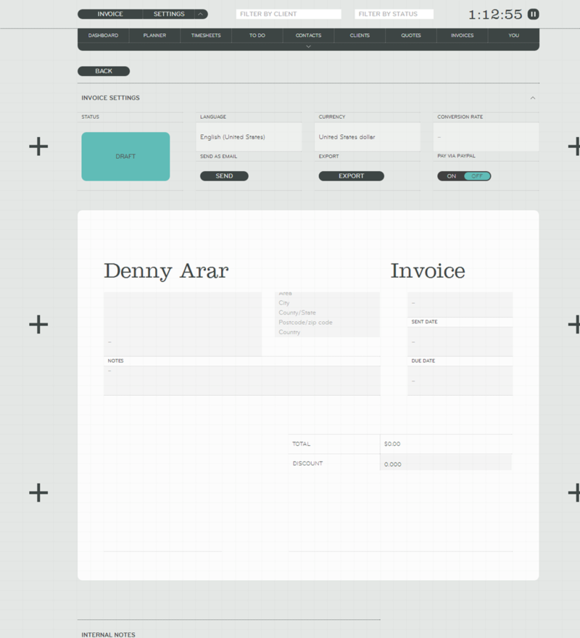 Muddying the UI waters a bit, however, are two small boxes above the menu bar that offer options for quickly accessing project lists: by client or by status. Oddly enough, there's no easy way to simply see a plain list of projects.
Project pages let you enter details on quotes, tasks, expenses, milestones, and—if you're billing by the hour—time tracking. There's a time-sheet module that will calculate how much you've billed on a given day, if you're diligent about using Thrive Solo's time-tracking features (which include a timer at the top of the page). iPhone users can get Thrive Solo's time-tracking app to help collect data when they're on the road.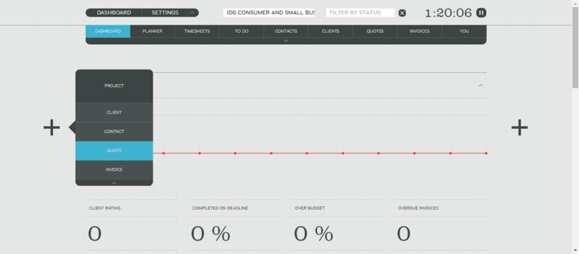 Client pages, in addition to collecting contact and project information, let you rate clients and determine profitability. You can customize the dashboard that appears when you log in to show messages about deadlines and to-dos, business analytics, and other information for the various modules.
To be clear, Thrive Solo isn't a complete accounting solution. The invoicing module will let you create and send invoices, and will also track whether you're getting paid on time, but you will still need a service or software to do the books and your taxes. That means you may have to enter your invoices twice, which is annoying. (Thrive says it is working on integration with Quickbooks, Xero, and other accounting software.)
Still, if you're busy enough to need help managing your time and determining where it is most profitably spent, Thrive Solo could prove a worthwhile service.