This week at WWDC, Apple's annual developer conference, Apple showed off some of the new features and capabilities coming soon in iOS 8 and Mac OS X Yosemite. The level of integration between the mobile and desktop operating systems looks impressive, but maybe Apple should be focusing on how to provide that level of integration for Windows users with iOS devices.
Apple revealed some very cool capabilities that blur the line between the mobile device and the desktop. Mac OS X has already been able to send and receive messages in Apple's proprietary iMessage service, but Yosemite will be also be able to interact with SMS text messages sent to the user's iPhone. The new version of Mac OS X will also be able to view Caller ID information for incoming calls on the iPhone, and make and receive calls directly from the PC.
Those are great features. But that Mac users are a relatively small market that misses most iOS users. Mac OS X has gained some market share in recent years, but it still hovers well below 10 percent. iOS, on the other hand, has been a dominant force in mobile devices since the launch of the original iPhone. The result is that most iOS users don't actually use Mac OS X—in fact a recent report from Business Insider suggests that seven out of ten Windows users also have an Apple device.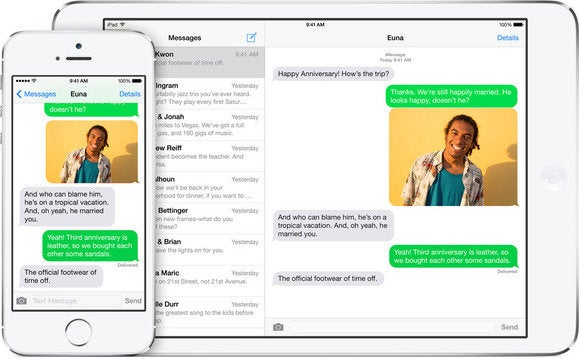 Microsoft has embraced other platforms in recent years. By recognizing that the world has evolved beyond the traditional server/desktop architecture, and that many—if not most—customers are communicating and interacting through platforms and devices outside of the Windows desktop environment, Microsoft has been able to develop native apps and capabilities that enable users to stay engaged in the Microsoft ecosystem no matter what device they use.
Google also does a good job of making its apps and services available across different platforms and devices. Google could maintain those as unique value propositions for Android, but it cares less about herding everyone to its mobile platform and more about ensuring everyone is able to continue using Google apps and services regardless of which platform they're on.
Apple needs to take the hint. It has offered some integration with Windows through iTunes and iCloud, but there is a long way to go. Developing a Windows version of the iMessage app—a Windows version with the same integration with iOS 8 and the same ability to send and receive both iMessage and SMS text messages—would be useful. Designing integration between iOS 8 and Windows that will enable Windows users to see Caller ID info from their iPhone on their Windows PC and answer the call from Windows would be fantastic.
Get cracking, Apple.