You may feel productive when you're in the process of getting stuff done. Me, I don't feel productive until I've gotten something done—and crossed it off of my to-do list. And despite the fact that I've spent years writing about technology, my to-do list remains decidedly low-tech, scribbled on a notebook that's seen better days. That's why I'm putting these task managers to the test, trying to find one that will have me updating my to-do list to the modern era.
Wunderlist
Android, iOS, Windows, Chrome; free
Wunderlist is in the running to become my new task manager, largely because this free app replicates the experience of keeping a written to do list, only with an interface that's far more refined than my wrinkled notepad. You can create multiple to-do lists to keep your business and personal lives organized, and adding items to them is as simple as it could be. I especially like that Wunderlist keeps your completed tasks visible on screen. Nothing makes me feel less accomplished than an app that removes them from sight. (After all, how can I know I've gotten anything done if I can't see it crossed off my list?)

Wunderlist is available as a browser extension for Google Chrome, and as an app for Android, iOS, and Windows. Wunderlist adds some high-tech touches that my notebook does not, such as the ability to share lists with friends and allow them to check items off of those lists as well. You also can assign tasks, sort by due date, and—if you're really having trouble moving up to the high-tech world—print out a hard copy of your list.
Todoist
Android, iOS, Windows, Mac OS, Chrome; free or $29 for premium version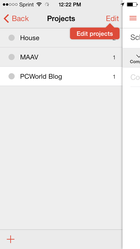 Todoist is a whole lot like Wunderlist, only a little less aesthetically appealing. If you can get beyond its plain white interface, though, you will find this (mostly) free service easy to use. Like Wunderlist, Todoist allows you to add projects and tasks and share those items with friends and colleagues. And, also like Wunderlist, Todoist works in your Web browser as a Chrome extension, and as an app for Android, iOS, Mac, and Windows. Outlook users will appreciate Todoist's Outlook integration, which makes it easy to turn emails into tasks, but I do wish some of its premium features—such as setting reminders for tasks—were available in the free version, not just as part of the $29-per-year paid upgrade.
Pocket Lists
iOS; $5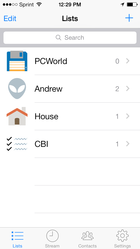 iOS users looking for a to-do list with a little more pizazz will appreciate Pocket Lists. This $5 app—expensive when you consider the widespread availability of free alternatives— lets you add icons to your lists, bringing a bit of levity and color to the experience of using it. But beyond that, Pocket Lists offers little to recommend it that you can't find elsewhere. It lets you create lists and add tasks to them, but it doesn't offer a web-based version for use at a computer. I also wish it took greater advantage of the iOS touch screen by allowing you to tap the space on the list where you'd like to add a task. It seems cumbersome to have to tap the "+" icon at the top of the screen instead.
Carrot
iOS; $2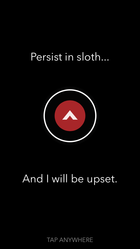 For a task manager that blends a bit of fun with just the right amount of functionality, look no further than Carrot. From the moment it welcomes you with the message, "Greetings, lazy human," you know this $2 iOS app is different from other task managers. It tells you that when you get stuff done, you will be rewarded, but that if you "persist in sloth," it "will be upset." When you complete tasks, Carrot does indeed reward you—with cute sayings and gifts such as virtual fortune cookies. All these fun and games wouldn't matter if Carrot wasn't capable, but this app is a sleekly designed task manager, as nice to look at as it is to play with. I like that it takes full advantage of the iOS touch screen, allowing you to pull down to add new items to your list and lets you remove them by swiping. The only downside for business users might be the app's loud notifications; you'll want to make sure your volume is turned way down if your boss is lurking nearby.
Organize:Me
iOS, Mac OS, Windows; free for iPhone, $7 for iPad, $40 for desktop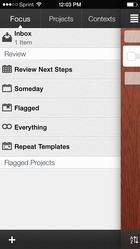 Professionals looking for a more business-like task manager will appreciate the straightforward approach taken by Taskfabric's Organize:Me app. This app is free on the iPhone, while the iPad version costs $7. (Desktop versions for Mac or Windows computers cost $40.) The interface is neatly organized, allowing you to enter tasks quickly by typing or with Siri's help, and it takes advantage of iOS touch screens, allowing you to drag and drop to your heart's content. Upgrade to Organize:Pro (free for the iPhone, $13 for the iPad, $50 for Windows or Mac) and you get a project dashboard and calendar integration.