Microsoft's Skype team said Monday that it will release a "remastered" version of the Skype app to the iPhone in about a week's time, bringing the app in line with the versions for Android and Windows Phone.
The new Skype for iPhone features improved performance without sacrificing battery life, according to the company, plus a few new features that Microsoft is debuting on the platform—including managing offline messaging and message syncing properly. Skype promised a new version for the iPad as well but did not say when.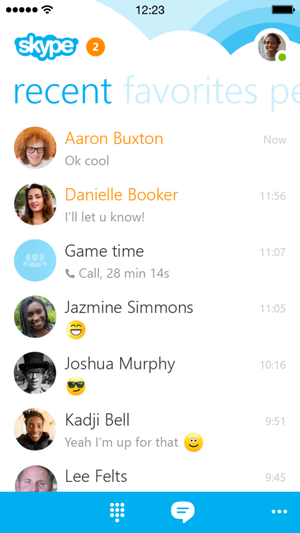 Although a wealth of communication options are available on iOS—including Apple's own FaceTime and Messages options, naturally—a significant number of mobile users continue to use Skype. (Skype doesn't break out its mobile users, let alone by platform. In May 2013, Skype said that each month, the growth rate of new users coming to Skype on a tablet or phone was double what it was the year before.)
"Just like the redesigned Skype for Android app, we took the opportunity to rewrite this new version from the ground up and customize it to fit iOS best," Eric Lin, a product marketing manager for Skype, wrote. "The new Skype for iPhone is redesigned to put your conversation at the center of a faster, smoother and far more integrated experience. Our designers AND engineers have obsessed over every pixel."
Essentially, Microsoft said that the new iPhone version should look like the versions for Android and Windows Phone, but with some iPhone specific touches. Scrolling from screen to screen is much faster, with some improved animations. In all, Skype for iPhone is over five times faster than the previous version, Skype said.
And, as users on other platforms have already discovered, Skype for iPhone has done away with one of its major irritations: Messages sent and received by users will now sync across all platforms, including the iPhone. Messages marked as read on a PC will also receive save the same treatment on the iPhone.
Finally, users can start group chats from the main contact hub. Recipients will receive photos and messages, even if offline.
Properly syncing messages across devices, including offline, has been an intense source of frustration among users, based on user comments posted online. If Microsoft's Skype team has solved the problem, that's good news for all.