It's always tricky evaluating anti-malware software for mobile devices. Android being based on Linux, and a more open system than iOS, is more vulnerable to malware, but attacks aren't all that common. Still, as the Boy Scouts say…
Eset's Mobile Security for Android ($19.95 yearly, currently $9.95 on sale) is one of the top-rated Android anti-malware applications. It detected 100 percent of AV-TEST's representative set of malware apps over the last four-week test period. While it was hardly alone in this, perfect is perfect, and there are plenty of anti-malware applications that aren't. Many users haven't heard of Eset, but it's a well-known vendor in IT circles with a sterling reputation.
It is laden with Mobile Security features. Besides the normal active and passive scanning, you get access to the Eset web portal where you may lock down your phone or wipe the memory if it's stolen, as well as manage it via text messages. You can also see a lot of info such as GPS, IP address, and more that might give you a hint as to where the phone has gone, just in case you mislaid it rather than handed it over to a thief. The access is password controlled. The portal also features a social media scanner that looks for evil things posted by bad people on your Facebook and Twitter accounts.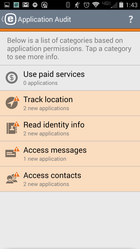 Another handy feature is a device audit which shows you which apps are allowing what kind of access to your device. An SMS filter lets you block unknown users from texting you, while still allowing people you know access. There's a separate list for the anti-theft features so that not just anyone can trash your phone via texting. Eset also provides a phishing filter to protect you against websites of nefarious purpose. It worked well in Chrome when I tried surfing to some of the better known traps.
Performance-wise, I didn't notice a hit during everyday use, or while surfing. I wasn't attacked by anything, so I'll leave the larger part of the verification of Eset's effectiveness to the AV-TEST folks. I did, however download EICAR with Mobile Security's real-time protection turned off (it will immediately remove it if enabled), ran Eset, and it cleaned everything just fine.
Having done IT for plenty of shops that used Eset, I have a lot of respect for the company. It's always at or near the top of any particular protection category and quick to respond to new threats. Eset's software is never cheap, but the best rarely is.