At a Glance
Expert's Rating
Pros
Attractive red backlighting
Braided cable sheath
Cherry MX Blue switches
Cons
Loud space bar and delete keys
Secondary functions are not backlit
Seemingly fragile cable joint
Our Verdict
This partnership between Razer and Origin delivers the same quality as Razer's own BlackWidow Ultimate, but with the benefit of a red color scheme and Cherry MX Blue switches.
Razer fans who love everything about the company's keyboards apart from their eye-watering green-and-black color schemes are in luck. The company recently partnered with boutique PC builder Origin to offer a custom-branded edition of its popular Razer BlackWidow Ultimate keyboard.
First up, my take on the switches: I recently reviewed Razer's own BlackWidow Ultimate, which is notable for bucking the industry's infatuation with Cherry MX switches. Razer instead created its own Green and Orange switches, designed specifically for gaming.
I loved the feel of the Razer Green switches for gaming, due to the high actuation point—it was easy to double- or even triple-tap keys and get a quick response. On the other hand, I found typing on the Razer Greens a chore. Razer's Greens felt similar to Cherry's stiff and tactile MX Blue switches, but they had a tendency to bottom out—that is, strike against the base of the keyboard—easier. The typing experience was unpleasant to say the least.

Cherry MX Blue switches are commonly held as the best for typists because you can learn to fly across the keys without actually bottoming any of them out. Learning to type without bottoming out can both improve speed and reduce hand stress. Origin's BlackWidow Ultimate uses standard Cherry MX Blues rather than Razer's custom switches, which makes it a dream to type on. The trade-off? A slight performance hit when gaming, due to the Blues' lower actuation point.
Origin's keyboard also ditches the green and black digs for a much more muted red-and-black scheme that helps preserve your night vision. You don't have to game aboard a submarine to appreciate that. Even at full brightness, I found the Origin's red backlighting far less distracting than Razer's green offering.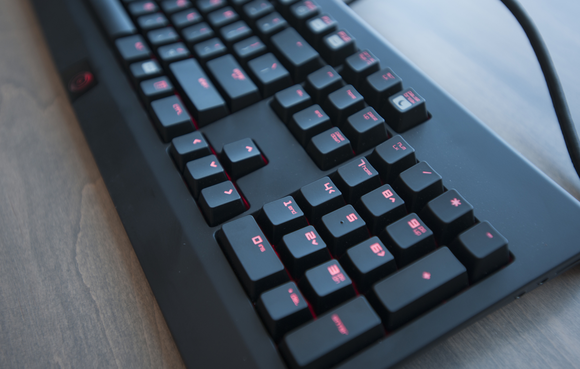 Apart from those differences—and an Origin logo on the lower deck, where Razer's writhing snakes appear—this is the same BlackWidow Ultimate you already either love or hate. There's a row of five macro keys down the left side, with all settings stored in Razer's Synapse software. You've also got a button for Game Mode, a button for on-the-fly macro recording, and quick access to media/volume keys across the Function row. These functions are all accessed by way of a modifier key that's, for whatever reason, not backlit.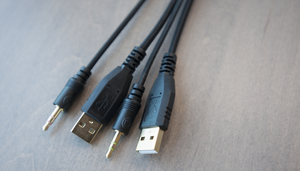 Some of the secondary function keys, such as the volume and media keys, are also not backlit; so good luck remembering in the dark whether Play/Pause is assigned to the F5 or F6 key. And like Razer's own BlackWidow Ultimate, the designators for Caps Lock, Num Lock, and Game Mode are backlit icons instead of dedicated LEDs. Residing under a layer of translucent plastic renders these symbols fuzzy and indistinct; it can be hard to tell which modifiers are engaged at a mere glance.
One other note: The larger keys do not feel like MX Blues. This is a fairly common practice—one set of switches used for most of the board, and then a different (normally more resistant) type used for the elongated keys, including the Space Bar, Delete, and Enter. Whatever Origin and Razer used, though, it's loud. I tested it versus a nearby all-Blues WASD board and there's a significant increase in volume when hitting any of the BlackWidow's longer keys. That's a big deal, considering that MX Blues are already some of the loudest keys around.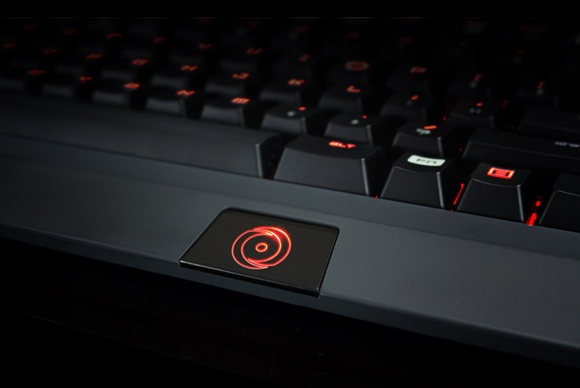 As with any quality keyboard, Origin's BlackWidow features a braided cable sheath, but this one joins to the keyboard in a hard rubber joint, which makes me worried about durability. The keyboard has microphone, headset, and USB pass-throughs on its right-hand side.
Aside from those quibbles, the partnership between Razer and Origin has resulted in a keyboard that's every bit as competent as Razer's own offering—more so, if you're enamored with Cherry MX Blues. Just spare your coworkers' ears and use this baby at home and not in your cubicle.