At a Glance
Expert's Rating
Pros
Terrific user interface
Easy to access and swap drives
Strong set of software features
Cons
Slow performer, especially with small files
Can't automatically sync files between one client and two My Cloud EX2 drives
Our Verdict
The My Cloud EX2's professional feature set, marvelous Web interface, and remote access capabilities make network-attached storage as easy as can be. But this NAS is a slow performer.
The WD My Cloud EX2 is designed for prosumers (such as avid amateur and semi-pro photographers and videographers) who want the convenience of cloud storage, but who don't want to store files on servers outside their physical control. In terms of a friendly user interface and easy remote access, this NAS box has few peers. Its performance, on the other hand, leaves a bit to be desired.
If you're not familiar with NAS or network storage concepts, the EX2 is a good box to start with. It has scads of help embedded in the box's configuration pages, and you can access files stored on it from any PC or mobile device that has Internet access by simply entering a password or code.
Strong feature set
The EX2 is a dual-bay (two-drive) box available in 4TB ($370), 6TB ($470), and 8TB ($570) flavors. The drives come from the factory configured as RAID 1 (the same data is written to both drives, so that if one drive fails, you can recover all your data from the other). As such, the 4TB model reviewed here actually yields 2TB of storage. You can reconfigure the drives as RAID 0 (where data is written in a strip across both drives. RAID 0 delivers higher performance and more capacity—a 4TB array yields 4TB of storage—but a failure of either drive can result in complete data loss).
All three capacities of the EX2 have two USB 3.0 ports for expanding storage and backup, plus a single gigabit Ethernet port. You can also backup one EX2 to a second, remote EX2 or to a four-bay My Cloud EX4. The drives are mounted vertically and easily accessed from the top of the unit. Press the release button, the top pops open, then you simply press the top back down to re-secure it. The drives slide out after you remove a thumbscrew that secures a plate locking down both.
Besides the great HTML interface (accessed by browsing to the unit's URL on your local network, e.g. 192.168.1.200) the EX2's best feature is ease of access. To get to your EX2's storage from other PCs, there's the WDMyCloud.com portal, and for Android, iOS, or Windows Phone 8 there's the WD 2go app. Generate a code from the Cloud Access/Admin section of the Web interface of the EX2 and enter it in the WD 2go app and you're, err… Good 2go.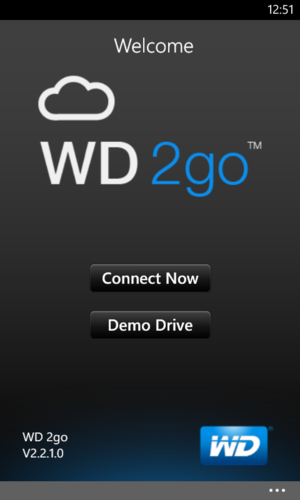 The EX2's feature set is focused, advanced, and extensible via apps. The basic feature set includes support for multiple users, shares, DLNA and iTunes media servers, and the aforementioned easy remote access. More advanced features include iSCSI with virtualization and S.M.A.R.T. drive info. Apps are installed to cover P2P, HTTP, and FTP access, as well as file viewing from a browser, and there are quite a few more available for download that facilitate content management, BitTorrent, and more.
Blah performance
The EX2 proved a decent performer with large files, writing our single 10GB file at 65MBps and reading it at 66MBps. Now those aren't QNAP– or Synology-like numbers, but they're acceptable for a consumer box. Writing our 10GB mix of files and folders at 18.5MBps and reading it at 29MBps, on the other hand, is just barely acceptable. Those speeds are significantly lower than average—especially the read number.
WD took particular care to make the EX2 easy to use while delivering a feature set that's more than adequate for small businesses and corporate workgroups. But this NAS box's mundane performance renders us unwilling to extend our recommendation beyond the advanced consumer space.