At a Glance
Expert's Rating
Pros
Easy to use
Filtering of backup targets
ZIP protocol for easy restoration
Cons
May lack features advanced users desire
No integrated cloud/remote support
Our Verdict
A good backup solution for many users, providing the most important features and options.
Argentum Backup is a compact, easy-to-use backup program that provides a decent amount of flexibility without a lot of complexity or a steep learning curve.
Setup is simple. Several backup "templates" are provided for you (Documents, email and contacts, and windows settings), and these can be run as-is. These cover a big chunk of what most users need, but each individual user probably has additional files or folders they wish to back up. Setting up a new template is simple—select a folder or folders to back up and apply any masks (filters) you wish, such as only Word files (*.doc, *.docx) or exclude graphics files (-*.jpg, -*.gif). Then you can execute the backup immediately, or set it to execute at a scheduled time.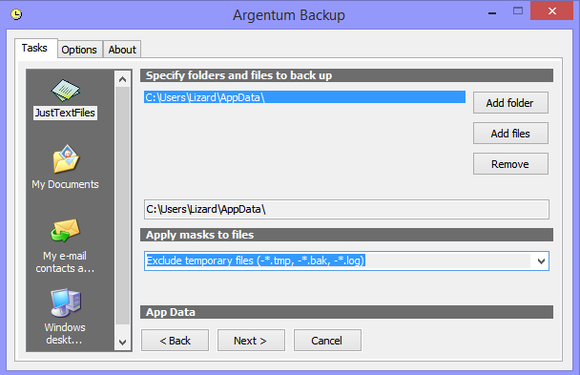 Another option is "stacking" backups. This creates multiple copies of your backups, each representing a particular point in time. This is good for those folders where you know that you will want to preserve more than the most current version—complex development projects, for example, sometimes need to be rolled back a bit. You can choose how many copies to keep, as well as how frequently to back up: For example, backing up daily and keeping the last seven days worth of files.
A note of caution: This can consume disk space rapidly. Argentum Backup compresses files using the standard .zip protocol, but many file formats these days are already compressed, so set aside enough storage. (Granted, with 2 to 4TB external drives costing less than a week's worth of groceries these days, it may be a trivial issue for many.) Speaking of compression, you can choose to optimize for compression speed or compressed file size.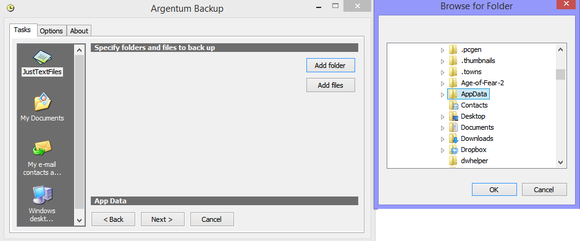 Argentum Backup uses a "quasi incremental" system. When it backs up after the initial pass, it checks only for new, deleted, or changed files, and modifies its existing backup file accordingly. Thus, unless the contents of a folder change dramatically between backups, each successive copy into the same file is much quicker than the initial pass.
By using the .zip format, Argentum Backup can dispense with a dedicated restore utility. Simply unzip the files, and you're done.
On the downside: Truly advanced users may find there's some desired features missing. While the filtering is functional for most standard use cases, some users might want to filter by size, date, or other properties, or would prefer a regular expression parser. These are, admittedly, uncommon use cases. More common today would be the desire to upload directly to any of the many cloud services used to store data. This can still be accomplished by mapping your backup directory to a folder which connects to your favorite offsite storage service.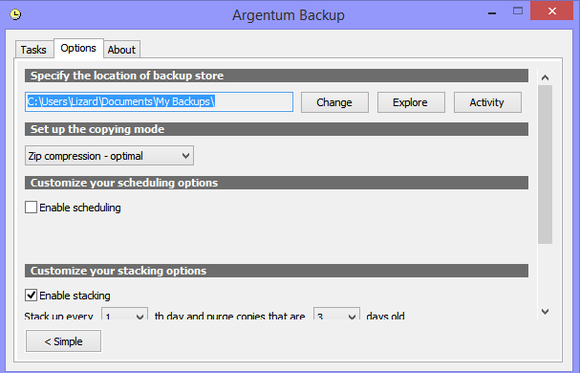 Overall, I found Argentum Backup easy to use and capable of meeting most common backup needs. While having it back up to a local hard disk can be useful in the event of accidental deletion, for worst-case scenarios, it makes sense to have it write primarily to an external, removable, disk.
The trial version has some functionality limitations: It is slower than the licensed version, it does not permit different backup directories for each task, and it only allows for four tasks at a time.