At a Glance
Expert's Rating
Pros
Thin and light for a laptop
Attractively priced
Useful tent and stand modes
Cons
Short battery life for a tablet
Awkwardly thick and heavy in tablet mode
Very flexy keyboard
Our Verdict
Lenovo made a lot of compromises to hit this price poing, and did little to advance the hybrid concept. Still, the Yoga 2 11 has a good price-to-performance ratio.
Lenovo's Yoga product line has inspired many an imitator. Dell, HP, Toshiba, and other PC manufacturers have all jumped into the 360-degree-hinge game. No matter the display size, each of these laptop/tablet hybrids has one thing in common with the Yoga 2 11: They all make chunky tablets.
The Yoga 2 11 is a thin-and-light laptop first and foremost. But as you bend its 11.6-inch display back, you can turn it around and stand it up like a tent, puts its keyboard upside down on your desk and use it in stand mode, or fold the display all the way against the back of its keyboard and use it like tablet.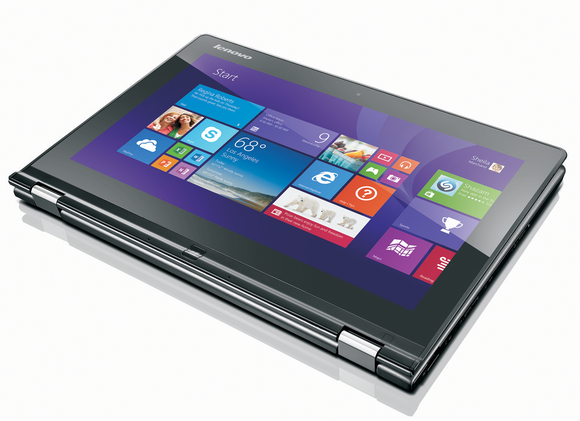 When I reviewed the Dell Venue 11 Pro, I felt as though I'd finally found a tablet that could replace my daily-driver laptop (an 11-inch Asus VivoBook X202). When I used the Dell, I found I almost always left it plugged into its optional keyboard dock.
As I set out to test the Yoga 2 11, I wondered if it would work the other way: As a laptop that could replace my iPad. I thought a machine designed primarily as a laptop would be even more practical. The price is certainly right: You'll find the Yoga 2 11 selling at Best Buy for the attractively low price of $499.
As a laptop, the Yoga 2 11 is thinner and lighter than my Asus laptop, weighing just 2.82 pounds and measuring 0.67 inches thick. The downside to its svelte profile is that its chassis can't accommodate very many ports: It has two USB ports, and only one of them is USB 3.0.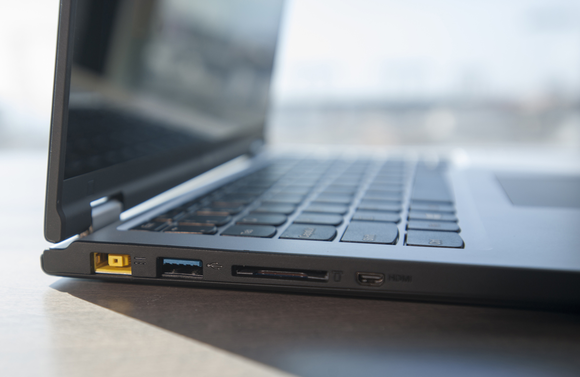 It has a Micro HDMI port, which will require an adapter or a special cable to plug into a display or HDTV. The side-mounted power button, meanwhile, is easy to access in all four operational modes, but I also found it too easy to press accidentally when I picked it up.
I realize this isn't one of Lenovo's pricey ThinkPad products, but Lenovo could have done better by the input devices. The trackpad seemed finicky and overly sensitive out of the box, and the control screen needed to change its settings is buried several levels deep. The keyboard experience is similarly awkward. There is so much flex to the Yoga 2 11's keyboard deck that I felt all the Chiclet keys moving around when I'd press just one.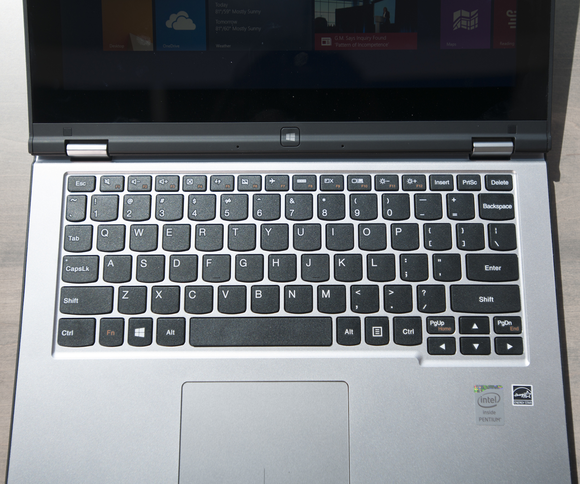 As a tablet, the Yoga 2 11 is cumbersome. It's thicker and at least a pound heavier than a true tablet, let alone the 2-in-1 hybrids that let you detach the keyboard. It worked well as a tablet when it was in my lap, but it's too heavy and awkward to hold in one hand while you use the other to navigate the touchscreen.
The Yoga's primary identity is firmly rooted in being a laptop—but it's not a great one. The 11.6-inch IPS delivers resolution of only 1366×768 pixels, which is disappointing when you can find similarly priced tablets boasting 1080p displays. Having 500GB of storage is great, but it comes in the form of a mechanical hard drive. After testing so many tablets that use solid-state storage, I definitely felt slowdowns during storage-intensive tasks. Mechanical drives also lack the durability that flash memory delivers—that's especially important for a device that's meant to be used on the go.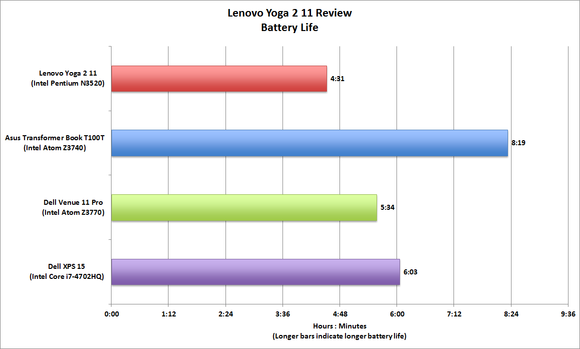 The Yoga 2 11 is powered by an Intel Pentium N3520 processor, which is slightly more powerful than the Atom Z3770D in the Dell Venue Pro 11 and the Atom Z3740 Asus uses in its older Transformer Book T100. All three CPUs come from Intel's Bay Trail family, but the Pentium is capable of addressing up to 8GB of memory, where the two Atoms are limited to just 2GB. Lenovo outfits the Yoga 2 11 with 4GB of DDR3L/1333 memory. (Note that Dell has since moved the Venue Pro 11 up to Intel's Atom Z3775, which can address up to 4GB of memory.) You can see a comparison of the four parts on Intel's website.
Lenovo sells slightly different SKUs on its own website. I found a model selling for $499 there, too, but it came with a lesser Intel Celeron N2920 processor. Models with the Pentium N3520 were priced at $599, but their hard drives were supplemented by 16GB SSDs.

Lenovo's small hybrid produced a Notebook WorldBench 9 score of 28, one point shy of the Dell and three points better than the Asus. Laptops based on Intel's Core processor family—such as HP's Spectre x2, which is powered by a Core i5-4202Y—typically perform twice as fast. Then again, HP's machine costs almost twice as much as the Yoga 2 11 ($900 as of this writing).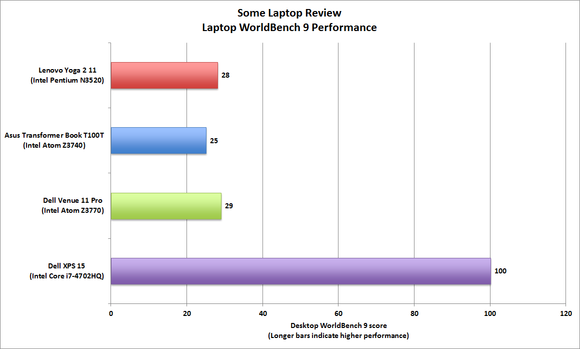 In the final analysis, the Yoga 2 11 is just a good laptop that's capable of some cool party tricks. If your primary tablet use-case is movies, business presentations, or other applications that will benefit from its tent and stand modes, it's a superior alternative to just buying another clamshell laptop. I don't see it replacing the reading experience a dedicated tablet delivers, though. I'd also recommend you audition the trackpad and keyboard before laying down your cash—they didn't seem up to snuff.