The web is an indispensable research tool, but keeping track of all of the information you find there can be daunting. You could bookmark all of the items you'd like to revisit, but that's just so 1999. Using a service that allows you to clip and save pieces of the web for later consumption is much easier. Not only will these services save you time and energy, they'll make you more productive.
Clipix
iOS, Android; free
It's rare that I find a mobile app more useful than its desktop counterpart, but Clipix is one such case. This web-clipping service, which lets you install a browser bookmark and then save pieces of the web as you surf, is a handy way to keep track of items you'd like to revisit later on. You also can save photos, emails, and more. But doing so on the mobile app is even easier, and it has a few mobile-specific benefits, such as the ability to easily save voice clips or photos that you capture from your phone's camera. You also can save items scanned via barcode or QR code.
Pocket
Mac OS, iOS, Android; free
Pocket has a lot in common with Clipix. It, too, is a free service designed to help you save bits and pieces of the web for later consumption. Pocket's desktop component, which works as an extension for Chrome, Firefox, Safari or Macs, installs as a bookmarklet in your browser, allowing you to save webpages as you surf. You can view those pages—including videos—later, whether you're online or off—a nice touch if you're viewing them through the Pocket mobile app, which runs on Android, Blackberry, iOS, Windows Phone, and Kobo e-readers.
The Pocket iOS app isn't quite as adept at clipping from your browser (it involves emailing a link to your Pocket account, which can be cumbersome), but it makes up for that shortcoming by integrating with plenty of mobile apps, such as Twitter and more, allowing you to Pocket items to your mobile heart's content.
Instapaper
iOS, Android; $4 and $3, respectively
Instapaper is a web service and app with a decidedly retro feel, thanks in large part to its black and white interface and the paper-like reading experience it delivers. Like Clipix and Pocket, Instapaper lets you save pieces of the web for later consumption. You can save items using the Chrome or Safari extensions or by installing the bookmarklet to another browser. You also can save items via Instapaper's mobile app, which—like Pocket—integrates with third-party apps to streamline the saving process. But unlike Pocket, which is available for free, Instapaper's iOS and Android apps will cost you—$4 and $3 respectively. That fee does get you a top-notch reading experience, with an elegant design and the ability to darken or lighten the screen as desired.
Readability
iOS, Android; free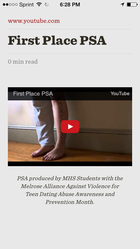 Readability isn't as well-known as Pocket or Instapaper. But that doesn't mean you should overlook this read-it-later app, which is something of a blend of its two better-known rivals. Like Instapaper, Readability focuses on delivering a slick, sophisticated reading experience—it promises to deliver a "clean, customizable view" of your webpages. And it does, though using Instapaper feels like reading an ebook, and the experience of using Readability can't quite match that. The fact that its mobile apps (Android and iOS) are free makes that easier to overlook, though, as does its impressive ability to play back videos within the app.
Evernote
iOS, Android, Windows Phone, Blackberry; free
We can't talk about web clippers and read-it-later services without mentioning Evernote, though web clipping is just a part of what Evernote can do. Like all of the tools mentioned here, Evernote's web clipper installs as a bookmark that you click to save webpages, but it presents you with plenty of options once you do so. You can choose to save an article, a simplified article (pared-down for easier reading), the full page, a bookmark, or a screenshot.
What's nice about Evernote is what you can do with the content you clip: Evernote lets you mark it up with a highlighter, a marker, typing, an arrow, stamps, colors and other various tools. Evernote's mobile apps—available for Android, Blackberry, iOS, and Windows Phone—allow you to view and edit your notes on mobile devices.