On the increasingly wide spectrum of cloud-based productivity aides, Procorem sits somewhere between project management, contact management, document repository, and collaboration tool. While marketed as a way to streamline communication and operations for workgroups, a free version can help individuals manage professional and personal projects.
Procorem's organizing principle is what it calls the WorkCenter. WorkCenters can be people, projects, or events, or any combination thereof. You might, for example, create a WorkCenter for each client, for a birthday party, or for a planned family vacation. Procorem lets you create and assign categories to WorkCenters, so that when you log into your account, you can opt to view, say, all WorkCenters categorized as clients or personal.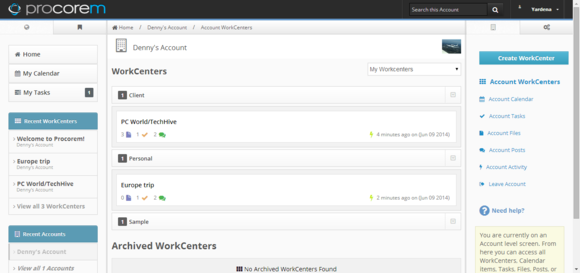 Once you create a WorkCenter, you can then invite co-workers, customers, friends, or family members to join it—to do this, however, they must either already have a Procorem account, or create a free one tied to the email address you used to invite them.
You can assign WorkCenter collaborators either full contributor status, which allows them to use all WorkCenter features, or read-only permissions, which means they can only see what others are doing in the WorkCenter or what content they've added.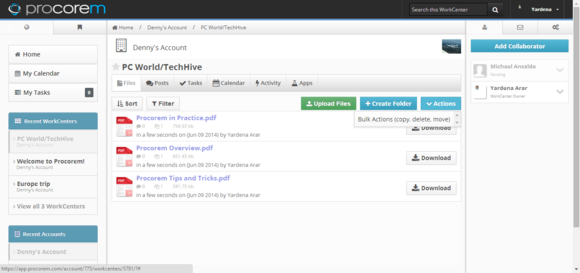 A WorkCenter page has six tabs: Files, Posts, Tasks, Calendar, Activity, and Apps (the latter at this point doesn't really do much, but Procorem says it plans to release an API to allow developers to tie apps to WorkCenters).
The first two tabs allow for adding content, either by uploading files (the free account allows 1GB of space to store them) or by posting to a sort of blog/bulletin board. You can type posts either directly into the app, or you can send or forward email to the unique address Procorem creates for each WorkCenter—a convenient way of sharing email messages without having to forward them to each collaborator individually. To prevent spam, Procorem only posts email received from addresses tied to Procorem accounts.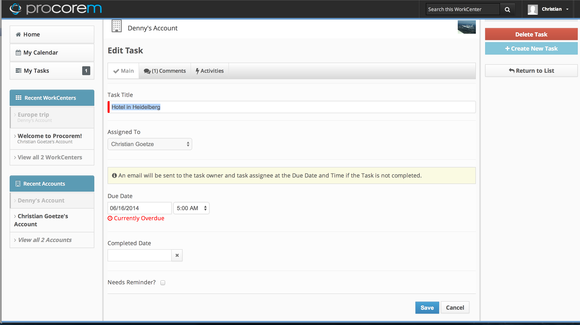 You can't work on files within Procorem, but the Files page does let you create and assign status (e.g. draft, final) and type (e.g. image, contract) categories. You can also type in a brief description, add comments, and collect different versions.
Procorem's project management features are rudimentary: On a WorkCenter's Tasks page, you or other contributors can create tasks, set deadlines, and assign them to WorkCenter members (including yourself).
Accepting a task places its deadline on the WorkCenter calendar—and also on your account calendar, which lets you see tasks from all your WorkCenters. That's helpful in juggling tasks, but sadly, there's no support for calendars from more widely used apps such as Outlook or Google. Short of creating duplicate entries you can't track Procorem and other shared calendars in a single view. (Procorem officials say they're working on Outlook integration.)
The Activity tab creates entries for anything anyone does in the WorkCenter, from uploading a file to changing a deadline. But since Procorem sends WorkCenter members email when anything of note happens (for example, a new post or file upload), I didn't find the Activity page that useful.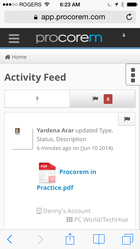 Because Procorem is built on HTML 5, you can use it with the browser on almost any mobile device—although obviously it looks different on a smartphone than on a tablet. Still, it's nice that you don't have to worry about downloading and updating an app for each device.
Overall, Procorem's flexibility and many customization options hold great promise for people looking for a tool to share information and manage multiple business and personal projects with an assortment of collaborators. Obviously, the price is right for the free version (Procorem also offers a small-business version that offers 100GB storage, company branding, and an administrative console for $15/person/month). But greater integration with third-party apps that many people are already using would make it even more appealing.