At a Glance
Expert's Rating
Pros
Good keyboard
Lots of ports
Hybrid drive (an available option)
Cons
Thick and heavy for an 11-inch laptop
Too-short battery life
Poor off-axis viewing
Our Verdict
The pretty red color and solid build are not enough to make up for the x360's chunky form factor, lackluster display, and poor battery life.
As any bloviating tech pundit will tell you, tablets are poised to take over the mobile computing space. Meanwhile, back in the real world, few of us are willing to part with actual keyboards. Lenovo recognized this early and rolled out the Yoga. HP is the latest manufacturer to follow its lead with the Pavilion x360, a laptop with a hinge that allows its keyboard to fold all the way to the back of its display to become a chunky tablet.
I'm a sucker for pretty colors, and the x360's striking, slightly glittery, red chassis wowed me as soon as I opened the box. The color is a $10 upgrade, goosing the price to $410, but it's so much more fun than the typical black or grey slab.
That good first impression evaporated when I lifted this hefty 2-in-1 hybrid of its box. Now I don't expect a $400 laptop to be as sleek and slim as a $1000-plus Ultrabook, but the x360 is supposed to do double duty as a tablet. And a tablet is supposed to sleek and slim. That makes the x360's chunk factor an immediate turn-off. It's not only thick (0.9 inches) and heavy (3.3 pounds), but its wide bezel and bulky hinge give it a large footprint (12.1 x 8.5 inches). That's a lot of bulk for a machine with an 11.6-inch screen.
I might have been more impressed if the Pavilion x360 existed in a vacuum, but I also recently reviewed Lenovo's Yoga 2 11. That machine has very similar under-the-hood specs, but it measures just 0.67 inches and weighs only 2.82 pounds. Those numbers render Lenovo's hybrid much more attractive when it comes to schlepping it from place to place.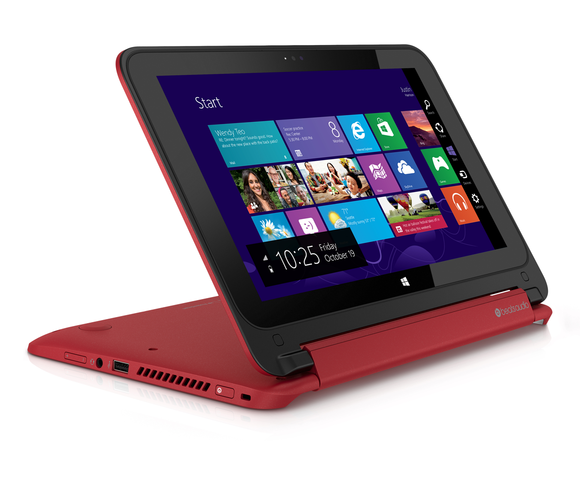 The Pavilion x360 is powered by an Intel Pentium N3520 chip (Bay Trail family) and 4GB of DDR3/1333 memory, but storage comes in the form of a pokey 500GB mechanical hard drive (a 500GB hybrid hard drive is an available option). But this 2-in-1's touchscreen is even more disappointing than its default storage. It delivers good touch response, but resolution is limited to 1366×768 pixels. That's the same resolution as the Yoga 2 11, but that machine comes with an IPS display. HP cheaped out and used a TN panel that provides very poor vertical viewing angles. In tent mode, I felt like my eyes were too high for the display no matter how I adjusted it. And when I used it in tablet mode, the screen looked washed out.
The x360's hinge is nothing if not sturdy. It held the machine securely at every angle in clamshell notebook mode; stand mode, where the keyboard lies flat on the work surface; tent mode, where the hinge forms the top of an A; and tablet mode, where the keyboard is folded against the back of the display. HP's hybrid comes with a robust keyboard deck, too, which came as a welcome relief after a week of bouncing around on the flexy Yoga 2 11. Still, I found the x360's keyboard travel to be a little shallow, and its tactile feedback a bit softer than I prefer.
The trackpad, on the other hand, is not much better than the one on the Yoga 2 11. It's big and smooth, but it required more force than I'm used to. I couldn't adapt to it even after several days, and I still can't reliably get two-finger scroll and edge gestures to work the way they should.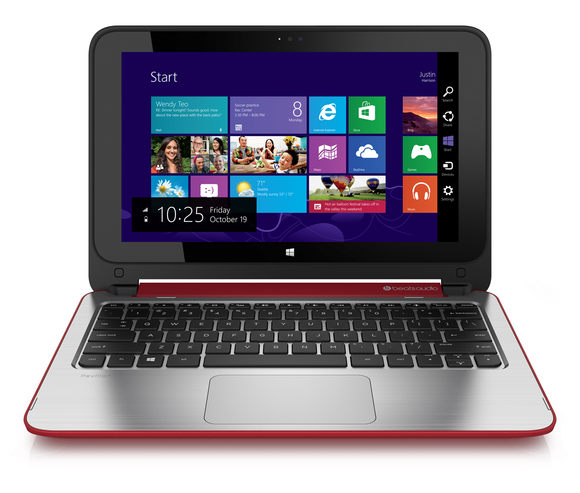 The thick chassis accommodates a good selection of I/O ports, including three USB (although only one is USB 3.0), a full-sized HDMI port, a full-sized SD card slot (one that doesn't leave part of the card sticking out of the slot), and an ethernet port (although it's not gigabit). The volume and power buttons are on the left side, which keeps them accessible in all modes, but they blend in a little too well and can be hard to press.
I wasn't particularly wowed by the speakers, either, despite the Beats Audio branding. I was looking forward to some good Netflix watching with the laptop turned over in tent mode, but between trying to adjust to the narrow viewing angle and mediocre sound, the x360 just didn't deliver a thrilling experience.
The x360 turned in Worldbench 9 numbers nearly identical to the Yoga 2 11 and very similar to the Atom Z-series Bay Trail based tablets PCWorld has reviewed. It fell way behind in the PCMark 8 Office test, scoring a 954.4 to the Dell Venue 11 Pro's 1404.0, likely due to its slow hard drive (the Dell has a faster, but lower-capacity SSD).
The benchmarks indicate that solid-state storage contributes more to performance than the availability of an additional 2GB of memory (the Atom Z3770 in the Venue 11 Pro can address only 2GB of memory, where the x360's Pentium N3520 can deal with up to 8GB). My general feeling from using various Atom tablets and then trying both the Yoga 2 11 and the Pavillion x360 are similar: The limited memory in the Atom products impacted my ability to play some games, such as The Sims 3, but the performance slowdowns stemming from mechanical hard drives in the aforementioned hybrids were much more pervasive.
The final sore point is related to battery life. The Pentium-based laptops just aren't as efficient as the Atom tablets, struggling to last just half a day. The x360 ran for just 3 hours and 25 minutes on our battery run-down test. The Yoga 2 11 lasted an extra hour. But the Dell Venue 11 Pro, made it an hour beyond that and it's on the short side for tablets. The Pentium processor also seems to need more cooling. The x360's fan audibly spun up while I was typing this review.
The Pavillion x360 is a well-built machine wrapped in a strikingly pretty shade of red. But it's thick and heavy for a laptop, much less a tablet.