The iPad offers a ton of options for fun and games, but Apple's tablet has plenty of potential as a business tool, too. Here are five apps that can transform your iPad into a must-have work accessory.
Microsoft Office for iPad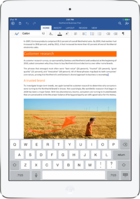 Microsoft's Office suite is actually available as three separate apps for the iPad: Microsoft Word, Microsoft Excel, and Microsoft PowerPoint. All three are free if used to view documents, but if you want to create or edit files, you'll need a subscription to Office 365 ($10 per month). While that may seem expensive, the experience of using Office on the iPad is impressive; Microsoft strikes a nice balance of including familiar Office tools, while also taking advantage of the iPad's touch screen. It's a great way to take your iPad one step closer to becoming a laptop replacement.
iWork
Like Microsoft Office, Apple's iWork is sold as three separate iPad apps: Keynote, Numbers, and Pages. Each sells for $10, though these apps are included for free with newer iPad models. Either way, that's a lower price than Microsoft's offerings, which require a subscription to truly be useful. Numbers and Pages are not quite as robust as Excel and Word, but they are worthy apps and will be familiar to any Mac diehards who've used them on a desktop or laptop. And, with its slick feature set, Keynote is a true PowerPoint competitor.
GotoMyPC for iPad
GotoMyPC has long been one of my favorite programs because of all the time I spend working on different computers. This remote access program was one of the best ways to access information stored on one PC when you're miles and miles away, sitting in front of another computer. Still, I was hesitant about trying it out an iPad (it also works on Android devices and Amazon's Kindle Fire).
I needn't have worried: GotoMyPC's iPad app seamlessly connected me to my home computer, allowing me to slide, tap, and touch the screen to access the files and applications I needed. The iPad's smaller screen limits how much you can do with the contents of your PC, but GotoMyPC for iPad is incredibly useful nonetheless.
Cubby
LogMeIn is another excellent remote access tool, but with its Cubby service, I might never need to use it. That's because Cubby stores files and folders in the cloud and allows you to access them from various devices—like an iPad, if you install the free Cubby app. (Cubby itself is free for limited personal use; plans with additional features, including more storage and security, start at $4 per month.) The app is easy to use and lets you access files and folders and save them for offline viewing. The iPad does limit what you can do with all of the files in your Cubby, as you might expect. Still, it's a handy way to access important files when you're on the go.
Note Taker HD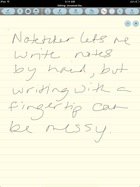 I spend a lot of time jotting notes on a notepad. Then, when I need to find what I've written, I'm left digging through piles of paper, often left with what I need written on a crumpled piece of paper, if I can find it at all. Enter Note Taker HD: this $5 iPad app lets me create handwritten notes in digital form, right on the iPad screen. You can write notes with your finger, but you'll have more control if you invest in an iPad stylus. Note Taker HD also lets you enter text by typing, insert images and shapes, and annotate PDFs. I like how you can organize multiples pages into one document and then store documents in folders. I may never have to dig around my bag for a crumpled notepad again.