Your phone knows where you are. And while that may sound creepy, it can also be convenient—as long as that location tracking is used to your benefit. These apps do just that: track the location of your phone to make your life at least a little easier.
Locale
Android; $10
Have you ever been sitting in an important meeting, only to have your ringing cell phone interrupt important negotiations? Locale can put an end to cell phone faux pas like that one. This $10 Android app lets you dictate conditions under which your phone's settings should change. Using Locale's Google Maps interface, you can, for example, direct your phone to turn the ringer to silent when you enter your office. Or you can shut down power-hungry apps when your battery life hits a certain point. You'll never have to be embarrassed by your cell phone again.
Cab4me
iOS, Android; free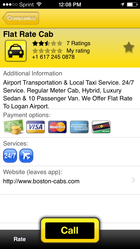 If you travel for business, you know how difficult it can be to find a taxi—so let Cab4me handle that task for you. This free iOS and Android app tracks your location and lets you order a taxi from a company in the app's database. I was impressed with the available cab companies, even when I tested the app from my home in the suburbs, and I like how you can review information about the cab company before you decide to place your order. It would be nice if you could pay for the taxi through the app, too, but that's the one task you have to handle on your own.
BestParking
iOS, Android, BlackBerry; free, $3 for car mode
Renting a car while on a business trip means you won't have to wait for a cab, but it also means you'll have to find your own parking. If you're not sure where to turn for the best rate, BestParking can help. This web service and mobile app search for nearby parking lots and tell you how much you can expect to pay for the amount of time you need to stay there. BestParking is available for Android, BlackBerry, and iOS devices as a free app, but the car mode, which offers driving directions to the parking lot you select, costs $3.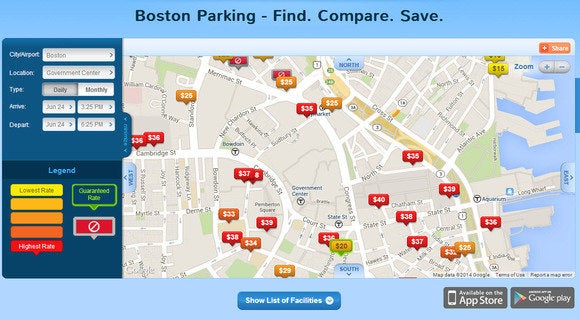 GeoTask
iOS; $1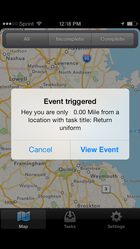 Sometimes you can't complete a task simply because of where you are, but when you get to a location where you would be able to cross that item off of your to-do list, you forget all about it. That's where GeoTask comes in. This $1 iOS app lets you create a list of tasks and map them to certain locations, so you can be reminded about the item when you're in the appropriate spot. Entering tasks and a coordinating location isn't difficult, but it can be more time consuming than using an app that simply creates a to-do list for you. Still, it's a great way to get reminders of important errands, such as picking up dry cleaning or dropping off files with a client.
Triplog
iOS, Android; free
Keeping track of your business miles isn't difficult, exactly, but it sure can be time consuming. TripLog GPS Mileage Tracker helps by tracking your miles for you, either by GPS or manually inputting the data. It also allows you to capture additional expenses, such as tolls and gas; calculates your fuel economy; and helps you generate IRS-compliant reports. TripLog GPS Mileage Tracker is available in a free version and offers paid versions that include the ability to create more reports, as well as scheduled backups and additional features.