MonkeyParking is not going away, even though the San Francisco city attorney earlier this week ordered that the public parking app be shut down.
The cease-and-desist demand from the city attorney should not apply because the app lets users communicate information about parking spots, not buy or sell them directly, MonkeyParking CEO Paolo Dobrowolny said.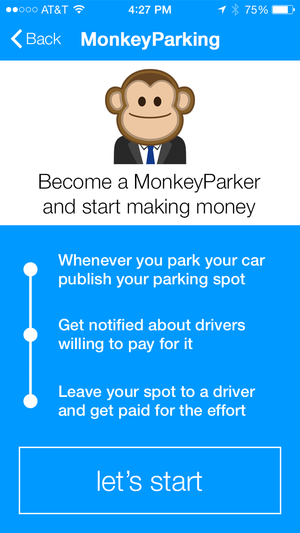 "MonkeyParking is not selling the parking space, we are selling the convenience of someone alerting another to an open space," he said via email Friday.
MonkeyParking, based in Rome, makes an app for iOS that in Rome and San Francisco lets people bid on public parking spots occupied by other users. The app lets users broadcast where they are parked and others can bid on those spots within the app.
Users can bid $5, $10, $15 or $20 for a spot and when they park their vehicle, they pay the person vacating the spot.
San Francisco City Attorney Dennis Herrera issued a cease-and-desist demand to the company Monday, threatening to sue and citing MonkeyApp's alleged violation of the city's police code that prohibits people and companies from buying, selling or leasing public on-street parking.
Were the city to sue and win, MonkeyParking could be subject to civil penalties of up to $2,500 per violation, Herrera said at the time.
In a statement Friday, San Francisco city attorney press secretary Matt Dorsey said MonkeyParking's argument amounts to inventive verbal gymnastics.
"It's like a prostitute saying she's not selling sex—she's only selling information about her willingness to have sex with you," he said, adding that MonkeyParking business is plainly illegal in San Francisco.
MonkeyParking is consulting with legal counsel, it said Friday.
The company's app exists among others such as Parkmodo, which also lets users pay for public parking spots.