Microsoft's Cortana digital assistant predicts the United States is doomed to fail in the World Cup. And so far, a Micrsoft executive claims, its digital assistant has been right every time.
The good news? If Cortana is basing its predictions on the same algorithms used by Bing, there's still hope. Because yes, we've heard that one before.
Marcus Ash, the group program manager for Cortana, claimed that Cortana has successfully predicted the winner of six straight World Cup matches, all within the round of 16. Germany just defeated Algeria 2-1 in extra time. (Ash retweeted another user after France defeated Nigeria 2-0, giving Cortana its fifth correct prediction.)
#Cortana 4 – 0 so far. But many matches to go.

— Marcus Ash (@marcusash) June 30, 2014
Cortana is the flaghship feature of Windows Phone 8.1, the latest version of Microsoft's Windows Phone operating system. The Cortana digital assistant serves as a front end for Bing queries and other commands, allowing a user to ask for directions to the nearest Chinese restaurant, for example, as well as the height of the Burj Khalifa skyscraper in Dubai.
On June 28, according to Ash, Microsoft started adding World Cup predictions to the Cortana service. Asking it "Who will win the United States Belgium match," for example, brings up the stark prediction: "I predict Belgium will beat United States."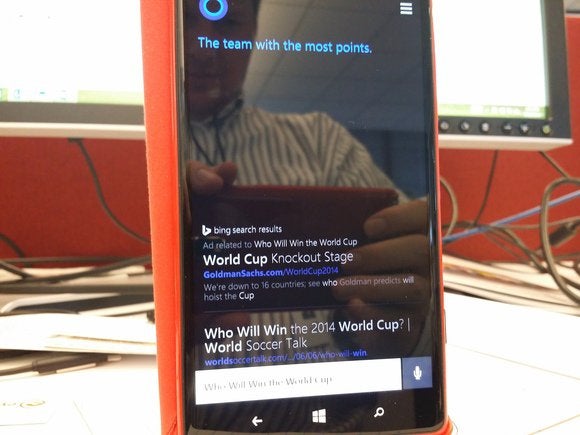 Fortunately, Microsoft has been wrong before. On June 11, for example, Microsoft's Bing predicted the most likely scenario for the United States was three straight losses. Germany would win three games, Bing predicted, and Portugal would win two.
As it turned out, of course, the United States came within seconds of notching two wins and easily moving on. Instead, the United States beat Ghana, drew with Portugal and was defeated by Germany, escaping the so-called "Group of Death" through a goal differential tiebreaker. On the other hand, Microsoft wasn't alone. ESPN's FiveThirtyEight, Bloomberg, and SBNation were among those predicting the United States would fall in the group stage, as well.
Here's how Microsoft makes its predictions:
"For the tournament, our models evaluate the strength of each team through a variety of factors such as previous win/loss/tie record in qualification matches and other international competitions and margin of victory in these contests, adjusted for location since home field advantage is a known bias," Microsoft said previously. "Further adjustments are made related to other factors which give one team advantages over another, such as home field (for Brazil) or proximity (South American teams), playing surface (hybrid grass), game-time weather conditions, and other such factors."
A Microsoft spokesman said via email that Cortana is using the same algorithms as Bing uses, although it's not quite clear if Bing has tweaked its algorithms since the group stage. But on Tuesday, count Microsoft's robotic digital assistant among those betting against the United States. Again.