At a Glance
Expert's Rating
Pros
Excellent build quality
Very high-quality audio subsystem
Every I/O port you could want
Cons
Crappy audio software undermines the benefit of the audio hardware
Skimps on memory and storage
Our Verdict
Samsung's ATIV Book 9 is an exquisitely designed laptop with an unusually high-quality audio subsystem, but it's also very expensive.
Based on the way most laptops sound, I'd venture a guess that audio is the last thing engineers think about when they design laptops. In fact, I'd go one step further to speculate that marketing efforts drive most laptop builders' decisions to collaborate with audio companies. But I won't lump Samsung's 2014 ATIV Book 9 in that crowd, because it sounds absolutely divine—especially with headphones.
The Samsung ATIV Book 9 is a beautiful, elegantly thin laptop that will turn heads when you pull it out of your designer messenger bag. It's the thinnest, sexiest notebook we've reviewed this year. But it's much more pedestrian under the hood—with one exception. It's equipped with a Wolfson WM5102 audio CODEC (encoder/decoder). If you're an audio enthusiast, your ears just pricked up. Wolfson produces some of the world's finest DACs (digital-to-analog converters).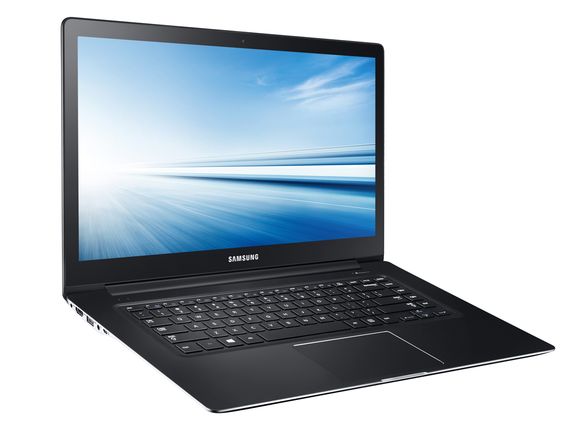 But it's not entirely accurate to describe the ATIV Book 9 as being equipped with a Wolfson DAC. I don't mean to split hairs, but that description might lead you to think that this laptop is equipped with the same type of audio subsystem found in high-end outboard DACs such as the Channel Islands Transient MKII or the Lindeman USB-DAC 24/192. Wolfson's WM5102 was designed for smartphones. It does have a DAC, but this one chip also integrates a host of other functions that are handled by discrete processors in top-shelf audio gear like the components I just mentioned.
Now before Samsung gets its panties in a bunch, let me say that the ATIV Book 9 is by far the best-sounding laptop I've ever listened to. The DAC inside the WM5102 can convert audio tracks with up to 24-bit resolution and sample rates up to 192kHz and deliver them to its headphone jack at an exceptionally high signal-to-noise ratio of 113dB (this according to Wolfson's data sheet). I don't have the measurement gear to verify that claim, but I can tell you that my ears definitely enjoyed the experience (aided by a pair of JH Audio JH-13 Pro earbuds).
I automatically installed Foobar2000 (free, donations accepted) on the ATIV Book 9, because I've never encountered a fresh-from-the-factory Windows computer than could handle FLAC files (especially not the 24-bit/48kHz tracks I've purchased from the Bowers & Wilkins Society of Sound music service over the years).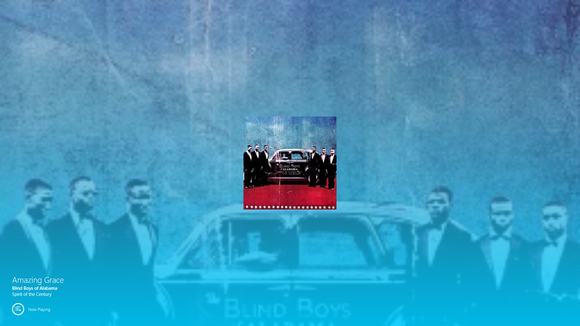 But then I found ArcSoft's S Player+ on the ATIV Book 9. This audio/video player is exceedingly basic, but when you use it to play losslessly encoded audio tracks—it supports FLAC and Apple's lossless audio codec, ALAC—it gives you the option to play them in "lossless music mode" through the headphone jack. And for a while, I thought that this was the only way to tap the Wolfson WM5102, because the tracks didn't sound nearly as good when I played them using Foobar2000.
After a few email exchanges with Samsung, I learned that S Player+ uses Microsoft's WASAPI (Windows Audio Session API) to take complete control of the Wolfson WM5102. Using WASAPI, S Player+ can send an audio bit stream directly to the Wolfson WM5102, bypassing the Windows mixer and muting all other sounds. Once I installed the WASAPI component in Foobar2000, tracks on that player sounded just as sweet as they did with S Player+. And unlike that software, Foobar2000 was able to play all my high-resolution tracks.
S Player+ played some of my 24-bit/48kHz albums—including Cara Dillon's exquisite Live at the Grand Opera House—but it produced error messages complaining about file formats when I tried to play several other albums, including a recording of Hector Berlioz's Symphony Fantastique by the London Symphony Orchestra, as conducted by Sir Colin Davis. Both albums were encoded as FLAC files at the same resolution and sampling rate—and Foobar2000 played them both without issue—but I got no love from S Player+.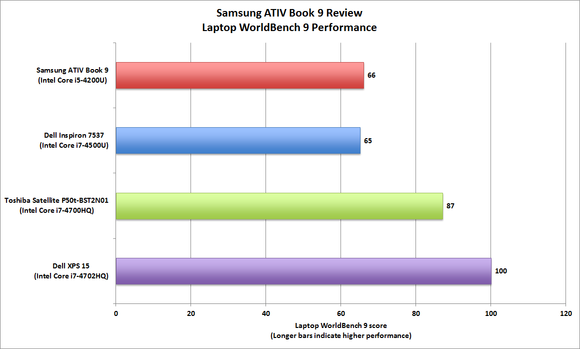 So the ATIV Book 9 is a beautiful laptop that sounds divine. But with Samsung expecting the model reviewed here to fetch $1500, I had to dig deeper to determine if its price-to-performance ratio is reasonable .
So what else you got?
That $1500 buys you an Intel Core i5-4200U CPU with integrated graphics driving a 15.6-inch touchscreen at 1920×1080 pixels. The system also comes with 8GB of memory, but only a 128GB SSD.
Spend another $130, and you can get Toshiba's Satellite P50t-BST2N01 with a Core i7 processor, 16GB memory and a discrete AMD GPU driving its 15.6-inch display at 4K resolution.
The Toshiba is thicker and heavier, its audio components aren't anywhere near as luscious, and its battery life is appalling (part of the price you pay you for 4K resolution), but that's a lot of extras for not very much money. And then there's Dell's Inspiron 15 7000-series laptop, also with a Core i7 CPU, and a discrete Nvidia GPU driving its 15.6-inch touchscreen at the same resolution as the Samsung.
The Dell has a mechanical drive instead of an SSD, and it's more than a pound heavier, but it offers twice as much memory and costs $260 less. (Samsung also offers the ATIV Book 9 with a Core i7 CPU and 256GB SSD for $1900.)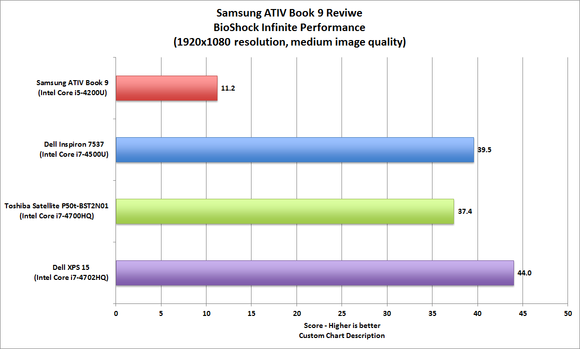 Samsung's machine does have other positive attributes. Its backlit, island-style keyboard feels awesome under the fingertips, delivering just the right tactile feedback. And its oversized trackpad is exceedingly responsive and accurate. And despite its slim proportions, Samsung's engineers managed to squeeze in two USB 3.0 ports, one USB 2.0 port, a full-sized HDMI out, gigabit Ethernet (you'll need to use the provided dongle), an SD card slot, and even an analog video output (although you'll need to purchase a VGA adapter to use it).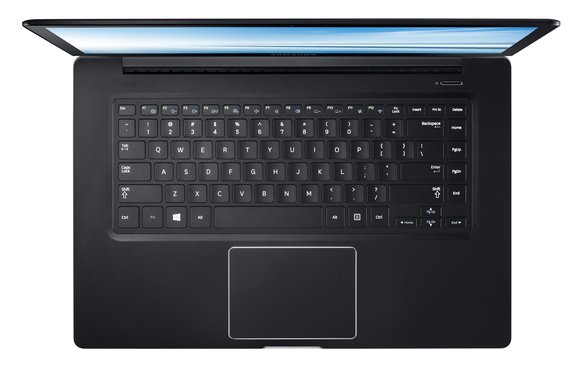 Performance and final thoughts
In terms of benchmarks, the ATIV Book 9 squeaked past Dell's Inspiron 7537 in our Laptop WorldBench 9 benchmark suite. This can be attributed to the presence of an SSD in the Samsung versus the mechanical hard drive in Dell's machine. PCMark 8—which is one component in that suite—is particularly sensitive to storage performance. But Samsung's reliance on integrated graphics resulted in its getting crushed in our gaming benchmarks. This is clearly not the machine to buy if you intend to play AAA games. Battery life, on the other hand, is excellent (and would be much lower if it did have an integrated GPU).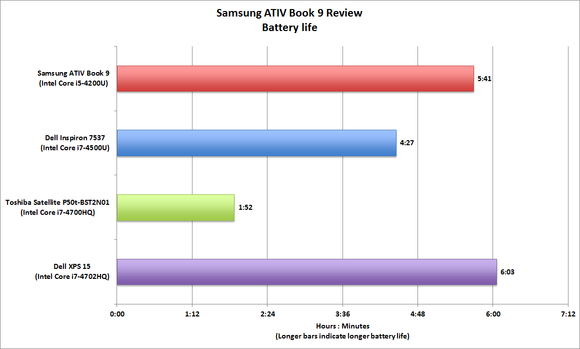 It should come as no surprise that the Toshiba and Dell machines I'm comparing to the ATIV Book 9 ended up with the same 3.5-star score. Each of these machines is compelling—and disappointing—in its own way. The Toshiba wows with its resolution, but it's a bit ahead of its time on that score. The Dell is a great gaming machine for the price, but its chassis isn't as strong as it should be.
The Samsung ATIV Book 9 is one of the sexiest laptops to come through the Lab this year, but it's expensive for the processing power, memory, storage, and video resolution it has to offer. If you're passionate about high-quality audio, this laptop's premium price tag is probably justified. Just be sure to install Foobar2000 and its WASAPI component before you plug in your favorite headphones.