Year-over-year tablet sales fell for the first time, analyst firm NPD DisplaySearch reported, evidence that the stratospheric growth of the tablet market may be leveling off somewhat.
NPD declined to break out specific numbers, but the firm said that based on its sales data for the first quarter, tablet sales had declined compared with the same period last year. About 285 million tablets will be sold in 2014, the firm said, representing a lower number than it had originally expected. In 2014, the year-over-year growth rate of tablet PCs will fall to just 14 percent and by 2017 will slow to single digits.
The culprit appears to be low-end, smaller 7-inch tablets, which have historically driven the overall growth of the tablet market. Even this segment now appears to be saturated.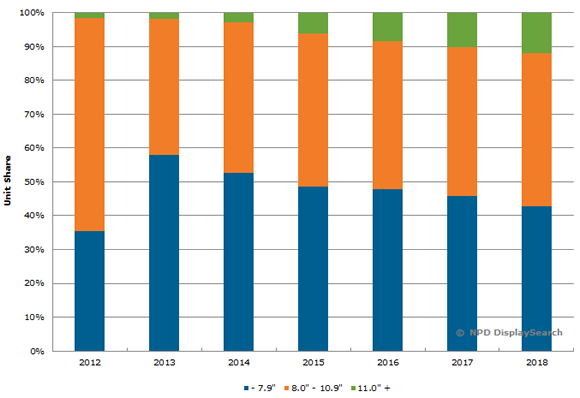 "Tablet PC demand in 2014 is being affected by falling demand for the 7" class in emerging regions and in China, where many local white-box brands have experienced lower-than-expected shipment growth," said Hisakazu Torii, vice president, smart application research at NPD DisplaySearch, in a statement. "Most major brands have recently reduced their business plans for 2014. There is a risk that the replacement cycle for tablet PCs will lengthen beyond the one to two year range unless brands can develop more attractive usage scenarios."
Shipments of notebook PCs fared better than expected during the first quarter, the firm said, helped by commercial shipments and users replacing older PCs that run on Windows XP, whose official support ended earlier this year. In general, though, NPD's trends reflect slower growth in tablets, a rise in "ultraslim" notebooks, and an overall decline in the traditional notebook market.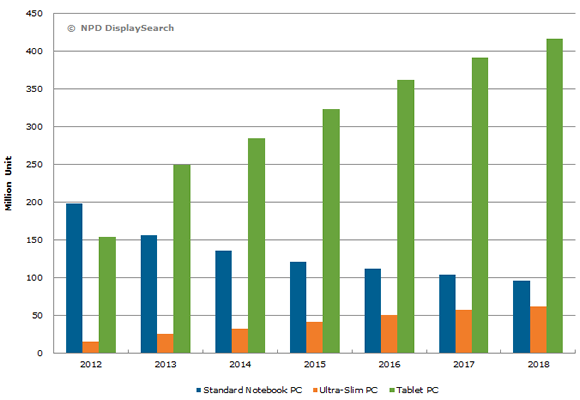 NPD's numbers seem to be borne out by results from companies like Samsung, whose lackluster earnings this week were accompanied by a supplementary statement of what went wrong:
"In the case of tablets, sales were sluggish due to a longer replacement cycle than that of smartphones, which is usually between two to three years," the company said. "In addition, higher shipments of 5-to-6 inch large screen smartphones replaced demands for 7-to-8 inch tablets."
In May, IDC lowered its own tablet (and hybrid notebook) forecast for 2014 to 245.4 million units, down from the previous forecast of 260.9 million units. The revised number represents a 12.1 percent growth rate over 2013. In 2013, tablets and hybrids experienced 51.8 percent year-over-year growth compared with 2012.
For its part, Gartner said this week that tablet shipments will increase to 256 million this year, up from 207 million last year. Tablet shipments will climb to 321 million in 2015, overtaking PCs, the firm said.