At a Glance
Expert's Rating
Pros
Very, very small
Can be mounted to the back of your monitor or HDTV
Solid price-to-performance ratio
Cons
Would benefit from a more robust enclosure
Lacks DisplayPort
Operating system not included
Our Verdict
Zotac's flyweight PC kicks more gaming ass than any console, costs less than a tower PC, and will fit almost anywhere—including the back of your monitor.
I've been trying to sneak a PC into my family's living room for years. Gaming consoles no longer cut it for me. I want to see the same games on the big-screen TV that I play on the beastly gaming rig in my home office. The Stieger Dynamics LEET is gorgeous, wonderfully over-the-top, and would likely pass muster with my better half, but it's way outside my budget.
So when my editor handed me Zotac's little Zbox EN760 Plus, I got cautiously excited. I say "cautiously" because previous-gen Zboxs, with their Intel Atom and low-end AMD chips, were as anemic as they are small. The EN760 didn't exactly give me the warm fuzzies. Its flexy, plasticky enclosure makes it look more like a $40 router than a high-powered computer.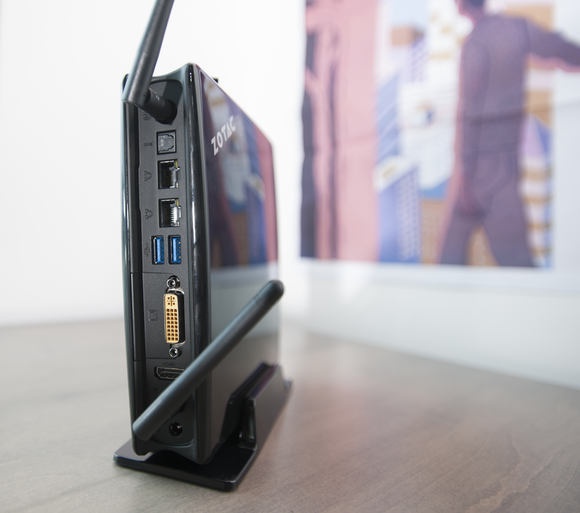 My perception evolved as I studied its spec sheet: An Intel Core i5-4200U processor, 8GB of DDR3/1600 memory, and—what's this?—an Nvidia GeForce GTX 860M mobile graphics processor with a dedicated 2GB frame buffer? All the similarly sized machines I've seen in this class relied on integrated graphics. Let's see what this puppy can do!
It games just like the big boys
Before I dive too deep into this, you should know that the Zbox EN760 Plus is what's known as a barebones PC. It's available in two configurations: The configuration reviewed here includes memory and storage. Buy the EN760 (without the "Plus"), and you'll need to provide your own. You'll need to supply an operating system (Linux, Windows, or—one day—Valve's SteamOS) with either model. And unlike most desktop PCs, Zotac doesn't provide a mouse and keyboard, either.
Among mini PCs, 1-Liter PCs, tabletop PCs, very small form-factor PCs—whatever label you want to slap on them—the Zbox EN760 Plus is by far the most capable box I've seen when it comes to playing AAA games. It's also reasonably priced for the components that are included and the upgrade path that's available. Those factors figure largely in this little munchkin earning a four-star review.
The Zbox EN760 Plus easily outguns mini PCs—such as Gigabyte's Brix Pro—that are outfitted with Intel's powerful Iris Pro 5200 graphics. You'll be very happy using it with a desktop monitor or an HDTV at 1920×1080 resolution—the standard in most living rooms and dens. As for the "4K Ultra HD" that Zotac emblazoned on the package, you'll want to limit yourself to video playback (at a maximum refresh rate of 30Hz, due to the HDMI 1.4 spec). That's fine for 4K movies, assuming you have the content and the 4K display to watch it on, but the GPU isn't strong enough to deliver games at that resolution.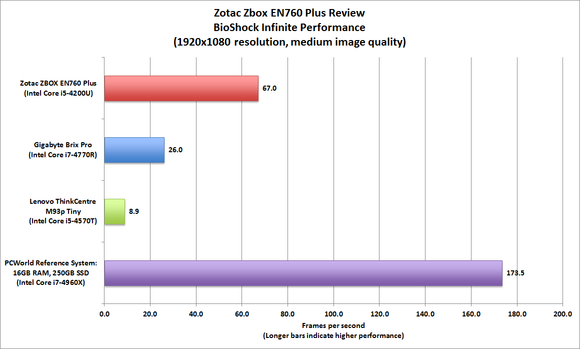 Dial the resolution down to 1080p, on the other hand, and you'll get plenty of frames per second for exhilarating gaming experiences. I'm talking BioShock Infinite at 67 frames per second, Battlefield 4 at 72fps, and Grid 2 at 87fps. No delays, no stutters, no pixelization. When I juiced the resolution to 2560×1600, frame rates plummeted to 23, 18, and 25fps respectively.
The Zbox EN760 Plus is slightly less appealing as a straight-up productivity machine, earning a desktop WorldBench 9 score of 44. This is likely due to the presence of a pokey hard drive with platters that spin at just 5400rpm. Desktop PCs typically have either 7200rpm hard drives or lightning-fast SSDs. Zotac does provide an upgrade path to an SSD, though, and it doesn't involve tossing the existing 1TB hard drive. There's an mSATA 6Gbps port on its motherboard, so you can plug in something like a Plextor M6M.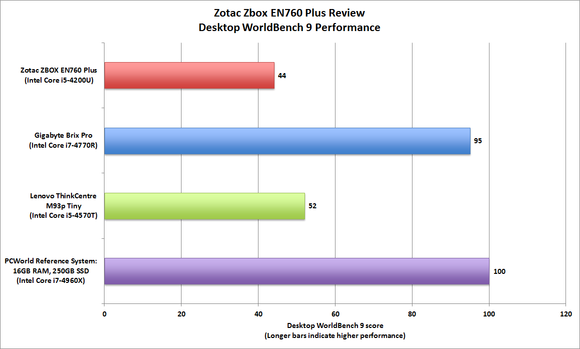 As is, the Zbox should work fine for basic, day-to-day use: Juggling a few small spreadsheets, browsing the web with lots of open tabs, working with Acrobat files, and writing/editing documents in Microsoft Word. You'll want a more substantial machine if you're work involves heavy Photoshop use, producing music, editing digital video, and the like.
The Zbox measures 7.5 inches square and 1.8 inches thick, and Zotac provides a VESA cradle so you can hang the computer on the back of a display to make your own all-in-one PC. Most of the monitors in the PCWorld Lab use their VESA mounts for their own stands, but we found a Samsung SyncMaster E2420 that we could try this out with. You can also lay the computer on its four rubber feet or set it vertically in its supplied stand.
The Zbox has a curious collection of I/O ports. There's a memory card reader, one USB 3.0 port, and mic and headphone jacks on its front panel; and there's an infrared receiver in case you want to control it with a universal remote control. Bluetooth 4.0 is also supported. Rear ports include two more USB 3.0, HDMI and DVI-I for video, and two gigabit ethernet ports.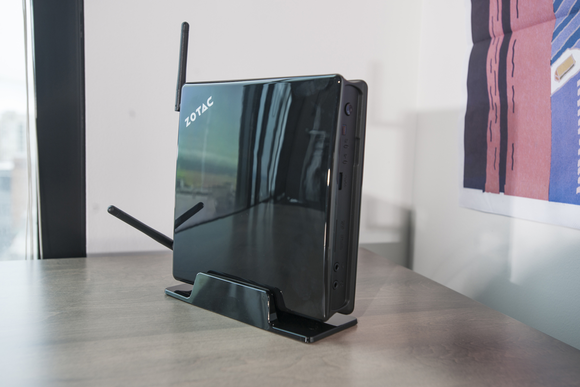 It's hard to imagine any consumer household outfitted with two independent Internet connections or the desire to hardwire a PC to two different physical networks, and it's unfortunate that Zotac didn't provide a DisplayPort connector for anyone considering using this tiny machine in an office environment. The rear panel does include two Wi-Fi antenna mounts, though, and there's a 2×2 802.11ac Wi-Fi adapter on the computer's motherboard.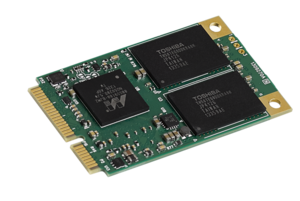 Remove two thumbscrews, pop off the computer's cover, and you'll find a single large cooling fan and heatsink mounted to the CPU and GPU keeping the Zbox cool. In my tests, it purred along as quietly as a U-boat in enemy waters, even during the most intense firefights in Battlefield 4.
If you're comfortable working inside a computer, you can install the mSATA SSD I mentioned earlier as well as upgrade the mechanical hard drive and memory (there are two DIMM slots, and the system can support up to 16GB of RAM). In fact, you might be better off the buying the barebones model and the memory and storage separately.
The Zbox EN760 Plus is street-priced at $640. The EN760 (without memory and storage) is street-priced at $500. You could plug in 8GB of memory for $80 and a 1TB, 7200 rpm hard drive for another $80 to get higher overall performance at almost the same price. That presupposes, of course, that you're comfortable plugging in components at the motherboard level.
Buy it or skip it?
The presence of a strong graphics processor sets the Zbox EN760 Plus apart from most other very small form-factor PCs on the market. This little machine quiet and unobtrusive, it plays a great game, and it has a performance upgrade path. I'd like this box even more if it had a faster hard drive, but you can remedy that shortcoming by installing an mSATA SSD. This one's a winner.