At a Glance
Expert's Rating
Pros
Forces TRIM command
Drive diagnostics
Secure erase functionality
Cons
Unintuitive program close operation
Our Verdict
Solid State Doctor will force your SSD to clean house and deliver its best performance, as well as clone it, diagnose it, and secure erase it.
For anyone not running Windows 8.1 with its "optimize drive" command, there haven't been a lot of options for forcing your SSD to clean house—i.e. erasing cells, consolidating data, or whatever other techniques SSD vendors use to make sure that the drive continues to perform at its peak and doesn't suffer debilitating conditions such as erase-before-write contention. Solid State Doctor, a toolbox utility from the LC Technology data recovery house, will spur nearly any SSD into tidying up the place via TRIM commands.
Alas, in the few short months since I started my evaluation, vendors such as SanDisk and Samsung have added this trick and others to their utilities, so the $29.95 Solid State Doctor's market is shrinking. That said, if your drive's vendor doesn't offer a TRIM tool, and not every vendor does, then Solid State Doctor is the only option I'm aware of. And for techs it remains an attractive option as it obviates the need to maintain multiple vendor-specific tools.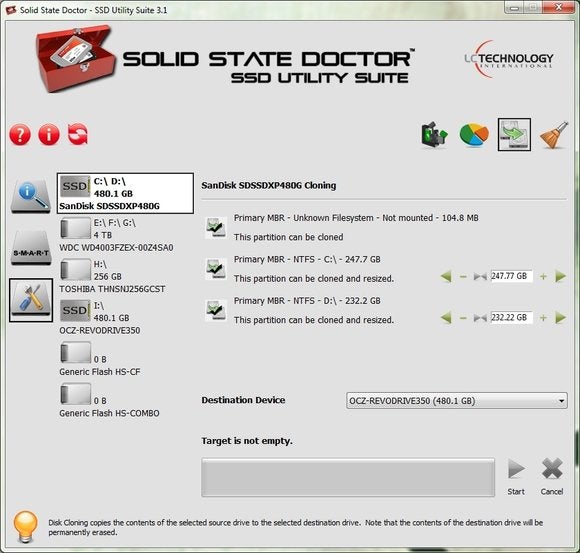 Solid State Doctor's functions fall under three basic categories, all accessed via icons to the left of the user interface: Information, which gives you a basic overview of whichever drive is currently selected; S.M.A.R.T., where you run quick and/or full diagnostics and view the results; and Tools where you can secure erase, TRIM, over-provision (reserve more drive space for dead cells, etc.), or clone an SSD.
In a nutshell, Solid State Doctor, which was developed as an in-house tool, covers everything you might want to do to, or with, an SSD. Outside of partitioning that is, which any operating system can handle. I've used all Solid State Doctor's functions many times and never had an issue with it in the five months I've had it. There are a few caveats however: it can be slow to boot as it enumerates drives, and it won't work with RAID (nothing I'm aware of will), SCSI, or SAS.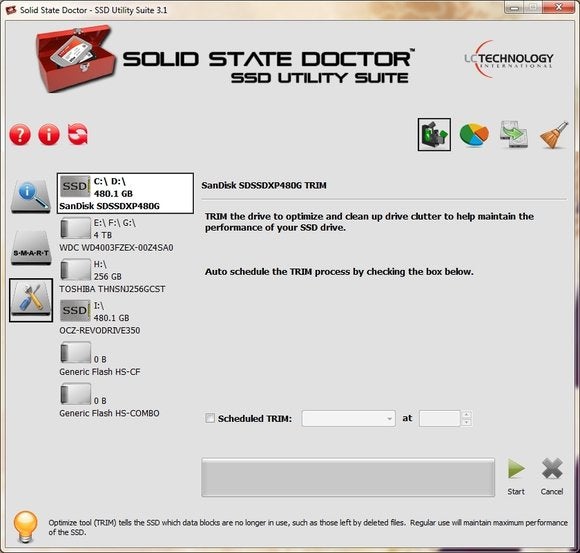 Solid State Doctor's interface and appearance have improved slightly since 3.0. It's not as slick looking as some of the vendor toolboxes, but pretty is as pretty does, and it's a beauty in that regard. My only minor interface complaint is that the program doesn't quit when you select the close button, it just minimizes to the system tray. That makes sense if you've chosen to TRIM your SSDs automatically on a schedule, an option the program provides, but otherwise, there's no logic to the program staying resident. You can of course exit from the system tray menu. Beyond that Solid State Doctor works logically and as expected.
Solid State Doctor is useful, capable, and trustworthy; that in my book is as good as it gets (sexiness be damned). If your vendor hasn't gotten its toolbox act together, or you just want a tool that will work with any vendor's SSD, go for it.