It can be easy to forget that, at its heart, your phone is a phone—a device meant for connecting you to your contacts. And while it comes with its own contact manager, that isn't always the best option. Here are several apps—most of them available for free—that take contact management to the next level.
Cobook Contacts
Mac OS, iOS; free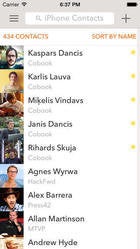 Cobook Contacts is a free contact manager for Mac computers, iPhones, and iPads. It's prettier than the built-in iOS contact manager, thanks to its ability to integrate contacts from social networks like Facebook and Twitter. When you connect it to those accounts, Cobook pulls in contact photos, and—more importantly—offers unified access to all of the people you might want to reach. I also like how it integrates the iOS touch screen, allowing you to swipe a contact name to initiate a phone call.
Brewster
Android, iOS, Mac OS, web; free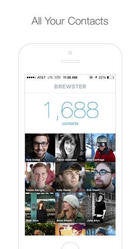 Brewster bills itself as your complete address book, and it is—as long as you connect it to all of your social networks. This web service, Mac app, and mobile app for Android and iOS connects to Facebook, Foursquare, Google, Instagram, Twitter, LinkedIn, and your iPhone's built-in contact manager, and organizes all of your contacts in one neat, attractive layout. I like how accurately Brewster was able to merge duplicate contacts and how it displays relevant information (such as birthday, education, address, and links to social media) in each of your contact profiles. I could do without the constant reminders to invite people to use the service, and while it's easy enough to initiate a phone call, Cobook handles that same step with fewer taps.
Contacts+
Android, iOS; free
Contacts+ is a slick contact manager for Android and iOS users, one that manages to be streamlined and full-featured at the same time. It integrates contacts from your phone, online accounts such as Google, and social networks like Facebook and LinkedIn. The result is an easy-to-use way to see a well-rounded view of the people you're in touch with. Contacts+ includes birthday reminders, social profile pictures, and shared photos. It also includes a built-in dialer and texting tools, so you can stay in touch without exiting the app. And it's free. What's not to like?
DW Contacts Pro
Android, $9.90
DW Contacts Pro, another Android app, isn't as pretty as Contacts+, but what it lacks in polish, it makes up for in practicality. This is an app that business users will appreciate. DW Contacts let you search your contacts by fields and create reminders for your contacts—useful tools for anyone with a list of business contacts who need managing. It also allows you to filter calls by contact, and track duration of phone calls. The biggest downside, besides its basic black design, is its $9.90 price tag, but its business-friendly features may allow you to overlook that flaw.
Simpler
Android, iOS; free
Simpler, a free contact manager for Android and iOS, really lives up to its name, and that's a good thing. Simpler is indeed simple, keeping its focus right on your contacts. It pulls them into the app, merges any duplicates with your permission (and proved impressively accurate when doing so) and backs them up for you. Its interface is clean and simple, and easy to use. Simpler isn't going to manage relationships with multiple clients or track birthdays and call duration by contact, but it is a worthy alternative to more complex apps.