At a Glance
Expert's Rating
Pros
Delivers very high throughput to multiple 802.11ac clients
Long list of networking and media-streaming features
High throughput to an attached USB 3.0 hard drive
Cons
Not the fastest 802.11ac router when servicing just one client
Overkill for homes with less-demanding needs
Very expensive
Our Verdict
The Nighthawk X6 isn't for everyone, but if you need to support lots of 802.11ac clients, this is the best choice—for now.
Is it ever the perfect time to buy a new product? I'd say no, because there's never a perfect time to review a new product, either. There's always something right around the corner that promises to be faster, better, cheaper. But you won't know if those claims are true until someone tests them.
Case in point: I spent the first half of this week benchmarking Netgear's Nighthawk X6 Wi-Fi router (aka the Netgear R8000), so that I could publish this review today. Benchmarking takes time, as does analysis and writing. Asus decided to ship its all-new RT-AC87U Wi-Fi router on Wednesday, and my eval unit showed up today. Is it better, faster, cheaper than the Nighthawk X6? Right now, all I know is that it costs $20 less than Netgear's router despite its status as the first "Wave 2" 802.11ac router (that means it supports multi-user MIMO, which you can read all about in this story).
The Nighthawk X6 does not support MU-MIMO, but it does have a strategy for supporting lots of wireless clients. Netgear describes it as a "tri-band" router, which is a bit of a stretch. It still operates on only two frequency bands—2.4- and 5GHz—just like its high-end competitors, but this router is unique in that it has three Wi-Fi radios to support three independent wireless networks. Here's the rest of what I know.
The Nighthawk X6 is not the fastest router I've tested. As you'll see from the performance charts, that distinction still belongs to the Linksys WRT1900AC (again, I have not yet benchmarked the Asus RT-87U). And if your wireless network streams video to just one or two devices, you probably don't need a router with the Nighthawk X6's advanced capabilities.
But if your wireless network needs to support several PCs, tablets, smartphones, TVs, and other devices—plus legacy devices on the 2.4GHz band—and you're experiencing lag, dropouts, or other connectivity problems when several clients are streaming media at the same time—Netgear's router is just the ticket. As such, the Nighthawk X6 is the first 802.11ac router I've tested that has the potential to displace the 802.11ac router you might already own.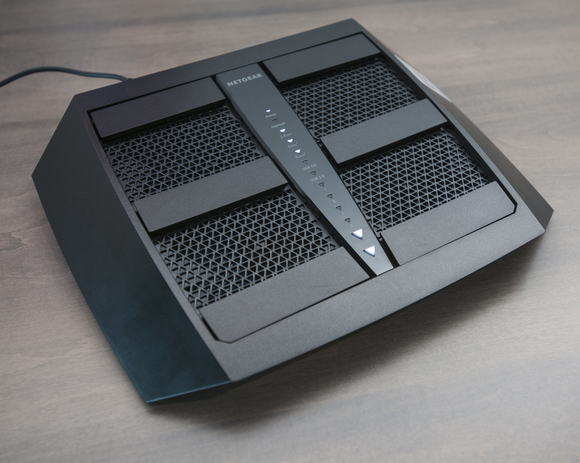 What makes it so special?
As I said in the opener, the Nighthawk X6's primary claim to fame is its three discrete Wi-Fi radios. Out of the box, it uses one SSID for its 2.4GHz network (for 802.11b/g/n clients) and one SSID for both of its 5GHz networks (for 802.11a/n/ac clients). As you know, so-called first-wave 802.11ac routers like this one achieve massive bandwidth by bonding two 40MHz channels to create one channel that's 80MHz wide.
In order to avoid having the two networks step on each other, the Nighthawk X6 bonds two channels at the lower end of the 5GHz spectrum and two channels at the higher end (the higher channels deliver more power). When you begin connecting wireless clients to the common SSID, the router automatically assigns each client to the most appropriate network. (You can also override this and assign the two 5GHz networks different SSIDs.)
Also of interest: What's next for Wi-Fi: A second wave of 802.11ac routers
Netgear's Smart Connect feature first determines if the router needs to perform any load balancing. If the number of existing clients on each network is greater than three, the router will connect the next new client to whichever network has the fewest commitments. If there are fewer than three clients on each network, or the numbers are equal, the router examines the client's speed and assigns new 802.11a, 1×1 802.11n, and 2×2 802.11n clients to the higher-power 5GHz channels (channels 148 through 161). I tested the router using channels 6 and 10 on the 2.4GHz band, and channels 44 and 48 and channels 153 and 149 on the 5GHz band.
The router also evaluates each client's signal strength, pairing clients with weak signals to the high-power channels and clients with strong signals to the low-power channels. If Smart Connect determines that load balancing isn't necessary, the router automatically assigns 802.11ac and 3×3 802.11n devices at short range to the low-power channels and any 5GHz devices at long range to the high-power channels.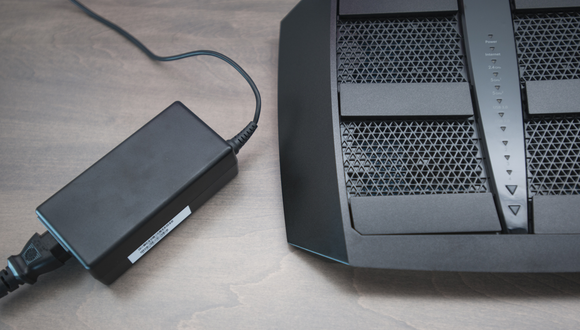 The Nighthawk X6 delivers throughput up to 1.3Gbps with 3×3 clients on each of its 5GHz networks, and it supports 256 QAM encoding on the 2.4GHz frequency band to deliver throughput up to 600Mbps with 3×3 clients that support 256 QAM. The equation (1300 x 2) + 600 equals the AC3200 marketing number that Netgear emblazons on the router's box.
Does that mean you can expect to see your wireless network deliver throughput of 3200Mbps? Heck no, that's just the sum of the wireless throughput on all three networks. And those are theoretical numbers that don't take protocol overhead and a lot of other things into account. You'll never see actual performance that high. Your router's performance won't make your Internet connection any faster, either. The reason you might want to upgrade to a new router is to boost the speed of your home network.
Feature set
The Nighthawk X6 puts on quite a show, with dual-color LEDs reporting the status of power, Internet connectivity, its three Wi-Fi networks, its two USB port connections, and its Ethernet connections (it has a four-port gigabit switch and a gigabit WAN port). If that's too much light pollution for you, flip the toggle switch in the back to turn them off. Buttons on top of the router enable WPS and toggle the Wi-Fi radios off and on (to save power, or to button down your network while you're on vacation).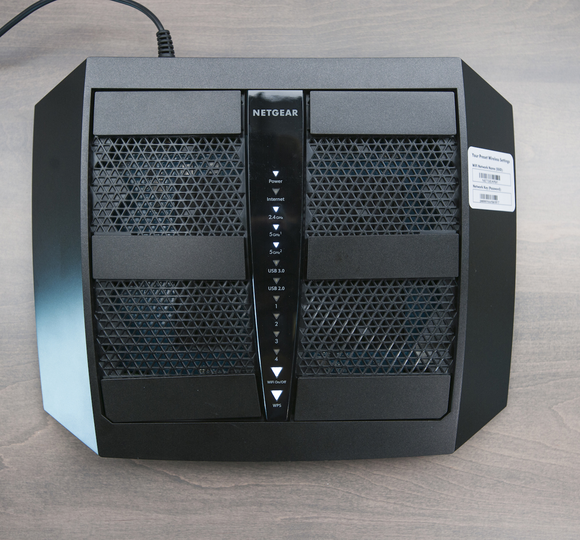 Netgear packed this router with all the features you'd expect to find in a high-end model, but it's unprecedented in using six MIMO antennas (each of its three networks supports three transmit streams and three receive streams). The articulated antennas can fold flat against the top of the router's enclosure or lift up and away. I set them at a 90-degree angle to the top of the router for my tests. They don't feel particularly sturdy, so keep the Nighthawk X6 out of the reach of curious toddlers.
The router itself can either lay flat on a horizontal surface or you can mount it to a wall. It relies on an inline power supply that's bigger than what comes with many laptops, but I much prefer a brick like this over an outlet-hogging wall wart.
There's one USB 2.0 and one USB 3.0 port on its back panel, so it can share both a printer and a storage device on your network. Netgear's ReadyShare technology makes it easy to map an attached hard drive to Windows, and the company's ReadyShare Vault software lets you establish an automatic back-up schedule for your client PCs (Apple's Time Machine technology is also supported).

But you must decide if you want to use the attached drive for shared storage or for backup—it can't do both. If you use it for storage and need to access it from outside your home network, Netgear's DNS service lets you create a customized URL for an ftp server. VPN support is there, too.
DLNA and iTunes servers make it easy to stream music, photos, and video to client devices inside your home. And Netgear supports cloud-based parental controls, if you're into that sort of thing. (Powercloud's Skydog router had the absolute best parental controls, although they were trapped inside old-school hardware. But that's a moot point now, as Comcast recently acquired the company and put an end to the Skydog.)
Like the Linksys WRT1900AC, the Nighthawk X6 supports both implicit and explicit beamforming, so it can shape its spatial streams to find the best paths to its clients, regardless of whether those clients support beamforming. You can create a guest network to allow visitors Internet access while restricting them from accessing any networked computers, devices, or storage.
Where the Nighthawk X6 earns its keep
I tested the Nighthawk X6 eight ways from Sunday, and it earned first-place finishes in only two scenarios. That doesn't mean it's a weak router, because it boxed the Linksys WRT1900AC around the ears when it came to servicing two clients attached to different 802.11ac wireless bridges at the same time. But if you need a router to serve just a few wireless clients, you don't need to spend this much dough. Indeed, you won't see the Nighthawk X6's true power until you connect many clients to its networks.
To see how well it would perform with lots of clients, I paired two servers with two clients connected to two separate Netgear R7000 routers configured as 802.11ac wireless bridges. I then streamed data between the pairs simultaneously. I didn't have time to test all the routers in my inventory this way, and I didn't test at all four of the locations where I usually test, but I did compare the performance of the Linksys WRT1900AC (the fastest router I've benchmarked) at the two farthest locations (my home theater and my home office).
When I streamed data to one client connected to a wireless bridge in the home theater, and to a second client connected to a wireless bridge in the home office at the same time, the Nighthawk X6 was 126 percent faster streaming data to the client in my home office, and 57 percent faster streaming data to the client in my home theater. Why? Because the Linksys must support both wireless clients using the same slice of radio spectrum, while the Netgear can support them using two independent slices. To put it simply, the clients must compete for bandwidth on the Linksys router; they don't on the Netgear router (at least not until you add more clients to the mix).
The question I can't answer today? Does the MU-MIMO feature in the Asus RT-AC87U do a better or worse job of supporting multiple wireless clients. Stay tuned.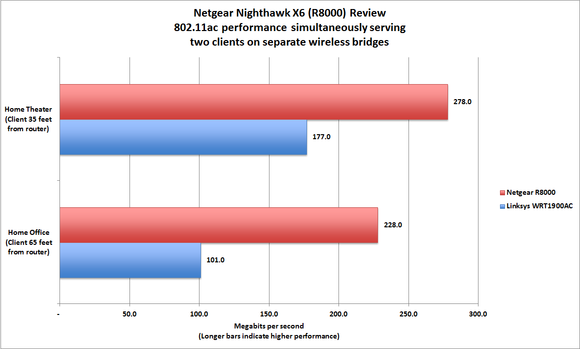 More performance numbers
To squeeze maximum performance from an 802.11ac router, you need a client device that has the same capabilities. Configure a second 802.11ac router as a wireless bridge, connect it wirelessly to the primary router, and you can add up to four wired clients to the bridge's Ethernet switch. Netgear provided two of its Nighthawk R7000s so I could test the Nighthawk X6 this way.
For one client wired to a Nighthawk R7000, which was, in turn, wirelessly connected to the Nighthawk X6, TCP throughput markedly trailed the numbers I saw when I tested the Asus RT-AC68U, Netgear's Nighthawk R7000, and Linksys's WRT1900AC (with matching routers configured as wireless bridges). TCP throughput of 500-plus megabits per second over a wireless connection is nothing to sneeze at, but the other four router/bridge combos were even faster.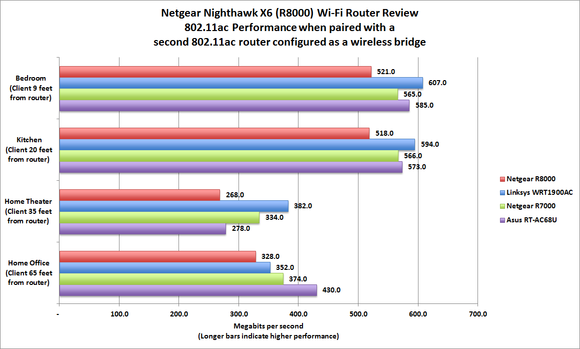 I then plugged an Asus USB-AC56 Wi-Fi adapter into the laptop to test the router's 802.11ac performance in a more convenient scenario (a wireless bridge must be plugged into an AC outlet, whil`e a USB adapter draws power from the laptop). The USB-AC56 is a 2×2 client adapter, meaning it supports only two spatial streams for transmitting and two for receiving. It won't take full advantage of a 3×3 router, but it's the best portable outboard Wi-Fi adapter I know of. Interestingly enough, the Nighthawk X6's 5GHz network beat the original Nighthawk (aka the Netgear R7000) in two rooms and came within 3Mbps of matching it in my home office. The Nighthawk X6 once again serioursly underperformed when the client was in my home theater.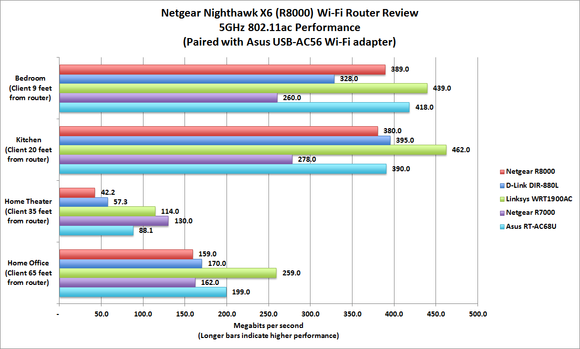 In 2.4GHz 802.11n mode, the Netgear turned in solid performances in three of my four test locations. But it trailed the field by a wide margin when the client laptop was in my home theater. The laptop is equipped with an Intel Core i5 CPU, 4GB of memory, and an Intel Centrino Ultimate-N 6300 Wi-Fi adapter, so I expected a much stronger performance at this location (Netgear's older Nighthawk—the R7000—delivered 105Mbps here).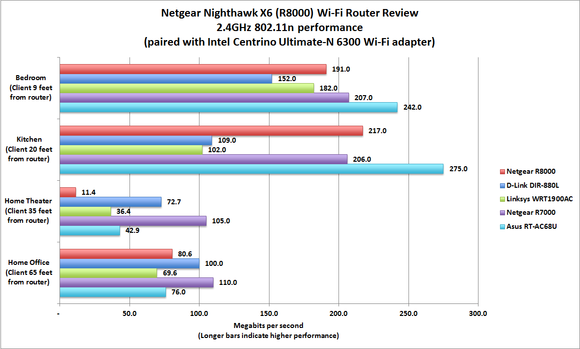 For my final benchmarks, I evaluated how fast each router can read and write data on an attached USB 3.0 hard drive. The Linksys WRT1900AC won this round, but the Netgear Nighthawk X6 finished a strong second.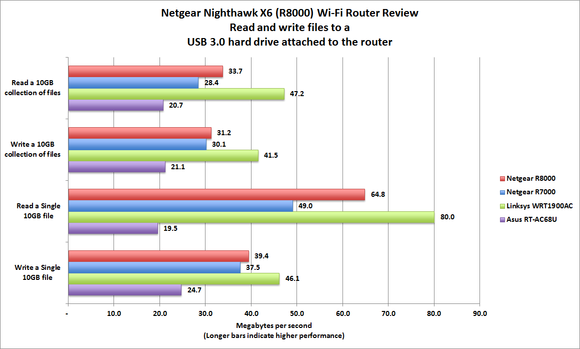 Is this the router for you?
The Nighthawk X6 is the most expensive Wi-Fi router I've tested. Is its lofty price tag justified? It is if you need a Wi-Fi router that can support lots of wireless clients at the same time, especially if you frequently stream media to more than one device at the same time. The Nighthawk X6's generous feature set is also a major draw.
If your wireless networking needs aren't as robust, the Nighthawk X6 is overkill. The Linksys WRT1900AC is faster with a single client, and it costs less. The same is true of the older Netgear Nighthawk R7000 and the Asus RT-AC68U. My opinion might change once I've had a chance to benchmark the Asus RT-AC87U, but the Nighthawk X6 is the most powerful Wi-Fi router I know of today.