At a Glance
Expert's Rating
Pros
Handsome industrial design
HDMI in and out
802.11ac Wi-Fi adapter
Cons
Unattractive price-to-performance ratio
Slow hard drive
No Blu-ray drive
Our Verdict
Acer's Aspire AU5-620-U10 is a good-looking all-in-one PC. But at this price, gamers and anyone with serious computing needs should look elsewhere.
Acer seems to be putting a lot of resources into its industrial design team lately, perhaps at the expense of the folks who work on what's inside the box. Case in point: the Aspire AU5-620-U12, a sleek $1020 all-in-one that's better suited for a receptionist's desk than the workspace of someone who needs to crunch numbers or perform any other type of heavy-duty computing.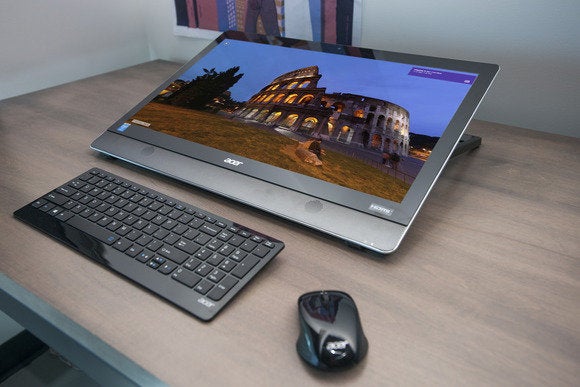 This latest Aspire AU5 certainly makes a good first impression. It's packed into a slim chassis attached to (and concealed by) a 23-inch, 1920-by-1080 widescreen touchscreen display covered by edge-to-edge glass. The whole shebang is less than an inch-and-a-half thick.
Edge-to-edge glass isn't unusual in an all-in-ones these days; what's less common is the absence of a base to distract from its clean lines. What Acer provides instead is a sturdy, spring-loaded, kickstand-like hinge that lets you easily adjust the screen anywhere between standing nearly perpendicular to lying nearly flat against your desktop. The way the hinge holds whichever angle you choose is particularly impressive: I detected no give as I used the touchscreen.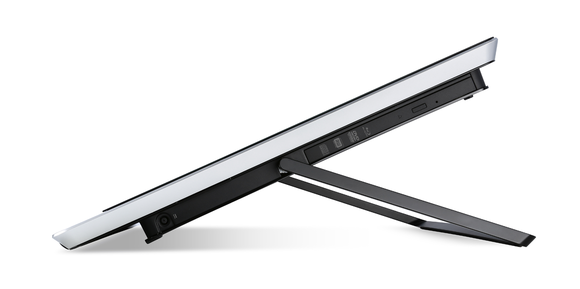 Acer ships the AU5-620-U12 with a wireless keyboard and mouse, so there are no unsightly desktop cables, either. But its design leaves no way to stash the mouse and keyboard underneath the display, which will annoy some users (it bugged me).
I also didn't care for Acer's decision to go with a keyboard that's smaller in both width and height than the ones you'd find on notebooks that are much more petite than this desktop. Keyboard action was also disappointingly mushy; touch typists will hate it. Acer might be imitating Apple here—iMacs come with small keyboards, too—but Acer's lacks quality.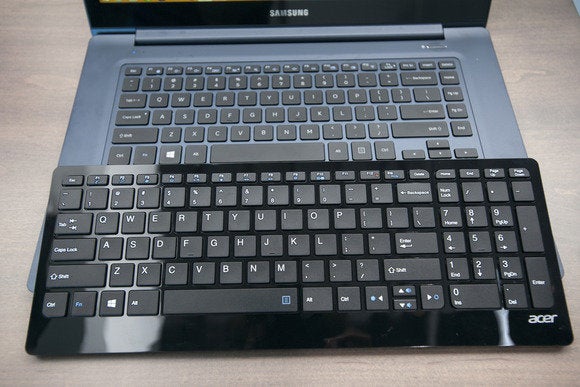 A bright display
The AU5's AV components are more satisfactory. The display was bright, with brilliant colors, and the speakers embedded at the bottom emitted reasonably robust audio. The 2.0-megapixel integrated webcam captured decent images; Acer designed it with small conference rooms in mind, and the microphones performed well for video calls.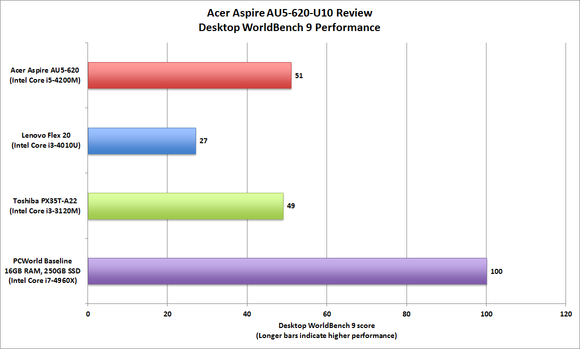 Expansion and connectivity options are more or less in line with what you'd expect at this price point: The AU5-620-U12 has five USB ports (although only two are USB 3.0), gigabit ethernet, HDMI-in and -out, a media card reader, a headset jack, and audio line out. These are all located along the left side or the bottom edge of the slim chassis, where they're concealed by the display. The Acer also supports the latest and fastest Wi-Fi standard, 802.11ac (which is backward-compatible with 802.11a/b/g/n).
The optical drive is accessible from the right edge of the chassis, but it can't play Blu-ray discs—it's a simple DVD player/burner. Acer does allow for expansion, however; you can take apart the chassis to access a couple of mini PCIe slots. That's unusual for an all-in-one.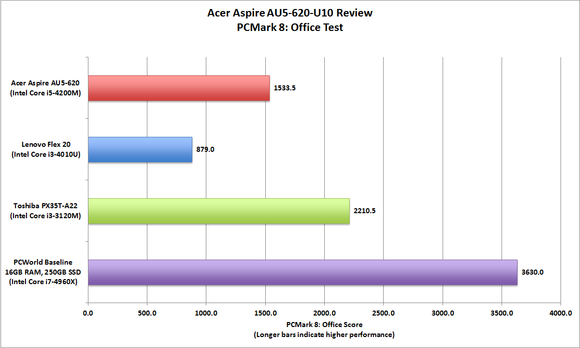 Performance is lacking
But the real downside of this model is its performance. Acer's component choices aren't all bad. There's an Intel Core i5-4200M (a Haswell-class mobile processor) and 8GB of DDR3/1600 memory, but the system relies on an integrated Intel HD 4600 graphics processor and a 1TB mechanical hard drive that spins its platters at just 5400rpm. A hybrid drive or—better yet—a true SSD would open up the Aspire AU5-620-U12's potential. As it stands, this all-in-one eked out a meager Desktop WorldBench 9 score of 51. That's one of the lowest scores we've seen lately; in fact, it's just two points ahead of Toshiba's PX35t-A2210, which is powered by a lesser Intel Core i3 processor (the Toshiba'S 7200rpm hard drive is the key difference here).
The Acer was slow at almost every task we tested, but its performance was particularly poor with PCMark 8: Office, which evaluates performance with Microsoft Office applications. And while Intel has made great strides with its integrated video architecture, it still can't deliver a satisfying experience with a game like BioShock Infinite—even with resolution dialed down to 1024×768.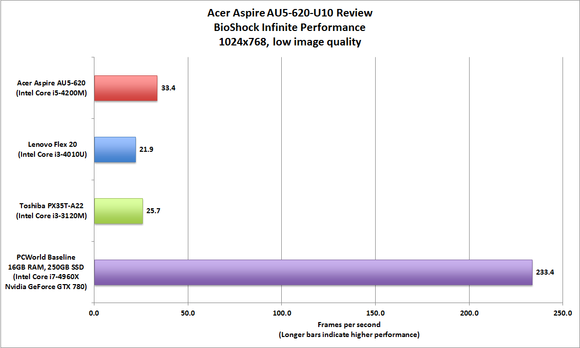 Should you buy one?
The Acer Aspire AU5-620-U12 shapes up as a tool for light use—Skype calls, YouTube videos, and routine business tasks—in an environment where looks matter and money isn't terribly tight. You can pay less for superior desktop performance these days, and even a starving student might want to sacrifice a bit of PC chic for at least minimal gaming chops.