At a Glance
Expert's Rating
Pros
Attractive industrial design
10-point touchscreen
Cons
Only 10/100 Etherent
No SSD option at time of purchase
Weak audio performance
Our Verdict
There's no SSD option for this all-purpose, consumer-oriented laptop, but it's elegantly styled and handles the basics well.
Elegant and affordable are two words that describe Dell's Inspiron 14 5000 series. The brushed aluminum and black minimalist styling Dell has treated this laptop with give it an air of class you don't often see in a mid-range, all-purpose laptop. It looks more expensive than its $750 price tag, which ironically, makes every imperfection seem that much greater. Hence, less-than-spectacular and slightly frustrating are also valid descriptions.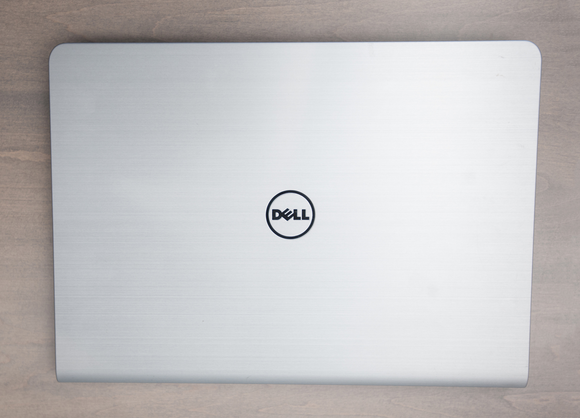 The Inspiron 14 5000 series sport 14-inch (duh), glossy, relatively low-res 1366×768 touchscreen displays that are prone to glare and have narrow viewing angles. If you buy one, I suggest sitting directly in front of it, adjusting the screen angle, and watching better movies. Trust me on this. If the movie is good enough, you won't be worrying about pixels. This is one of those instances when the Inspiron 14 5000's good looks make you think it deserves better. Or at least a non-touch option to lower its price.
The series
The Inspiron 14 5000 series starts at $600 for an Intel Core i3-4030U, 4GB of DDR3L/1600 memory, and a 500GB hard drive; ramps up to $749 for the model 5447 reviewed here (with a Core i5-4210U, 8GB of memory, and a 1TB, 5,400 rpm Western Digital WD10JPVX-75JC3T0 hard drive); and tops out at $850 with a Core-i5-4510U model with the same memory and hard drive. Sadly, there doesn't seem to be an SSD option.
Our model weighed in at 4.65 pounds sans AC adapter; 5.4 pounds with it. It measures 13.5-inches wide, 9.75-inches deep, and 0.8-inches thick—that's not thin-and-light territory, but it's not so bulky that your friends will be amused at your purchase.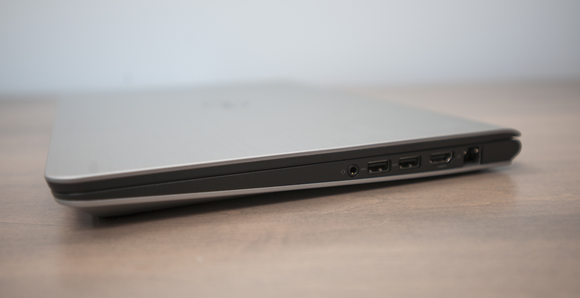 The 5447 has two USB 3.0 ports, a full-sized HDMI port, a headset jack, and a 10/100 ethernet port on its right-hand side; and a USB 2.0 port, media card reader, and AC jack on its left. There's nothing in back and nothing in front apart from two speaker ports.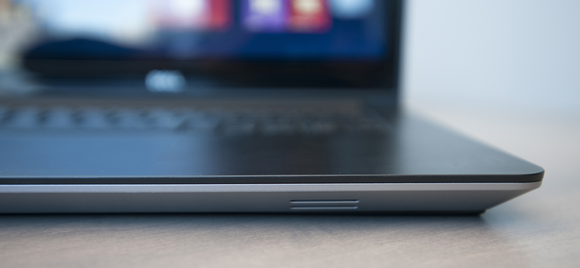 The lack of gigabit ethernet is disappointing, but I'm happy to report the presence of 802.11ac Wi-Fi, plus Bluetooth 4.0 and WiDi (for wireless video streaming to displays that support Intel's technology). There's also a 720p webcam with dual-array mics.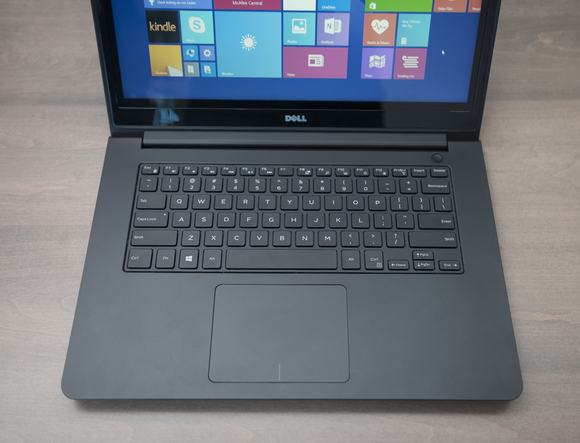 The Inspiron 14 5447 scooted to a respectable 54 on PCWorld's Laptop WorldBench 9 benchmark suite, and it managed to wring 4 hours and 50 minutes out of its internally mounted 43-watt hour battery. Hands on, I could tell it had a rather slow hard drive, especially on a cold boot. But after Windows cached what it needed to, the overall experience was more than acceptable.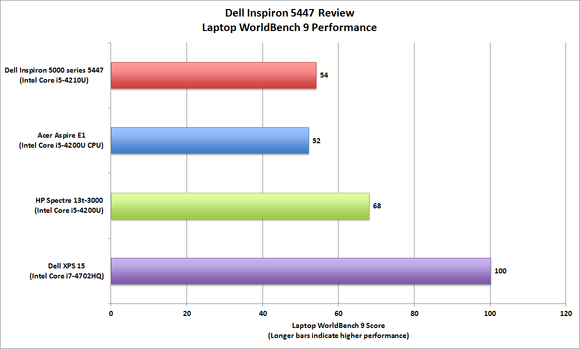 High bit-rate 1080p movies played super smoothly, but sound through the speakers was poor. There's enough volume, but there's no bass and the overall timbre is gratingly tinny. Whatever Dell did to make its Venue Pro 11 tablet so aurally pleasing should be shared with the Inspiron design team. Gaming is doable in Intel HD 4400 graphics terms, meaning you're pretty much stuck at 1024×768 if you want anything close to 30 frames per second (the Inspiron 5447 delivered BioShock Infinite at 29 fps at that resolution, with image quality set to low).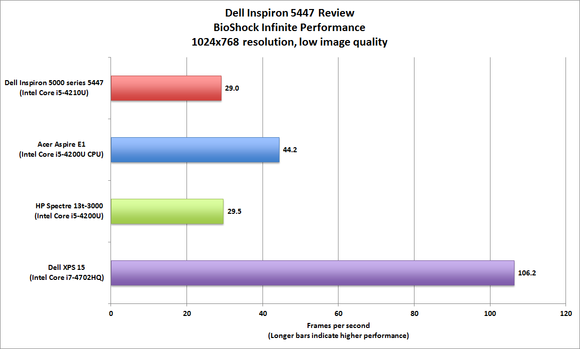 You may have noticed the reference to an internal battery. You must remove two screws and the pressure-fit bottom panel to get at the 5447's. These days, however, I don't know a lot of people who carry extra batteries to swap; most folks prefer to seek an AC outlet at the appointed hour. The 5447's run time isn't fantastic, but it's long enough for most scenarios.
Note that removing said bottom panel also provides easy access to the hard drive, Wi-Fi card, and memory slots. You might want to upgrade the hard drive to an SSD at some point, but 8GB is plenty of memory for most tasks.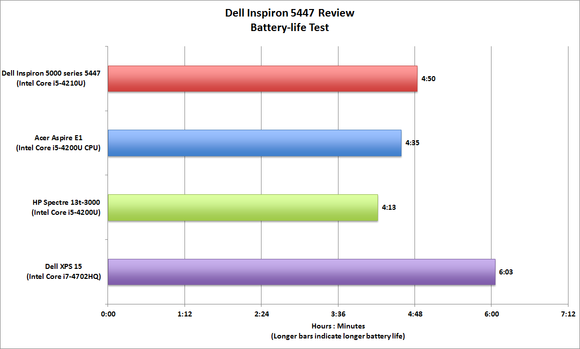 The Inspiron 14 5000's keyboard isn't one of my favorites. The keys lack the long travel and snap that's my preference. But establishing a typing rhythm was easy enough, and the perq is that you can bang away in a quiet environment without unduly disturbing your neighbors. I also found the one-piece touchpad smoothly responsive and easy to click. I do have one complaint: The touchpad isn't clearly tactilely or visually delineated from the rest of the keyboard deck. When not paying close attention, I missed it several times.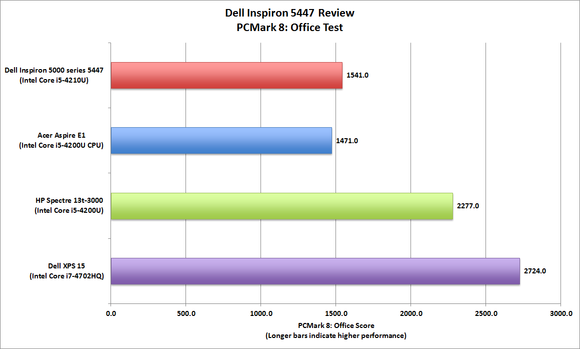 Price-to-performance ratio
The Inspiron 14 5447 is a generally capable all-purpose laptop with top-shelf styling at an affordable price. But there's a distinct lack of options to make it faster (SSD and gigabit ethernet, for starters) or even less expensive (via a non-touch display), so its good looks wind up being a bit of a tease.
Perhaps I'm being too being picky. This is good laptop that's worthy of perusal if you're shopping the middle of the road.
Editor's note: This article was updated on August 12 to report the correct Laptop WorldBench score of 54 (the chart was accurate, but the body text reported a score of 58).