At a Glance
Expert's Rating
Pros
Dead solid accuracy even using a built-in microphone
With good diction, expect double the input speed over typing
Built-in macro system lets you automate commonly used text like various email signatures
Cons
Application control commands are still too cumbersome for regular use
Minor bugs encountered with Dragon abruptly losing the microphone
Our Verdict
Improvements behind the scenes continue to make Dragon NaturallySpeaking the runaway standard for dictation software.
Now in its 17th year and its 13th release, Dragon NaturallySpeaking remains the benchmark for Windows-based speech-to-text technology. At this point in the game, anyone who wants to use speech recognition software is probably already using it. Nonetheless, Dragon is hoping to entice new users to the product by adding new features and cutting the price of last year's $200 release. But will a $100 price tag and an incremental improvement in quality finally make you talk the talk?
As its key enhancement, Dragon says this release of the software is 15 percent more accurate than Dragon NaturallySpeaking 12. The app also now supports the built-in microphones installed on most laptops instead of just external mics, and you can dictate directly to major web browsers—Internet Explorer 9 and up, Chrome, or Firefox—so you can finally speak your Tweets, Facebook status, and blog posts instead of having to type them. Otherwise, you can dictate into just about any text-centric app, right down to Notepad.
Training NaturallySpeaking 13 takes all of a minute, and the basics are handled by a simple walkthrough. Mastering all the ins and outs of the application, though, could very well take a lifetime.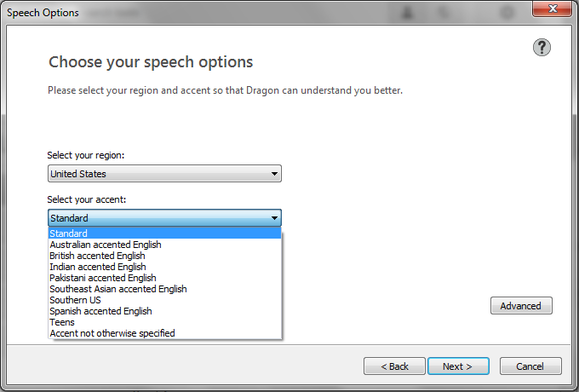 Let's start with the accuracy claims. I tested Dragon against both Windows 7's and Windows 8's built-in speech recognition, using a high-end headset and the first lines of Breakfast of Champions as a guide. I found that Dragon did the clearly better job. As you can see from test results document, Dragon nearly nailed the transcription straight out of the gate. Windows, on the other hand, had trouble with a few words, including the tricky "lonesome" and some less obvious ones, like mistaking "man" for "men." Of course, the biggest trip-up with Windows was the name "Kilgore Trout," which it comically rendered as "co court route." Dragon, much to my surprise, not only got "Kilgore" right, but correctly capitalized the last name of Trout without being explicitly told to do so. Overall, even allowing for cleaning up the minor errors that Dragon made, I achieved a solid 60 percent increase in overall input speed over typing.
To take the test further, I also used both Dragon and Windows with the microphone built into my laptop, to see how realistic it would be to dictate text into thin air. I didn't have high hopes. Laptop mics are generally very low-quality and, unless you push your face right up against the machine to speak, they can be easily overcome by ambient noise. That said, Dragon's result was surprisingly good. While it flubbed the introduction of the text, overall it did a surprisingly credible job at the transcription. On the other hand, Windows' built-in transcription was a complete disaster, a comical throwback to the early days of the technology. The improvement alone here makes the software worth the investment.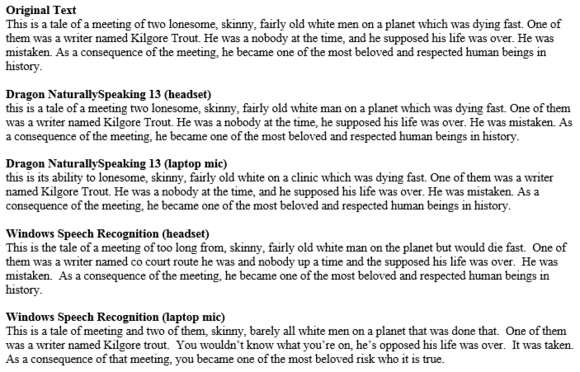 Dragon still isn't perfect. Making changes and revisions as you go is still convoluted and non-intuitive. Even making a simple change, like adding the hyphen to the phrase "science fiction" through the Dragon voice command interface, is a complicated nightmare. Considering this task would otherwise require pressing all of two buttons on the keyboard to complete, it's not hard to see why some people don't stick with speech recognition for the long haul.
But the biggest issue I have with dictation software is hardly a new one. It's difficult to explain, but it seems that many of us have simply developed a strong link between the brain and the fingertips. While you're typing, sentences flow out of you at a more deliberate pace, and the process of tapping out one word somehow helps push the next word forward. I'm not the first person to remark that, as a product of the computer age, typing just feels more natural to me, and that my dictated writing comes off as somewhat stilted in comparison to my unbearably nuanced and well-crafted typed prose. All the accuracy improvements in the world won't change that. Those changes only come with time and lots of practice.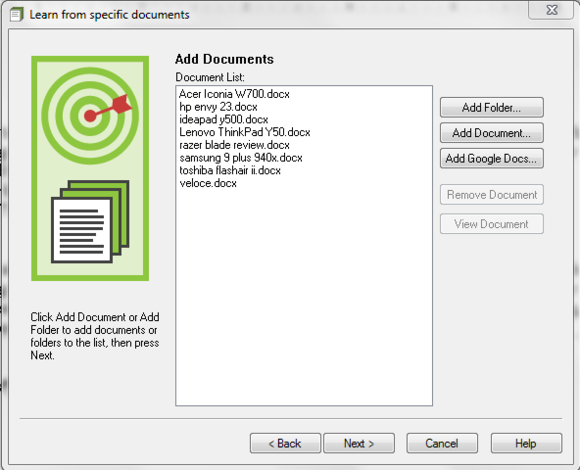 Of course, other users may find dictation freeing and may find leaving the keyboard behind is conducive to more creative thinking. If you're the kind of computer user who doesn't find Siri awkward and weird, well, you can probably ignore all of the above. If nothing else, Dragon gives you back plenty of time that you would have spent typing.